Books App Development: Check Out Numerous eBooks Via Customized App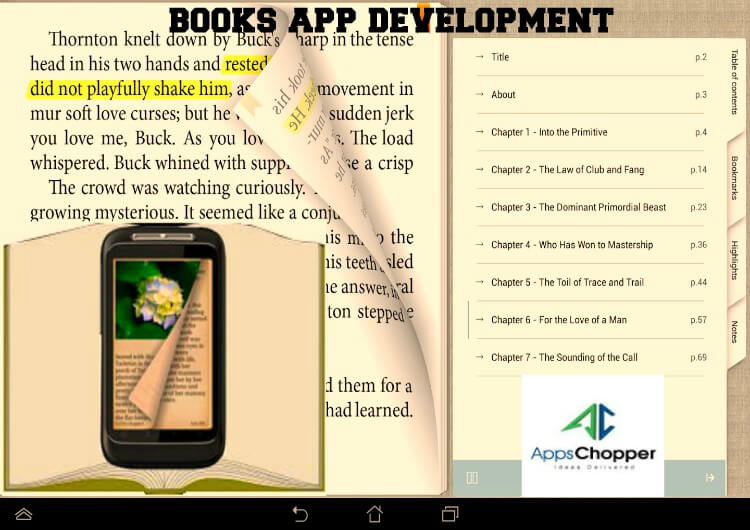 Many people are so much fond of books that they always have spare time to read them out. Nowadays, several book lovers prefer to check out eBook apps to read out interesting stories, facts, tips, and novels instead of carrying books from here & there. In the present market scenario, numerous industries are influenced by our advanced technology and it is clear that they all are expanding their businesses year by year. Today, various writers & publications are hiring books app development agency in order to promote their work & generate huge profits.
If the increasing popularity of these feature-rich & user-friendly book apps is considered, you will definitely observe that eReading is in trend specifically readers of all age groups. Being an interactive way of learning or reading, people are speedily switching to these high-performing eBook apps. You can find numerous apps & many book app developers categorize them as below :
eBook apps: With seamless & uninterrupted reading accessibility, eBook apps are extending their user base all around the globe and generating profits consecutively. More than the half of eBook apps are categorized for comics, interesting stories, fairy tales, poetry, pictures or illustrations, and more. In this context, the book app development is specified to deliver incredible user experience with interactive UI & cutting-edge features.
Interactive book apps for children: You will absolutely find these apps favorable in order to make your kids learn new things in the most entertaining way. Children can easily learn their rhymes with the help of highly customized & user-friendly apps that are integrated with streamlining videos and mesmerizing audios. These apps are beneficial to improve the child's learning skills as they are interesting and highly interactive.
Education & entertainment app: Many scholars, writers, and professors publish their own books or modules in order to assist their students & learners. But, now the concept of learning has changed with the advent of technology and several new pathways for better education & interactive learning are have been introduced in the market. Both students & teachers find it easier to use a feature-rich app and discuss every concept and practical procedure with fun.
The book app development based on education is gaining immense popularity among education department while more & more people access them to understand & learn few concepts in the most entertaining way.
Other miscellaneous apps based on eReading: Numerous cookbooks, updated magazines, interesting books are available in the market but people prefer to access them via custom-built apps on their user-friendly smartphones or smart devices. Many eBook apps have built-in functionalities that allow users to view multimedia videos, GIFs, videos, and audios so that you can have a great reading experience.
Almost every book app developer specifies all above app categories & they focus on customizing an app for user's convenience & guidance. Following are major features to enjoy the advanced book reading experience via a custom-built ebook app
Accurate content over an appealing layout- A viewer can easily read out each & every line, phrase, or paragraph of a content structured over a customized layout.
Social media integration- While reading any paragraph or interesting facts, a user may like to share it with friends or family via top social media sites accessed globally. Thus, social media integration is necessary for book app development as it is favorable for user retention and engagement.
Creative pictures, animation, & interactive videos- Children love animated characters and that's why, illustrations, streamlining videos, and animation all are perfectly combined to deliver memorable and enhanced user experience via an eBook app.
Other functionalities- Almost every eBook app is designed with few distinctive features like option for download or purchase the complete book series, customized library to search any file, functionality to change font size & format, tools to highlight specific phrase or para from the content & comment, suggestions from numerous books by the publishers and writers from all around the globe.
Online book reading is a convenient way to read, learn, as well as to entertain yourself. That's why, numerous writers and authors are turning towards book app development in order to reach out their readers and make huge profits in the marketplace.