Can't Think About Mobile App Without A Business Planning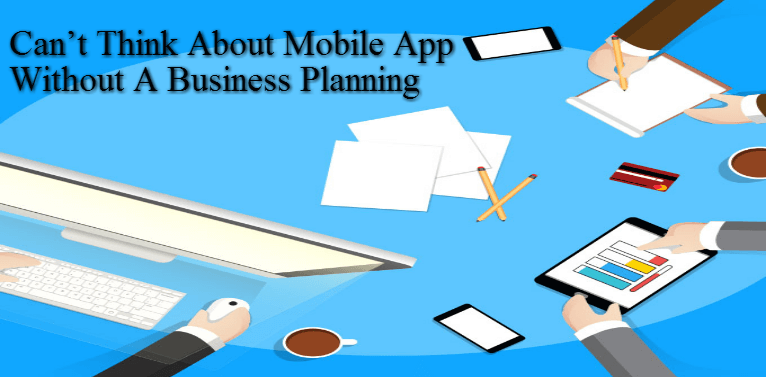 Without complete knowledge and planning, there is always an uncertainty that if the business will make success in the future or not. Business planning outlines your own, ideas and objectives which are necessary in order to determine the feasibility of your business. As the consumers are familiar with the mobile technology, there several small & large enterprises which are turning to expand their businesses via mobile apps. That's why, the demand for mobile app development service providers has been increasing rapidly from last 5 years.
Many businesses appear in the market world with their own mobile app but some of them collapse without a reasonable business planner. With a business planner, one can determine the success & the future of the company in upcoming years. That's why, it is necessary to create a business plan before spending your money on hiring any mobile app development service provider for getting a business related mobile app. Today, there are already more than 2 millions mobile apps in different versions for Android, iOS, Windows, and Blackberry devices but only a few of them get successful.
Thus, having a well-defined business plan is necessary to determine if the mobile app will be useful for the consumers or not? Following key points must be considered in order to check out if the mobile app will be beneficial your business or not.
Explore the mobile app world
Firstly, one must have enough knowledge & significance of mobile app for the business expansion. Thorough research work is the basic step for making the best use of mobile app technology and attain the probable benefits. The mobile app development market scenario changes with advanced technology and that's why, one must explore the App stores and Google Play stores and learn about the top-rated apps and their free & paid versions.
Consider & match your business idea with other apps
As the markets are already flooded with many feature-rich mobile apps, there is a possibility that one's business idea can match with other's and if it is successful then undoubtedly you are on the right path. Considering that there are many messaging apps launched in different versions but Whatsapp is the only one of them which has maintained its popularity with the maximum number of downloads & users from all around the globe.
So, you must follow and match your business idea with other trending mobile apps and integrate your own concepts in order to come up with something new and useful.
Attract users with free app versions
Firstly, every user prefers downloading any app if it is useful in many ways and secondly, if it is available for free. At the time of launch, the majority mobile apps are available in their free versions in order to elevate the number of downloads. Many app marketers at the mobile app development companies consider that freemium strategy is favorable for raising the user base of the mobile app.
However, launching the free version of the app is beneficial in many other ways as you are allowing the target audience to access and take benefits of using your app. As the app gets popular among the app lovers, the company can start some paid offers with some additional benefits & features with the app. Just like Pokemon Go which was available for free in beginning but as it gained popularity, the players were offered in-app purchases.
Follow the new technology in trend
Nowadays, smart devices are transformed with enhanced graphics and user experience. With the arrival of new technology based on the virtual reality, the mobile apps are highly recommendable & useful for the game lovers. These mobile apps are connected with various portable devices just like Samsung Smart home app which can be used to regulate different appliances like home refrigerators, air conditioners, washing machines, and more.
The mobile apps which support AI and Chatbots are popular among the smartphone users. Even in the previous year, many mobile apps emerged which are very useful for the entertainment purposes, social media, and on-demand services.
You can have a feasible business plan for the success of your mobile app along with different marketing techniques and the advanced process of mobile app development. You can consider various mobile apps which are already trending in the app stores and think of other ways to attract the users and generate high revenues with the increased number of downloads.