Entertainment App Development: Taking On-the-move Fun To A New Level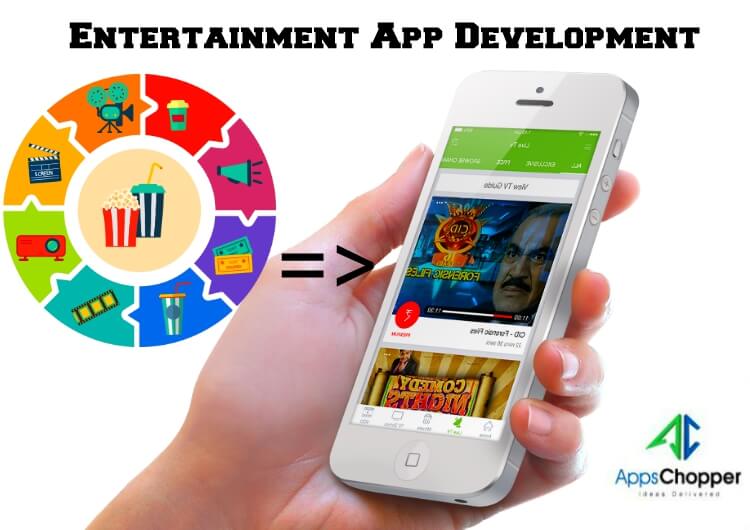 Feeling bored? Or need some interesting and creative tasks to do? You will definitely enjoy to use customized entertainment apps as they are user-friendly & you can access them anytime via your portable device. Applications integrated with stunning functionalities & multiple features are getting popular day by day as they are specifically designed for entertainment & fun. You may have accessed these types of apps that are meant to engage users via incredible 3D games, stimulating music, funny videos, images, GIFs, and more. Entertainment app development is a wide arena that includes various components to grab the users' interest & that's why, it is profitable for every business.
Must-known Facts On Entertainment Apps
• Surprisingly, apps based on games, widget, entertainment, lifestyle, social, & utilities are increasingly generating revenues with the widespread user base.
• The recent study reveals that around 86% of users like to access the updated TV apps to check out entertaining videos, commercial ads, and programs while game app development generates revenue with around 33% of overall market share.
• On other hand, apps based on lifestyle, music, & photography constitute 4% user base & when it comes to widget apps, this rate increases to 8%.
• Furthermore, entertainment & social apps are popular with the overall market share of 7% & 5% respectively.
Get in Touch for Entertainment App Development
Contact US
Entertainment app development incorporates distinctive categories that are imperative to present interesting and creative stuff to the users & it may include music, videos, 3-D games customized with enhanced graphics, and more. Just check out the few applications you must consider for entertainment:
• Cross-compatible games based on the single player & multiplayer functionalities for smart devices and desktops. Interactive games app development to enjoy 3-D or 2-D games with animated characters & challenges.
• Interesting puzzles, arcade, war, quizzes, shooting, and running games to stimulate players & keep them engaged.
• Video-based apps to check out the trailers of the latest movies, live shows, clips, and various streamlining videos. You can easily search and view various high-quality videos via high-performing entertainment apps and enjoy their incredible features anytime.
• Many users love to watch offline videos by saving them via online mode. Several entertainment app developers focus on customizing the app's functionality extraordinarily so that users can view the complete series of their favorite TV programs and the repeat telecasts of the most popular reality or comedy shows.
Top Advantages Of Entertainment App Development
• Branding- Entertainment app development strengthens your brand's promotion as every app user, subscribers, & viewer will enjoy your extensive services & will contribute in person to person promotion.
• Widened user base- Surely, you need to connect with more & more costumers in order to establish your business successfully among the competitors. That' s why, you must focus on creating cross-compatible apps so that every gadget-friendly person can easily access your app.
• Customized & interactive UI- An entertainment app developer must focus on framing advanced user interface in order to deliver a mesmerizing user experience to the customers.
• Increased sales & revenue generation- Your sales rate will accelerate speedily along with improved user retention.
With all above advantages and overview, you will get a clear idea that entertainment app development is favorable for your business in many ways.