Factors Behind The Success Of M-Health Apps In Medical Field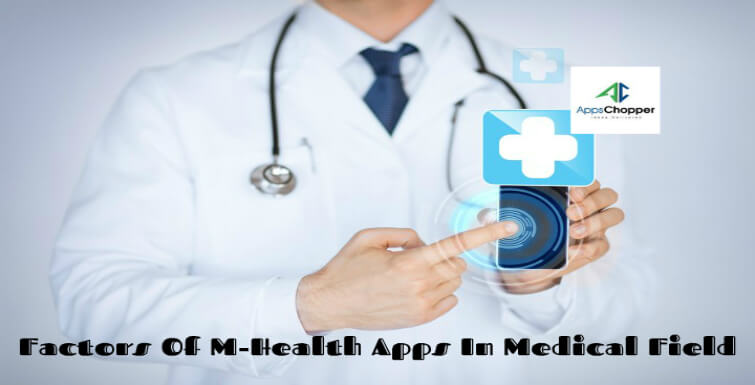 Today, there is no gap left between the doctors and their patients with the introduction of mobile technology in the health industry. With the help of feature-rich mobile apps, the patients can reach their doctors any time and various medical practitioners may gain necessary information as well. As more and more health professionals are turning towards interesting and user-friendly mobile apps, the majority of mobile app development service providers are focusing on healthcare industries.
According to the recent research made by PricewaterhouseCoopers, healthcare industries remained in the top trends in the previous year as many people prefer installing and using at least one healthcare app on their mobile devices. Moreover, the healthcare mobile app development companies experienced the highest jump with 16% increase from last two consecutive years. There are more than 100,000 health-related applications in the app stores and 85% of them are for medical & wellness which are majorly used by patients while remaining 15% of them are specifically used by the doctors or physicians.
Get in Touch with M-Health Mobile App Development Company
Contact US
With the soaring popularity of the healthcare mobile apps, more and more people are utilizing this technology for better health and quality care. Around 93% physicians consider these healthcare apps beneficial for providing improved healthcare facilities to the patients and more than 25% medical researchers use this mobile technology. Let us see, how these M-health apps are contributing to the betterment & development of the health and medical industries:
Scheduled appointments for well-organized treatment
Treatments are not based on one time medications as there are many long-term medical procedures. Moreover, repeated visits and consultations are pre-requisite as some patients may take more time for complete recovery from any disease. Healthcare mobile apps are very useful for fixing scheduled appointment on the regular basis and without any hassle. As the healthcare apps are majorly accessed by the patients and doctors, every medical agency demands feature-rich and user-friendly app from the mobile app development service providers.
Modified features for simplified health
With the help of a healthcare app, the patients can directly interact with the doctors and access their updated medical records. The mobile app with the features like booking & cancellations of the appointments, post-visit instructions, and daily reminders, the treatment process can be made easier & better.
Excellent treatment for prolonged healthcare
Appropriate medications and precise prescriptions are necessary for every treatment procedure. Mobile health apps are developed for getting tons of information and guidance from the experts and professional doctors. You don't have to visit their clinics or hospitals if you are having the best healthcare app installed already on your mobile devices. You can also utilize the advanced patient care tools for getting the necessary information regarding any effective treatment.
Keeping health on track regularly
Most of the M-health apps are devised with an additional feature that allows the patients & doctors to access the medical history in the easiest way. Most of the medics ask their healthcare app development companies to include some features for maintaining their patients' health records through revised care plans, online health portals.
Get in Touch with M-Health Mobile App Development Company
Contact US
With more than 50 million downloads, the mobile apps based on weight loss, pregnancy, exercise, Women's health, medical tools & instruments are trending in the healthcare market. Taking facts on consideration, mobile health industries are generating the revenue up to USD 26 billion through apps and this value is expected to rise in upcoming years. Hence, the healthcare app development companies are analyzing & adopting upgraded technologies in order to reach the increasing demands of innovative and modified healthcare apps.