How Grocery App Development Benefits Online Retailers & Buyers?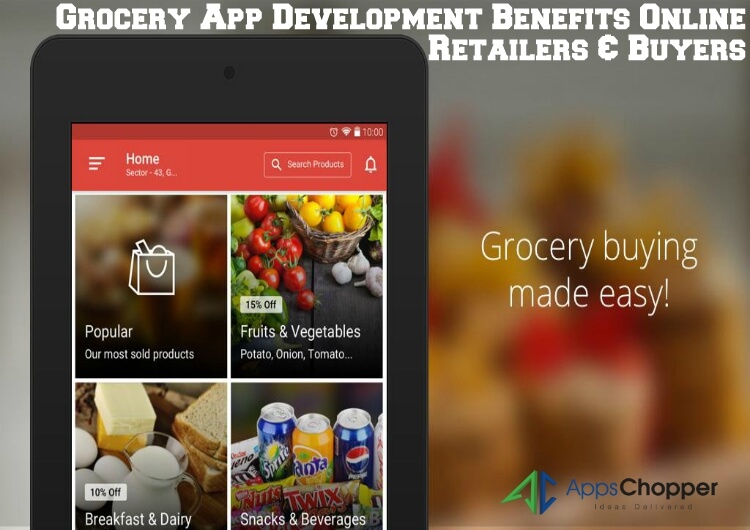 The routine visits to grocery shops is a big hassle for every family. You need to manage the budget for the kitchen by preparing a long list of groceries & purchase them as per your need. So, why waste your time & energy buying grocery products in the vegetable market when you have an access to an online grocery store in few clicks. People always love to have multiple choices & they explore thoroughly before making a final decision either for purchasing daily essentials or groceries. With the grocery app development, many retailers facilitate their customers with the convenient & hassle-free shopping experience.
A grocery app guides to manage your expenses & get varieties of grocery products from a wide range of categories. Just switch to this online store, find the required item, and make easier payments in just a few seconds. The recent reports of the usage of the mobile platform for grocery shopping revealed that 68% customers check out their smartphones to search groceries online while 86% shoppers plan to get them through a customized mobile app. The exceeding rate of online grocery shopping indicates that this platform serves various advantages to the customers & the grocery business owners. Let's define some major benefits of grocery app development:
Get in Touch for Grocery App Development Company
Contact US
Personalized shopping facilities
You can discover varieties of products via an online grocery store and the best thing is that you will get regular notifications based on your preferences & shopping list. You can find nearby stores, prepare a well-defined product lists, view customized items along with their specifications, & much more.
Time-saving & hassle-free
You don't have to roam in the grocery market to purchase the selected groceries every time. Just switch to the grocery app, filter product search option from the category, check out the specifications, mention quantity, add an item to the bag, & check out to make payments. Your efforts & time both are absolutely reduced when it comes to online grocery shopping.
Budget management
Many times you don't have an idea & you buy unnecessary items for grocery. Grocery app development facilitates users to track their overall expenses with well-defined graphs on weekly or monthly spending on grocery products. When you view those infographics or graphical diagrams, you can easily manage your budget for groceries & carry out smart shopping.
Payment convenience
Grocery app development is favorably done for multiple payment options. A customer can pay for the selected products through multiple payment options that include credit/debit cards, e-wallets, net banking, & more. Fortunately, you don't need to empty your pockets as you can easily pay via other payment channels in the situation of cash shortage.
App stores are flooded with numerous grocery apps that are categorized as:
• E-commerce grocery delivery services
• In-store grocery shopping app
• Personalized grocery apps for easy shopping
Get in Touch for Grocery App Development Company
Contact US
You just need to order groceries online & enjoy great experience using these extraordinary apps. In other words, there is no question to raise regarding the significance of grocery app development in the growth of grocery business & increased profits.