How are Mobile Apps Revolutionizing The Business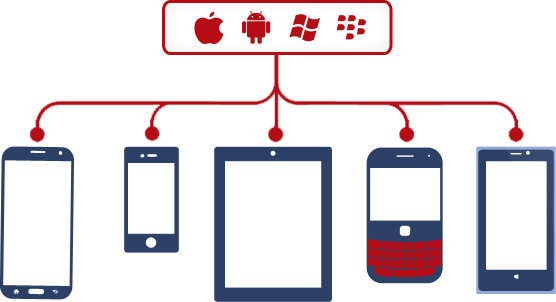 The advanced mobile phones and tablets have taken the mobile phone industry by storm and opened many new avenues. The true potential of these devices is realized by the apps that run on it. As the devices are very powerful in terms of technology, the apps running on them are able to perform the most complex tasks with magical ease. Mobile apps empower you to do several things on the mobile phones and make your life easier. Whether you have to shop online or read the latest news, the mobile apps are always useful.
Considering the popularity of these mobile apps, businesses have also realized their importance in reaching out to their users. Hence, mobile app development, in recent times, has a major role to play in shaping the businesses for future challenges. Making use of the the mobile apps, the companies can present themselves to the end users and offer their products and services. While the companies will make good profits, the users too are benefited in a huge way as they get a chance to avail services and buy products without going to a physical store.
How does Business Benefit From Mobile App Development
As it has been stated earlier, mobile apps enjoy a huge user base. With emergence of more advanced mobile devices, mobile apps are getting smarter as ever. To tap this increasing user base of the mobile apps, the businesses need to be very active in the mobile application development domain.
Some benefits that the business can reap from mobile app development
♦ Mobile apps based on m-commerce let the businesses sell products and services directly to the customers and hence, save the extra expenses on factors like physical store management, margin of the distributor and retailers, transportation cost, etc.
♦ Mobile apps empower the companies to connect with their target users on a more personal grounds and establish a lasting relation.
♦ Apart from the users' app, the apps can also be built for streamlining the internal processes of the business.
♦ Mobile apps can be monetized in various ways, for instances, in-purchases and advertisements.
Qualities that makes a good mobile app developer
For a mobile app to hit the bull's eye and become viral, there must be a combination of good looks and even better features. A business relies on the conversion of users to customers and a mobile app must aim to achieve the maximum conversion. A mobile app developer who is updated with the latest trends and technologies will be able to deliver such an app.
Final thoughts
Mobile app development has changed the dynamics of the digital world and has brought mobile phones at the centrestage. Businesses are making great profit by utilizing the mobile apps and we can indeed say that mobile app development has revolutionized the businesses irrespective of their product and service line.