7 Ways To Increase User Retention On E-commerce Mobile Apps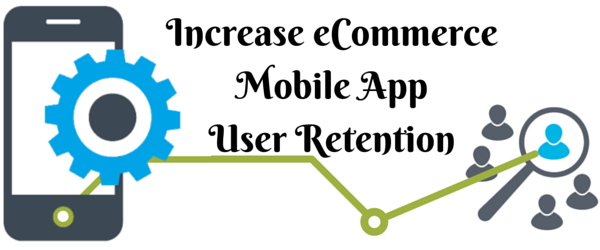 The multi-billion dollar e-commerce industry is growing leaps and bounds, where clicks and conversions have their elite status to retain the customers. Retaining the existing clients also holds importance as it is easier to sell products to already convinced clients than to building your trust right from the beginning with a new bunch of people.
It is all in your digital marketing strategy that will allow you to retain the existing clients. An additional blend of friendly relation with the current prospects has the potential to cherish the slot. Remember, the simplest way to grow the customers' list is not to lose them.
An attempt of acquiring new clients is a direct loss to the revenue. Gaining new clients requires spending on the ads and a few media marketing channels. Therefore, be on the safer side and add on to your sales figure with existing clients. Here are the tips unlocked!
Design Unique Sales Campaign with historical customer data
The more info about the customers, the better data you will have to serve them in the future. To track the historical customer data and make the best use of it, you need to track the data continuously to gather the important information about the customers. With such an important data to your hand, future interactions with the customers can be made unique.
The data can also be segmented to track the email addresses of customers who are showing interest towards the campaign. These clients can be targeted with unique campaigns that are created with products preferred to them. Thus, you can make use of historical customer data to add on to the sales this holiday season.
The Ins With Mobile-Friendly Website
Customers behavior is unpredictable. It can neither be predicted nor be influenced completely. You will never know which medium they would choose to place the orders. However, shopping through web apps has certainly increased in the past few years. This medium trims down the customers'waiting in the long queues at shopping stores, which is, of course, the best advantages of all.
It is certainly the best age to attract customers'interests towards your mobile-friendly websites through social media channels. No matter whatever channel you choose to lure the customers and to improve your customer retention policy, a consistent brand experience across the sales channels is a must. It is also good to ensure optimal user experience.
Implementation of Right Timed Emails (customer Age/ gender/ Place)
This tactic goes extremely well for items that are perishable, degradable, consumable, or break down easily. Knowing that your product falls in any of the above-mentioned categories, you have the opportunity to send well-timed emails that are perfectly crafted and sound logical too.
For example, beauty products or such other items have a short life span and they last for just a few months or a year maximum. In such a scenario, manufacturers can send the reminder to consumers to replace their perished items with the new ones. This theory is effective because customers would not like to damage their skin with expired beauty products.
The theory is also practical because the right message (reminder to buy a new product), will be delivered to the right person (women only) at the right time (well before the product expires).
Send Regular Push Notification
Push notifications, emails or newsletters all fall under the category of the best communication channels to build the relationship with the clients. All these channels have proved their capabilities as the exceptional e-commerce channels. It has been proved that sending regular notifications to the customers build their interest towards the products.
While sending such notifications, a little research to track the customers' behavior (through diverse social media channels) can exceptionally help marketers align customers' favorite product in the notification and direct the same towards them.
Social Media Connections
There is no one better than your customer to build your social media connections with. People who "like" as well as "follow" your brand have their own profound reasons. Thus, capitalize on this fact and treat your loyal customers as your brand ambassadors. They will love to get info on the new releases; so, make sure you are connecting often with these people and fetching them back to your store.
Different social media networking channels, for example, say Facebook show your posts only to 5-10% of the total fans. Therefore, make sure you are posting enough to reach out to all your followers.
Loyalty Program Rewards To Customers
Concluded as one of the best customer retention techniques, there is a simple theory behind loyalty programs. First give your customers and then receive increased business sales from them. Rewarding customers for their loyalty will make them feel special and hence, they will consider your store often for shopping.
You can program your reward for the clients on their birthdays, for sharing your link to other e-commerce stores, for writing a review for your store, as well as for signing up the newsletters from your store.
Give Shoppers Free Shipping Deals
It is said that a satisfied customer is a myth; however, you can do your best to prove it a fact. Customers can only be satisfied if they have been served well with loyalty programs, additional cashback benefits, and privileged with a free shipping of the products that have been shopped from your store.
Several e-commerce surveys have concluded that customers are more likely to order products if there are no additional free shipping charges applied on the product that is dispatched. With a number of stores accepting this idea, the expectation of the clients are soaring in the same ratio. Now they are more likely to search for the stores that offer free shipping deals.
Sum up!
Customer retention is really important for e-commerce stores in order to spread their business to the new horizons. These proven suggestions have the capability to increase customers'attention towards e-commerce shopping and help businesses in growing their current status.