Keys To Build Remarkable Apps & Their Future For Consecutive Success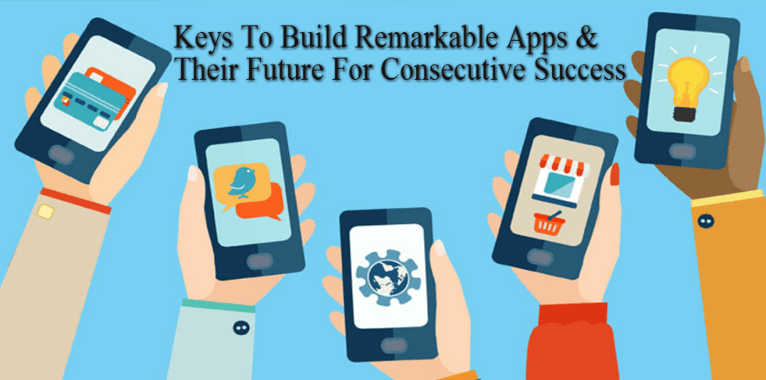 With the increasing number of app lovers, the arena of app development witnessed a prodigious shift towards the creation of gadget friendly apps as well. Today, wearable, iBeacon, and IoT technologies are leveraging the global population, the app development industries are redefining their techniques for building more advanced and feature-rich apps which are supported by smart devices, tools, and gadgets. Through these type of apps, the users may connect, monitor, transfer data, and entertain themselves through several internet enabled devices such as wearables like smart watches, devices like WiFi thermostats, wireless routers, and more.
Today, there are more than 2.2 million apps available in app stores but according to the Gartner only 2% of them are successful. In the race of leading ahead in the industry, the app development agencies never leave any chance to illustrate their work & achievements specifically in the field of digitalization. It was concluded from several reports that an average smartphone user prefers to install about 26 apps and about 63% of them access only 1-5 apps on the daily basis. Considering all these facts, many app development service providers are prioritizing the extent of modifications which may be rendered in the apps' functionalities.
Get in Touch with Mobile App Development Company
Contact US
With the help of user-friendly and compatible, the user may have easier access to it and if the app features enhance UI/UX then it will be like an icing on the cake. It is a known fact that along with the performance of app, there are several other factors which are considerable for its success and popular future. However, following are the major keys to create an app with incredible features and flawless functionalities.
Prioritize customers or app users
Targeting the needs, preferences, and moods of the customers specifically while developing an app is necessary in many ways. The probability of the app usage is divided in the ratio of 80-20 percent and that's why, app developers focus on those 80% users instead of just targeting on remaining 20%. The developer must analyze, research, and learn about the app development trends while keeping the basic needs of the customers in mind.
Furthermore, the majority of app lovers are inclined towards feature-rich applications which are developed for specific task and target users. Thus, developing an app that can match the customers' needs is necessary so that they can relate and find it useful in different ways. So, without any doubt it can be said that an engaging, creative, and high-performing app is favorable for business if it is useful for the customers.
Feature-rich app for multitasking are gaining popularity
User-engagement is the major factor for which an app is developed. Today, app users need particular app for performing multiple tasks & functions and obviously, the user may continue to use it for a longer time if it is useful. On the other hand, flexibility of accessing any app and its features is also crucial in the process of app development.
Displayed features must be useful
An app can be made engaging and interesting through its features and that's why, the developer must make sure to render some amazing features to it. It is a fact that an app with dull & boring layout never gains user's attention even if he/she has installed it accidently. So, you must try to integrate some user-friendly and seamless features with the app's functionality so that it will connect more & more users and generate increased revenue in the future.
Get in Touch with Mobile App Development Company
Contact US
Quick loading apps are better
Compatible and responsive apps gain attention from its prominent users. Many people love to scroll & check out videos, images, and certain information while accessing the app. That's why, the developers must implement advanced technology for upgrading the app's functionality and make it easy to load and compatible on multiple platforms.
App performance optimization is crucial
Many app development service providers test app's performance through quality analysis process. It is required to check out the functionalities & features of app in order to modify & improve them before launching it among user.
All these points are considerable keys for developing a useful app for the prominent customers.