Kids App Development: Learning New Concepts With Innovative Games & Puzzles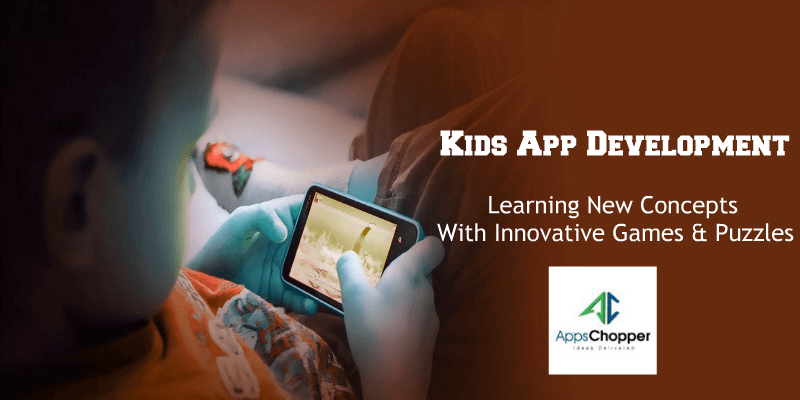 There is no age of learning so one can get updated with innovation and new technology anytime. People can keep on exploring the world of digitalization and kids are also in this race to discover this creative sphere. Nowadays, children are getting gadget-friendly as they are familiar with its functionalities irrespective of the age gap while parents keep on introducing more interesting ways to teach their kids. In this way, kids app development is considered as the best option in order to interact with kids & make them learn several things at any age.
Knowing this fact that new generation kids are smart and they learn more quickly as compared to an adult. It is assumed that there will be an expeditious growth in the innovative & extraordinary kids app development industry. However, there are different types of kids related apps as behavior, likes or dislikes of children vary with growing age. So, developers categorize apps as per the age group as described below:
1 to 3 year toddlers
-> Engaging app with a well-defined story line
-> Activities with songs, video clips, graphics, & animation
-> Learning basics of mathematics & counting through animated characters
-> Interactive games based on daily activities
-> Stimulative concepts to memorize things
5 to 7 years kids
-> Short stories for voice recognition
-> eBook for parents & kids to learn useful information
-> Easy to navigate and selected TV show clips
-> Simple exercises and quizzes
-> Photos, videos, sounds to recognize & differentiate objects
8 to 9 years kids
-> Colorful puzzle games for learning children
-> Creative drawings & illustrations to fill colors
-> Entertaining & interesting runner games
-> Challenging & puzzling arcade games
10-12 tweens
-> Racing stunt games for enthusiasm
-> Real world investigations & environmental sciences
-> Animated & challenge-based driving games
Along with the age group, several factors are considered for kids app development and that's why, every well-versed developer concentrates on few major points as given below:
• Kids take challenges seriously. It will be a great option to allow children to face the different hurdles while playing games or doing any task via a customized app. Many apps allow kids to play next levels like precise color filling options within the lines.
• It becomes easier to engage children with animated characters and creative designs. The amusing combination of colorful patterns, objects, and daily used toys will definitely attract kids & influence them to learn more.
• Children love to play with their siblings and fellow kids. Thus, developing app with multi-touch support and seamless navigation is a crucial factor to interact with kids. Apps based on color fill illustrations and creative drawing enhance innovative skills of toddlers & make them play together with their siblings.
• Obviously, kids are in the age of learning new tasks & concepts and they may make mistakes or errors in every attempt. Many popular apps enable kids to recolor drawing as many times as they like to do and this is a major point to focus for successful kids app development.
• Memories are necessary to keep a track on previous designs & record made by a child. The additional functionalities to save, share and print the activities or take printed form of child's work is favorable for user retention.
• It is necessary to focus on building a child-friendly interface with uninterrupted accessibility.
• Unlike paid apps, the integration of in-app purchase functionality is not necessary & that's why, these options are locked so children can't check them out.
• Try not to do third-party advertising because it is useless to distract children with unnecessary promotional videos or links.
Kids app development is not an easy task as every developer must understand his/her target audience i.e children & their preferences. Along with customized UI design, it is essential to offer rewards or achievement awards to kids so that they keep on playing & taking their baby steps towards bright future.