Latest Mobile App Trends To Roll Out In 2017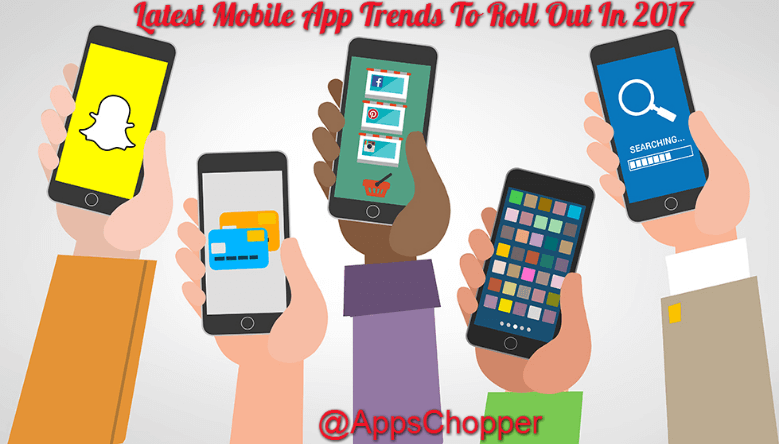 In the past few years, mobile apps have progressed swiftly and new applications are being introduced in the market every now and then. As the users of these apps are getting more demanding day by day, the developers are trying to develop such apps that meet their needs. As per the current scenario, Google Play houses 2.2 million apps and Apple App Store has about 2 million apps and this number is not going to slowdown any more.
In the year 2016, we could witness the battle between Android applications and iOS regarding app insecurities and ever growing demand of hybrid applications. As per the recent research, the approx number of smartphone users is about to reach 4.6 billion by the end of the year and is predicted to rise up to 4.7 billion in the year 2017. New trends and strategies are expected to come in the coming year in order to match with the emerging mobile device technology and change the insignificant applications with good ones.
Get in Touch for Mobile App Development Company
Contact US
Gone are the days when apps were built for just smartphones. Now, they are widely being used for smart cars, wearables, IoT-enabled devices and many more. Arrival of 2017 brings a great opportunity for consumers and entrepreneurs as the market place promises to be more enticing. Cloud-based apps have gained huge importance over 2016 and the capability of sharing data in real time with the server and other devices has driven huge innovations. But, now the time has come to look forward and there are some major key mobile app development trends to look out for in 2017.
Upcoming trends of mobile app to come in 2017
1). Continuous growth in Location-Based Services (LBS)
As all the mobile devices these days are coming with the ease of use of GPS, location- based services will continue to progress further and will help the users in getting the exact information based on their whereabouts. Some of the key areas where LBS can prove to be highly beneficial include retail offers, indoor mapping, security features, location-specific payment portals, travel & tourism and many others. Beacon technology is getting highly popular in this arena. As this facility drains the battery very fast, hardware advancements in this area can be of great help for developers and businesses to flourish in 2017.
2). Android Instant Apps to become very popular
A few days ago, Google made an announcement about its Instant Apps feature that aims to deliver exactly what it claims and enables Android apps to run immediately. Such apps come inbuilt and do not need to be downloaded or installed for using it. This "run-only-as-you-need" point would definitely bring a huge change in the app industry. Assume that you are conducting a search on Google and then the related app turn up on the search page and open instantly without the need of installation. Such apps are basically for the preview versions with some advanced features missing out but are the perfect option for a quick view.
3). Application security to be crucial than before
The security of the mobile devices has become a major concern than ever mainly because of the sensitivity of the user data on it. Amazingly, numerous people still do not pay much attention to the security of the smartphone and this turn out to be the major concern for the app developers also. Apps that come with in-built security should be given higher priority both at the API level or with a simple code for accessing the app itself.
Get in Touch for Mobile App Development Company
Contact US
Sum Up!
Finally, at the end of the tenure, it is essential for all apps to offer an extraordinary and smooth user experience in order to succeed in this cut-throat competition in the year 2017. Designing skills and to understand the requirement of the customers has become the main aim for almost all app developers and develop apps based on the latest trend. Thus, hoping to see some truly spellbound apps to come our in 2017.