Magazines & Newspapers App Development: Extend The Reader Base Of Your News Agency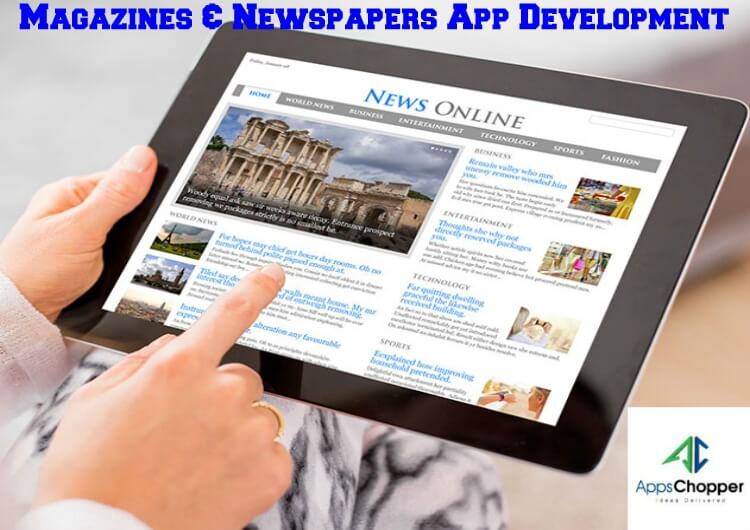 Online media is a wide platform to disseminate any important news for public awareness and it is considered as the fastest medium to check out the detailed facts on certain happenings or incidents from all around the globe. You can gather updated news and information of the recent stories from the worldwide corners just by switching to the custom-built applications on your smartphones & smart gadgets. That's why, several publications and news agencies are turning towards magazines & newspaper app development in order to reach the global population.
Nowadays, people prefer to visit e-portals quickly or read the latest newscasts via customized apps instead of reading bygone stuff of the previous day on newspapers. In this ever-changing world, lots of happenings take place all around while these interesting apps enable you to connect with the social, national, and international world along with the descriptive information. Many magazine & newspaper publishers struggle to keep a pace in the market and they increasingly demand specialized magazines & newspaper app developers. In other words, it is favorable to uphold the budget for app development to generate profits & run your business efficiently among the competitors.
Advantages of Magazines & newspapers app development
Today, almost every newspaper & magazine organization possesses high-performing apps to engage their existing users & steer more users towards their services. It is a fact that app readers enjoy innovative user experience and they prefer to access user-friendly mobile apps to check out informational content, live & streamlining video of any happening along with current news and the recent political debates. Let us mention some distinctive benefits of opting for magazines & newspaper app development:
Get in Touch for Magazines & Newspapers App Development
Contact US
• Revenue generation via paid articles, online advertisements, subscriptions.
• Customized search options to find related information or news and download the content for the future reading.
• A convenient way to deliver updated reports and upload live videos with minimum costs.
• Popularize your business via customized app among users and competing news agencies and publications.
• Social media integration of an app is favorable for branding and necessary to capture an extended reader-base from all around the globe. Furthermore, people are widely connected via social media and thus, it is a crucial factor to steer users & let them enjoy reading or sharing interesting information or news of the day.
• Any happening, information, development, and issue may be considered as news if it is useful for the public. Several magazine & newspaper app developers customize apps functionality in categories so that users can easily search fresh news related to the entertainment, political, crime, education, science, and sports field.
Interesting features of newspaper & magazine apps
Magazine apps
• Uninterrupted access to interesting stories & news-based content
• Enhanced user interface to deliver stunning reading experience
• Instant share options among family & friends
• Customized layout for content along with responsive images
• Zoom in & zoom out option to read specific line or paragraph
• Upgraded multimedia integration
Newspaper apps
• Well-defined news feed based on current news, trending topics, and social happenings.
• Social media integration to enable users to share the interesting and important news that they liked.
• Flexible navigational features to check out each & every news in detail.
• Options to enable users to participate readers in certain events, online surveys, and contests.
• Customized search options based on users' preferences along with suggested news stories.
• Updated and well-defined content integrated with creative slideshows, audios, videos, and related links.
Being a part of news agency & publication company, you must know the significance of mobile apps in business growth. In order words, you must go for magazine & newspaper app development to retain your existing reader base and take a lead among your competitors.