Plan Exotic Journey For Travelers With Feature-rich Ticket Booking Apps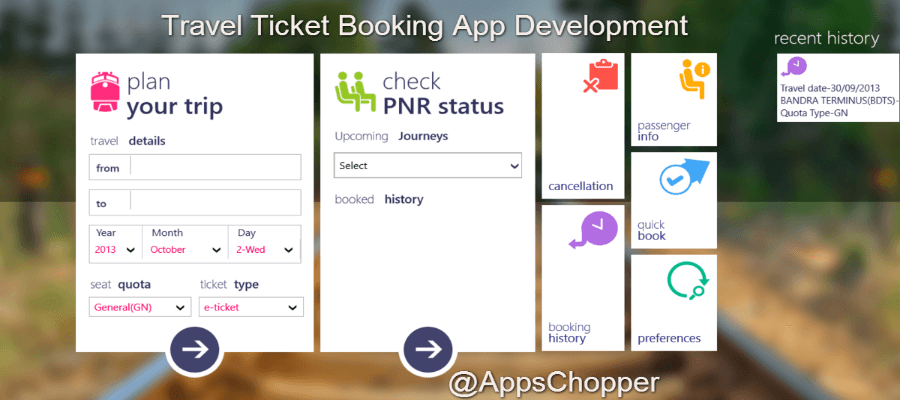 Traveling is an integral part of any vacation rather it is for long-term or short-term. From hassle-free hotel registration, enjoyable dining to convenient ride, the whole journey is planned in specified manner. So, it is obvious that more and more tourism agencies will tend to provide additional benefits to their customers in many ways. That's why, the majority of tourism companies are hiring travel app developers for getting a user-friendly and high-performing app for reaching their customers and expanding their businesses.
In the advent of mobile app technology, several industries are enjoying the benefits of increased market share and sales. Similarly for tourism companies, the travel ticket booking app development agencies are highly advantageous as they provide cross-compatible apps which are fully-fledged with cutting-edge features. While accessing these ticket booking apps, the users may reserve their seats for flights and also book rooms at their favorite hotels. The best things about these app based services are the convenience and perpetual availability of seats for the passengers and that's why, they are specifically developed for hotel & flight booking.
Considering the facts from emarketer.com, about 51.8% travelers love to book their tickets via online mode irrespective of the size of devices. With this report, it is clear that most of the users prefer to book their flight tickets or hotel rooms through engaging mobile apps. Although it is generalized that a travel app must have some basic features & functionalities, following are some major modifications needed to be done to the features of any ticket booking app for hotel & flights:
Virtual travel experience for user engagement
Being a traveler, you must like to visit and explore various places through a preplanned tour. With the help of ticket booking app, you may enjoy booking services for flights as well as reservation services for hotels on any location. Furthermore, the ticket booking apps are designed for providing additional benefits to the travelers like offline accessibility, guides based on travel information, virtual site seeing experiences and more.
Instant & automated interface
Many tourism agencies offer multiple options to their customers via conversational interfaces through their ticket booking apps. The options like flight & hotel booking options through emails, suggestions for personalized flights, and recommendations through messengers, Skype and other platforms.
Weather or climate forecasting
Booking flight tickets early is part of preplanned trip but yes, weather & climate conditions are the major factors for any successful journey. For the travel ticket app development, the developer must integrate this useful features that provides real time climate forecast and alerts based on weather predictions through instant notifications. With this, the customers may track down the wind speed, humidity level, cloud & rain possibilities and other essential factors responsible for the cancellation and delay of flight.
Feedback options for travelers' review
Enabling the customers to share their traveling experience with others is the best option to understand their expectations and determine the lapses in services. Thus, the travel app developers must follow the review system and let the customers reciprocate their views, suggestions, and opinions after enjoying your travel services through the travel app.
So, upgrading the basic features of a ticket booking app for flight & hotel rooms with all above factors is necessary for generating increased revenue with better user retention.