Role of Flexibility in Mobile Apps Design & Development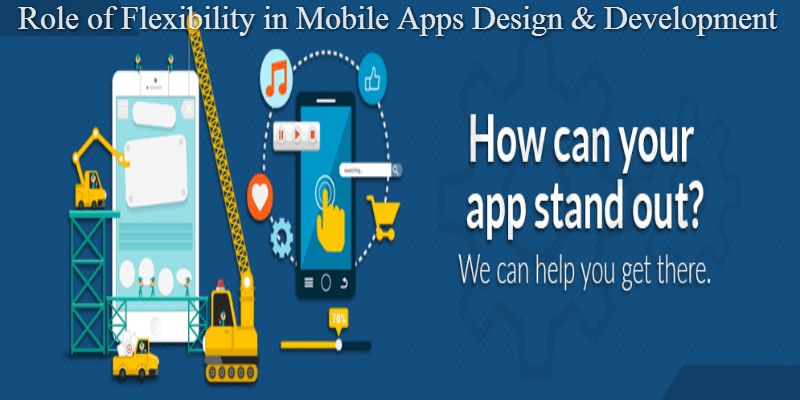 In today's time of digitization, mobile applications have become a vital part of everyone's lifestyle. Ranging from personal to professional tasks, these apps have streamlined almost all the sectors. These days, customers prefer to access a business product or services right from their smartphone or tablet. As a result, the mushrooming usage of mobile apps has led to an increase in the number of apps that are totally compatible with almost all the devices such as tablets and smartphones. The huge advantages of mobile apps have made almost every entrepreneur believe that deploying mobile app development can be beneficial for all sorts of businesses.
As per the study done by the media agency OMD in the last year, it was found that customers swap between devices on an average of 21 times per hour while being at home. This type of statistics indicates as to how the world has changed since the very first web analytics tools hit the market in 1990s. As a result, this visible change in the customer behavior has forced the marketers to rethink the way they calculate and activate the customer behavior across varied channels. Seeing the current scenario, if mobile is not an essential part of your digital strategy, then it will become soon.
Get in Touch for Mobile App Development Company
Contact US
In order to stay on top in this new multi-device era, AppsChopper has a firm belief that companies should have a remarkable amount of flexibility when it comes to gathering data and implementing the latest technologies in mobile apps. It's vital for marketers and analysts to analyze as to what customers are doing on their devices with a view to target and engage them in a better way. On both fronts, having flexibility in the apps is crucial to attain success.
What we signify by flexibility
Flexibility is one such concept that is simple to say but very tough to implement and bring to reality. It is vital that the brands are provided with the choice in the way they bring their digital marketing technology to life. Whether it is providing customers with the option to load in distinct ways like synchronous versus asynchronous tag implementations, we believe that companies know their business in a better way than others and require such technology partners that empower flexibility.
As a matter of fact, it is imperative for any organization to select a mobile development platform that is not only flexible but also extensible in its approach as the apps can be developed with the best UI on a standard based platform. This in turn enables the major flexibility in bringing changes to the enterprise applications.
Companies demand the best-of-breed UI
In today's scenario, 'if you build it they will come' works no longer as the users continuously apply the standard of UI/UX expertise to their personal as well as business apps. It is vital to spend on such app designs that is perfect for the end users even before a single line of code is written. A user-centric development results into a set of UI and UX requirements that will differentiate from app to app.
Get in Touch for Mobile App Development Company
Contact US
Best-in-class framework
New application designing platforms are introduced almost every year in the market. Thus, it becomes quite tricky to choose the best one among them. Many developers face difficulty in choosing the best one so it is essential that they should be clear with the fact as to what their client's need in the apps. Moreover, they should have knowledge of various kind of applications such as Web, Hybrid and mobile apps along with their differences.
Bottom Line
Mobile applications have become a major part of the digital landscape. In the absence of such innovative apps, it might be difficult for the businesses to achieve a long term growth. So, if your business is still making use of only the website for offering the products and services, then trust us, now the time has come to get into mobile app development. Hope, the above write-up would have helped you in collecting the useful insights of having a flexibility in your mobile apps.