Social Media App Development: Android & iOS Social App Developers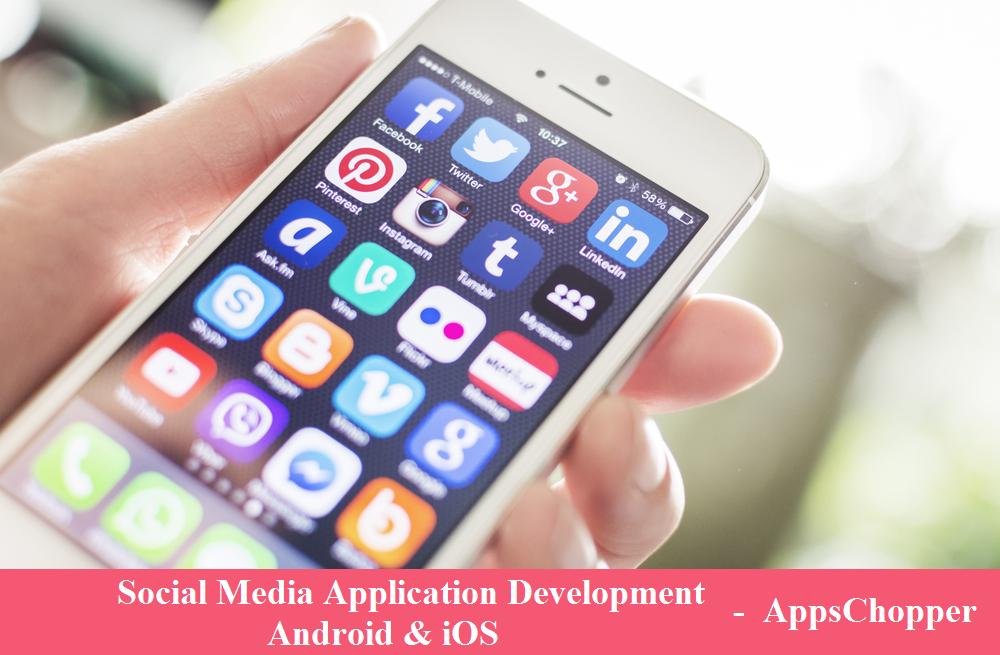 Social Media App Development in itself is a great business idea and if you get a unique social media app developed, you can build your own user base and rake in a good amount of money through advertisements and other sources. The biggest asset that you acquire with such apps is the number of loyal users. Once you have the user base, different businesses will pay you to feature on your app. Moreover, you will be able to build a brand for yourself. All you need is a trusted social media app development company like AppsChopper that can utilize all its experience and talented pool of developers to build the social media app that you wish for.
The power and the reach of social media need no mention. The different social media platforms have become an integral part of our lives and many of us are now driven by the news, advertisements, and views that we see on them. Popular social platform Facebook has a user base of more than 1.6 billion and counting. The businesses also depend on these social media platforms heavily as they can help them reach out to billions of customers. If we keep the monetary aspect aside, such apps can also be instrumental in bringing social changes and act as a platform for a revolution.
Why are Social Media Apps So Popular?
Social Media apps offer a unique blend of entertainment and information to the users and also let them connect to their friends, relatives, and other like-minded people. Earlier, these apps were just for entertainment purpose and there were no serious advantages that businesses could derive from them. However, the social media apps have now come of the age and become a great platform for the businesses to connect with the users and understand their preferences well. The bridge between the people and celebrities has also been shortened by some of these social channels and fans find their icons more accessible. The best part of these platforms is that they are free of cost for their users. The popularity of social media apps can be imagined from the fact that close to 190 million Facebook users are mobile-only. They also account for 30% of the total ad revenue generated. Moreover, 25% of the smartphone users cannot remember the time when there smartphone was not next to them. All these stats present a clear picture of the popularity of the social media apps.
What You Get With Our Social Media Apps?
The social media apps that we develop for our clients have all the notable features that are essential for any social media platform along with many other pathbreaking features to help you establish your app as a distinctive app. Enlisted here are a few features we incorporate in our social media apps:
• Consistent Design
Depending on whether we develop social media app for iOS or Android, we make sure that our design is consistent with the target operating system so that it appears classy and unified with the mobile OS.
• Advanced Search Option
There are users on every social media platform and they must be able to search other users efficiently. Advanced search options with different filters help the users narrow down the search and meet the person they looked for.
• Security and Privacy Features
The privacy of the users and the security of their personal information must be of paramount concern for the social media app developers. We have all such security and privacy measures in place in our social media apps.
• Seamless Interaction With Other Apps
We create a social media app with an aim to add modern features that make it beat the rivals. In keeping with our approach, we build social media apps that integrate with other apps on the devices if required.
• Location-based Features
Our social media mobile app development service understands the importance of the location based features and hence, integrate it with them. The users can be presented relevant ads based on their location.
• Features Based On Client's Requirements
Apart from all these features, we are always keen on listening to our client's specific requirements and incorporate them into the apps. We never hesitate to walk that extra mile for the complete satisfaction of our clients.
Advantages of Developing App From AppsChopper
AppsChopper believes in extending the best app development services to its clients. We have developed social media mobile apps for several of our clients. While some of them were meant for in-house social media platforms while others are used for commercial purposes. Rather than making quick bucks, we are here to build a strong and long-lasting relation with our clients and that is why we are very particular about the quality of the service we provide. A Few Of Our Distinguishing Social App Development Qualities
• Seasoned and Deft Developers
We have dedicated teams of developers who experts of various app genres. For social media app development, we deploy social media app developers to make sure the app is in safe hands and is developed before the agreed-upon timeframe.
• Vast Domain Experience
We have worked on the social media mobile app development for several of our clients and hence, possess unmatched experience of this genre. Supported by able developers and advanced technologies, we are able to produce high-performance apps.
• Prompt Technical Assistance
We have a very efficient and technically sound team that gives support to our clients when they require. Timely response to the queries is assured.
• Adhering to Clients' Requirement
By holding meetings and several discussions with the clients, we ensure that all the requirements of the clients are met in entirety.
Some Popular Social Media Apps
The social media app market has experienced phenomenal growth over these years and we have several such apps that are ruling the market. A few of them have been listed here.
• Facebook
• Twitter
• Instagram
• SnapChat
• Google+
• LinkedIn
AppsChopper can help you build social media apps that are of top-notch quality and in the league of those apps mentioned above. Every social media app developer in the team is competent enough to produce unparalleled apps.