Stats To Predict The Future & Popularity Of Mobile Apps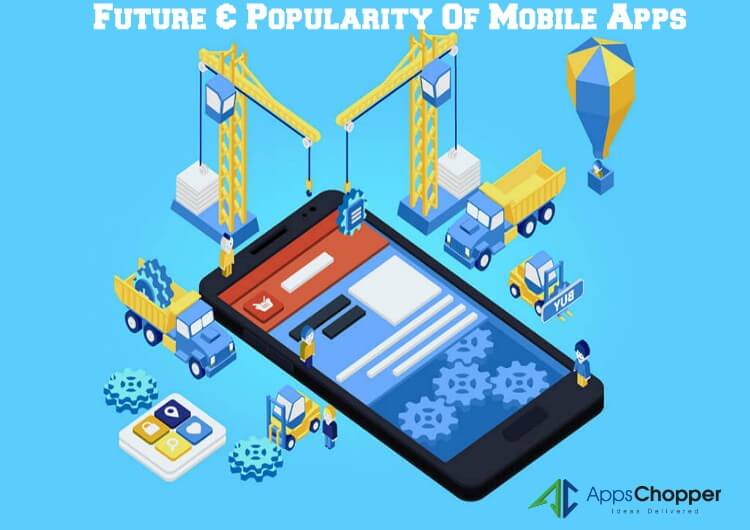 Mobile apps play an indispensable role to rope numerous ways of success in the competitive sphere. From small-scale businesses to well-established enterprises, the global market is turning towards Android, IoT, Wearable, AR, & iOS app development companies to stretch out their market share & multiply their profits.
No doubt, the advent of mobile app technology brought manifold benefits for industrialists & their target customers. With ever-changing trends and enhancement in the iOS app development, the global revenue generation rate is getting higher year by year. The below-given stats based on the tremendous increase in the mobile app users depict our dependence on the technology:
• iOS app store encircles around 2 million applications while Google play store has over 2.2 million apps and this count is set to rise in upcoming years.
• According to infographics revealed by GO-Globe, the rate of user engagement on mobile apps will increase rapidly in the upcoming years. Considering the facts, people spend 52% of time accessing mobile apps on their devices and this percentile indicates that businesses are raising their overall revenues.
• Gartner prediction defines that over 268 mobile downloads will generate revenues of around $77 billion by the end of this year. The rapid growth in revenue generation rate was consistent from year last 3 years that is $35 billion in 2014, $45 billion in 2015, & $58 billion in 2016.
• Surprisingly, it was found that women spend more hours using mobile apps as compared to men. Between 2014 to 2015, the average time spent increased by 20% from different categories. Users tend to spend 43% of the time on gaming apps, 26% on social networking apps, 10% on videos or entertainment apps, 2% on news apps, 1% on lifestyle & healthcare apps.
While considering these stats, it becomes easier to predict the upcoming trends that every
Android & iOS app development company will follow. The above stats influence the below-mentioned trends or technologies meant for mobile app development:
VR & AR based apps
Users love VR & AR technology that makes them experience the real world in the virtual environment. Several Android & iOS app development companies offer VR & AR app solutions as this technology is getting popular among the global mobile app users.
Rise of IoT apps
The latest gadgets are turning internet friendly and therefore, device-compatible IoT apps are developed for these smart devices. It is expected that IoT apps will continue to engage users in the future while delivering incredible user experience.
Impeccable UX
User experience plays a major role for app's success and that's why, Android & iOS app developers focus on customizing mobile apps to deliver amazing UX.
Security & privacy
Data security and privacy attacks are the major technical issues with the mobile apps. Every Android & iOS app development company ensures to deliver custom-built mobile apps with advanced inbuilt security features along with strong data encryption & that's why, app security and privacy will remain a major trend among app developers.
Several statistics revealed that the popularity of mobile apps will rise in upcoming years. With the rising usage of mobile apps, it is clear to say that mobile app technology will play a dominating role in the industrial growth. You need to hire iOS developer for getting a fully functional mobile app that can contribute to your business growth.