Want To Expand Your Car Dealing Business? Get Custom-Made Clone App Like Carwale & Cartrade.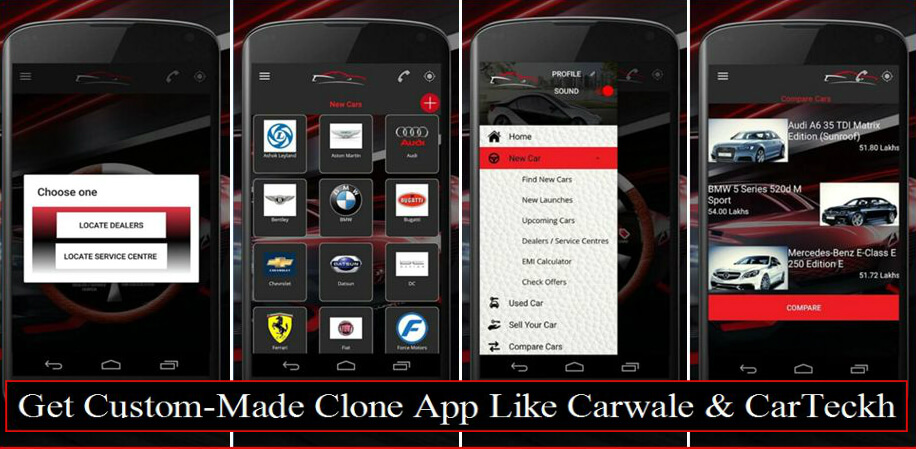 Purchasing or selling of car is still a confusing task for many people. With the soaring popularity and acceptance of mobile app technology, millions of feature-rich and interactive apps are launched globally. From small scale businesses to the leading organizations, these high performing web & mobile apps are trending among the global users. Including several other enterprises, the majority of car dealers are turning towards these apps in order to expand their businesses and get discovered on the worldwide platforms. Considering that launching a compatible mobile app for the sale or purchase of the car is advantageous for every car dealing business, many enterprises are looking for app developers to get a useful and engaging app.
Get in Touch with Mobile App Development Company
Contact US
Upsurging demand of an app for online sale & purchase of cars
For many companies which are involved in providing car dealing services, having a fully-functional app is beneficial not only for the business growth but for improving the customer retention. So, there is no doubt left regarding the significance of interesting mobile apps in the car dealing businesses. Apart from buying and selling of car, many businesses demand to have an application that enables their customers to gather the detailed information of the latest cars and their market prices.
According to the research made by Lab42, among 500 adult car buyers, 52% of them were confused while making a car purchase and that's why, they are rapidly turning towards car dealers for convenient and smooth car buying process. Today, there are various car dealing apps available in the store and few of them are globally popular including Carwale, Cartrade, and Car Teckh.
How are the car purchasing & selling apps useful?
Along with multiple features and modified functionalities, AppsChopper has delivered Carwale & Cartrade like clone apps which allow the user to:
1) Know the latest market prices of brand new cars available in the market.
2) Check out the updated information regarding the sale of cars all across India and its different states.
3) Compare the functions, features, and specifications of 3 newly launched cars.
4) Calculate the car's EMI and analyze the filtering tools for new cars including their price, transmission, brands or body type or material, the age of car, speed, ownership status, mileage, and the number of kilometers driven and fuel type.
5) To view the entire exteriors & interiors of the latest cars through the photo gallery.
6) Find new and existing car dealers available around.
7) Select the most desirous car and enjoy the exclusive offers from top dealers in India.
8) Get notifications of upcoming cars and the latest cars launched in the market.
9) Locate the car's service center nearby.
10) Sell the car with complete satisfactions and without any hassle.
11) Access the informative news and many interesting contents through different sections like "Did you know?" and "News Section".
12) Keep the record roadside assistance numbers for car brands sold in India.
Get in Touch with Mobile App Development Company
Contact US
So, with all above features and functionalities, an app for car deals will prove to be useful for the customers and profitable for the car dealers or businesses. And that's why, there is an upsoaring demand of Android & iOS app developers among the car dealing service providers & agencies in India. However, AppsChopper is entrusted for providing the world-class app development services & from where the car dealers can get clone apps like CarTekch.