War of the Technologies : Mobile App v/s Mobile Website
In this post we at Appschopper are portraying a comparison between Mobile application and Mobile website development. Both Mobile apps as well as mobile websites are making a sharp head among every business, who wants to extend the steps to mobile users. The sound popularity of both these technologies had put a hassle for the clients to choose the ideal for their business. To make it easy for our readers to take a confident decision we had arranged a One on One- Mobile App v/s Mobile website.
For utilizing the sharply increasing graph of Smartphone users; every small and large business machines are bringing their services on the mobile screens. Both mobile applications and websites are the popular candy among these business tycoons. But if you are a newbie with a limited budget then selecting the one becomes a confusing hassle.

Mobile apps are small software applications which are developed for a particular mobile operating system whereas mobile websites are HTML generated web page which is compatible with every mobile browser. Mobile websites are cheaper than mobile applications but the mobile websites needs an internet connection and hence can't be accessed in offline mode.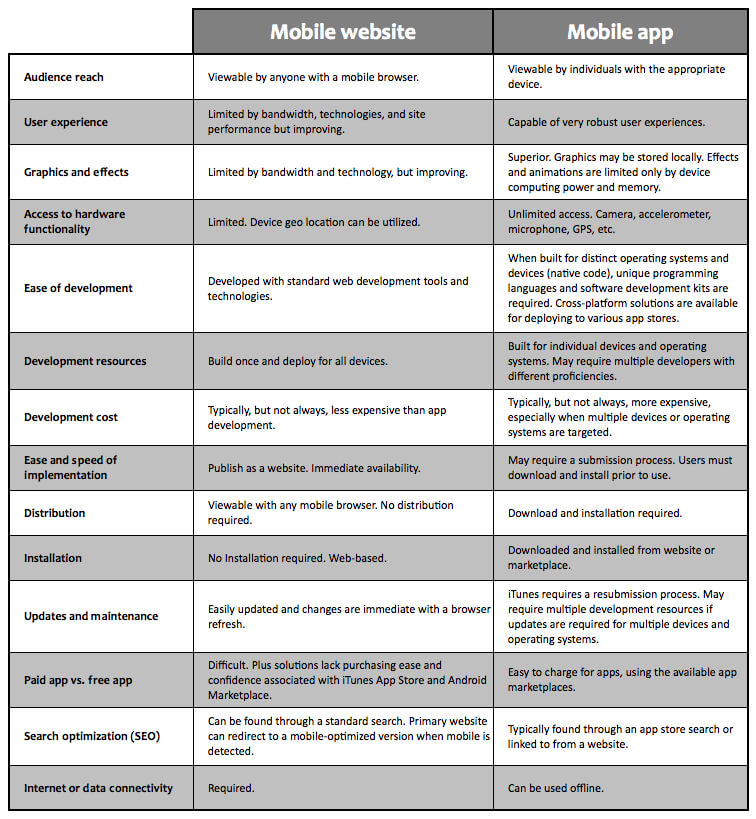 The mobile applications are capable of utilizing the properties of the mobile device like camera, contacts, sensors etc but the mobile websites are incorporated with limited features. According to the recent survey in the UK; users spend 94 minutes on mobile apps as compared to 74 minutes on the mobile website. One of the main reasons behind the dominating popularity of mobile apps is the much faster processing as compared to the mobile websites.
For more expert views about the concept. you can check out this video:
Conclusion
If your business requires information fetching from the user then mobile application development will serve your purpose better but if you can't afford a high investment and want to target the common users then mobile websites are the best. Before betting on the competitor in "War of the Technologies : Mobile App v/s Mobile Website" you are advised to inquire the requirements and expectations of your business. You can talk to the peoples who had already done that before.
If you still have some queries; you are welcome to contact us anytime at sales@appschopper.com. We will love to assist you.
Posted By: APPSCHOPPER Team- Mobile Application Developer from #1 Mobile Application Development Service Provider.
War of the Technologies : Mobile App v/s Mobile Website

,
Recent Posts
Category
Archive
Subscribe
Stay updated with Appschopper at: