Reading Time:
3
minutes
Are you willing to earn money, donate to charities, and bring a change by walking, running, or biking? In this blog, we've picked 'Charity Miles' as an app of the week that empowers you to earn money for charity whenever you walk, run, or bike. Anytime, anywhere!
Talking about charity, it was a bit challenging in earlier days. You had to cut a check, find a mailbox, go to a post office, or more. But today's digital world has made it effortless; people can simply go to websites or download mobile apps and become philanthropists. Nowadays, many businesses are investing in charity apps to bring a positive change for needy people, thus turning towards companies that develop apps.
Donating for a good cause not only benefits the charities but can be deeply rewarding for you too. It makes you feel good, strengthens personal values, encourages friends and family to do the same, and more. What else could be better than Charity Miles to earn money by running or walking miles to make a positive change in other people's lives and the world?
What Is Charity Miles?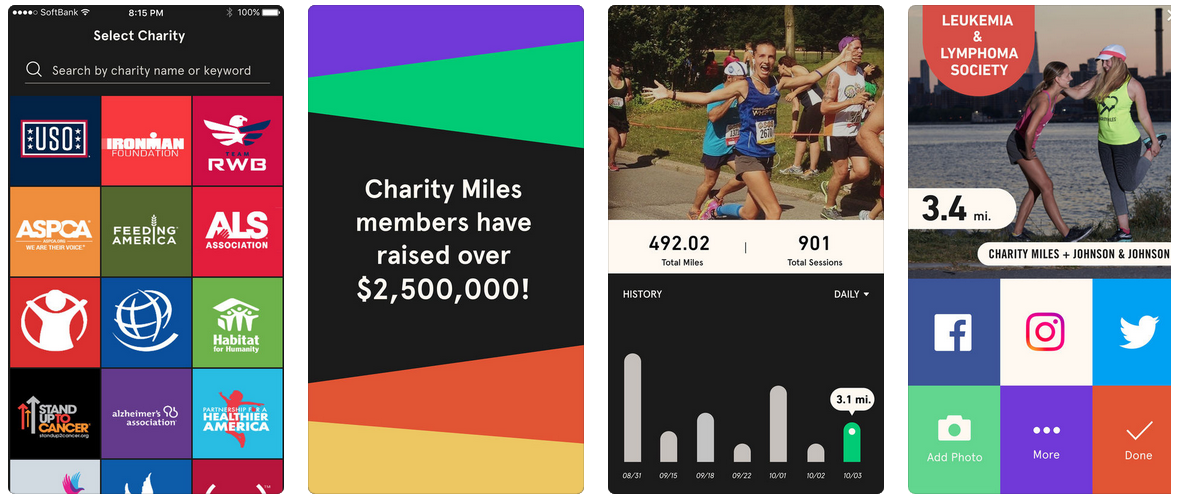 Charity Miles is a fitness tracker app that empowers people to earn money for charity by walking, running, or biking. They've partnered with over 40 world-class charities and supported by renowned sponsors like Johnson & Johnson, Brooks Running, Blueprint for Athletes, Varidesk, Del Monte Fresh, Sunniva Coffee, and more that are causing a significant impact on health, children, animals, environment, education, and veterans.
Over 100 million miles are moved by people who helped Charity Miles members earn over $2.5 million so far. 'Charity Miles' has won numerous awards, including the SXSW People's Choice Award and a Webby for the Best Health and Fitness Apps.
How Does the Charity Miles App Work?
Download the app – Being featured as one of the top health and fitness apps, Charity Miles is available for iOS and Android platforms. You can either go to the App Store or Google Play Store depending upon the device you have to download this mobile app for free.

Create an account and choose the charity – Once you have downloaded the app, you need to launch the app, create an account, and choose your charity. With plenty of charity options to choose from, you can choose the causes and people you feel most passionate about and make your move accordingly.
Move and Earn – When your account is created, and you've selected the charity of your choice, it's now time to move. The app lets you log all types of movement, from running and walking to dancing and even biking. Be a mover and changemaker in any way that fits your lifestyle.
Make a difference – Once all the above things are done. It's time for you to make a difference. For every mile you move, you help earn money for your charity from Charity Miles' corporate sponsorship pool. Also, you can get sponsored by your friends.

Also Read: App of the Week: DoorDash – On-Demand Food Delivery You Need

Features of the Charity Miles App

Lets you join the community to earn money for charity by walking, running, cycling, and other activities.
Log in either with your social media accounts or an email address.
Supports all types of activity trackers/fitness bands.
Opt for charity from over 40 world-changing organizations.
Use anywhere for various activities, including walking, running, dancing, biking, and more.
Functions as a run-tracker, pedometer, walking timer, cycling meter, or running stopwatch.
Tracks every workout through GPS and motion sensors.
Access profile to view complete activities like total miles, complete sessions, and the total amount of funding for the charity.
Get moving and start raising money for your charity.

To conclude, Charity Miles is an admirable app and a great way to become a philanthropist even if you're not a fitness enthusiast as it lets you raise money for charities just by walking. So, are you ready to make a change? Download the app today and turn your miles into money for charity.

We would love to hear your comments relating to the post. Got some other thoughts? Drop us words through our contact page.