Reading Time:
8
minutes
The eCommerce mobile app market has witnessed huge growth in the past few years.
Buying products or services through mobile apps has become quite convenient and the preferred shopping path for most people. In fact, a study by Statista has shown that retail e-commerce sales are expected to reach 8.1 trillion dollars by 2026. 
After seeing this figure, you might wonder about having your own eCommerce app. If yes, you must consider hiring an eCommerce application development company to get a high-end app for your business.  
This blog discusses everything you must know about eCommerce app development, including must-have features, types of eCommerce apps, and much more.
Why Should You Invest in eCommerce App Development?
Increased Brand Recognition
One of the prominent reasons to build an eCommerce app is better brand visibility. According to a study, consumers spend 85% of their time on smartphones. Thus, it is one of the accessible ways to connect with your targeted audience and make them aware of your brand's existence. 
The most exciting thing about developing an eCommerce app is the 24×7 accessibility that improves customer engagement.
Personalized Shopping Experience
If you want a successful eCommerce app for your business, offering a personalized experience to your targeted audience is a must. With the development of eCommerce apps, you can engage with your customers and know their preferences by checking their previous orders or buying patterns. 
After comprehending your potential customer's preferences, you can offer them products or services accordingly.
Better Marketing Opportunities
Investing in an eCommerce mobile app can be a turning point for your business, as it significantly improves marketing communication via push notifications. 
Most users click on the advertisement once they receive a promotional message or push notification from any eCommerce business.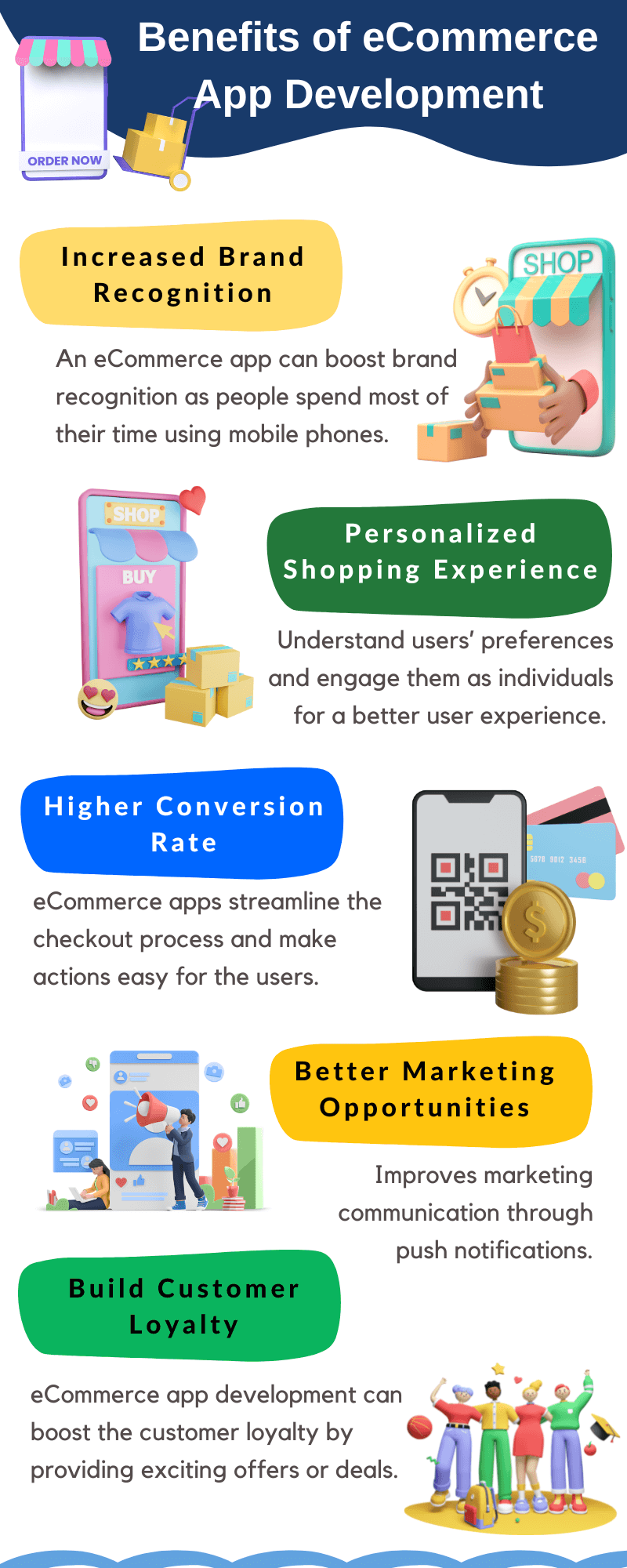 Types of eCommerce Apps
There are three major types of eCommerce apps that you can consider before starting your eCommerce business, and each is unique in its own way. 
Business-to-business is the first business model where entrepreneurs sell their products or services to other business entities. 
An effective B2B eCommerce app type scales up the business smoothly by meeting market expectations.
Top B2B eCommerce Apps in the US
Alibaba is a well-known wholesale marketplace for worldwide trade. In other words, it is a business source for many entrepreneurs across the world. 
Key Features of Alibaba App:
Comprehensive order management

Easy to navigate workbench
Poshmark is a social commerce platform and mobile app for buying and selling fashion products, like clothes, jewelry, etc.
Key Features of the Poshmark App:
Chat privately with the seller

Score item and shipping discounts
As the term suggests, B2C is a business model where entrepreneurs sell their goods & services directly to the consumer. It bridges the gap between the end customers & enterprises.
Top B2C eCommerce Apps in the US
Etsy is a B2C eCommerce app where entrepreneurs can sell custom-made products to the targeted audience globally. 
Key Features of Etsy App:
Sellers can create a shop

Etsy lists unique products in the art & craft, handmade and vintage categories.
Amazon is a one-stop online store for buying different products, allowing buyers to track their orders online. 
Key Features of Amazon App:
Use your camera to search for products

Virtual "Dash" button that helps customers locate and reorder items quickly
Multivendor is a platform created by eCommerce marketplace developers that lets marketers sell their products online and do business worldwide.
Top Multivendor eCommerce Apps in the US
Walmart Grocery is an omnichannel grocery business model, meaning it has both online and brick-and-mortar stores.
Key Features of Walmart App:
Use the barcode scanner to check prices and quickly add items to your shopping list.

Quickly reorder routine items and schedule your curbside pickup or delivery.
eBay is a well-known online shopping app where buyers can relist items and get information regarding their orders.
Key Features of eBay App:
Products and reviews via the eBay catalog.

eBay search box enables buyers by location, price range, buying format, and much more.
Top eCommerce App Development Trends in 2023
Artificial Intelligence & Machine Learning
The first trend that every business owner should consider in shopping app development is artificial intelligence & machine learning. These two are the top trends that help deliver high-level personalization online experience. 
With the help of predictive analysis and in-depth research, AI and ML analyze the complete data of the users. It includes the user's buying journey, shopping history, search criteria, gender, demographics, etc. 
As a result, eCommerce apps recommend products based on the user's preferences.
Augmented Reality & Virtual Reality
If you want to make your potential user's experience more user-friendly, intuitive, or satisfying, add augmented reality and virtual reality during online shopping app development. 
Brands like Ikea are already leveraging the features of AR and VR for a more advanced user experience. 
Augmented reality and virtual reality enable the customers to have a complete look at the product from their place before purchasing. In short, the presence of AR in the eCommerce app can bridge the online shopping experience with physical stores.
One-click ordering is a feature specific to mobile apps for eCommerce. It removes the hassle of entering a whole list of personal details to check out for every single order.
Reducing the time and effort it takes to shop on an ecommerce app will keep cart abandonment rates low. In fact, users shopping on a mobile eCommerce app tend to spend far more than those on websites. This has become possible due to features like one-click ordering.
Voice commerce is on the rise, thanks to the increasing popularity of smart speakers and virtual assistants. Consumers are embracing voice-activated technology for various tasks, including shopping. 
Ecommerce platforms have been integrating voice commerce capabilities this year, allowing customers to place orders, track shipments, and make inquiries using voice commands.
Virtual assistants are also playing a significant role in enhancing the customer experience. By integrating virtual assistants into ecommerce platforms, businesses can provide personalized recommendations, answer customer queries, and offer real-time support. 
These conversational interfaces create a more engaging and interactive shopping experience, mimicking the assistance provided by in-store sales associates.
Must-Have eCommerce Mobile App Features That You Should Consider
The first must-have feature in the eCommerce app is a quick signup process. Users can simply sign up for their accounts using email addresses, one-time passwords, and more. 
A simple registration process makes the eCommerce app more accessible and results in a higher conversion rate. 
Offer Multiple Payment Options
One primary reason for the higher cart abandonment rate is not providing multiple payment gateways in the eCommerce app. Thus, incorporate numerous payment options, like Apple Pay, Google Pay, or PayPal to reap huge profits. 
In other words, multiple payment options can help scale one's business and lead to better customer satisfaction. 
If you want to drive more sales for your business or attract new audiences, consider sending push notifications regarding upcoming sales, discounts, order tracking, etc. 
Real-time notifications continuously remind the targeted audience, generating more sales. Push notifications can be in any form, like images, videos, or GIFs, which helps in better customer engagement.
Another imperative feature in eCommerce software development is a wishlist that provides a better strategic value to business owners. It lets customers save their favorite products in the wishlist to buy them later. Adding a wishlist button is also a great way of reducing the cart abandonment rate.   
If you want to know that your eCommerce app is doing well, you must add the reviews & rating option. 
These two options in the eCommerce app help you know what your customers think about your products or services and what more they expect. Besides that, positive reviews & ratings also affect the new buyer's decision.
Steps to Create an eCommerce App 
Begin the eCommerce application development process by defining the ideas, vision, goals, and purpose. In this stage, business owners can also conduct market research to help them know the competitor's insights and ongoing user demand. 
Apart from it, entrepreneurs can define the eCommerce app's opportunities and how they can stand out from the competition. 
Following is a list of questions entrepreneurs can determine in the eCommerce app development process.
What results are you expecting from the eCommerce app?

Which is the best technology to use for eCommerce app development?

How are competitors meeting the user demand?

How much budget have you set for the eCommerce app development?
Read More :- How to Strategize Your E-Commerce Mobile App Development
After defining your eCommerce app's vision or ideas, you can proceed with the app design. The creative way to attract the potential audience is by crafting an aesthetically pleasing (yet interactive) eCommerce app interface. 
You can consider using common UI elements to maintain consistency throughout the eCommerce app, which will boost the user experience (UX). You can even create an app prototype and get the wireframe to know about the user's interaction. 
Also, if you want a minimum viable product, consider availing eCommerce app development services to analyze the app's usefulness & functional performance in the market.
After finalizing the eCommerce app design, the coding process will begin. The eCommerce mobile app development company converts UI mockups into a fully-functional eCommerce app and integrates all the necessary features. 
App developers pick the right technology stack based on the chosen platform. They further develop the high-end eCommerce app as per the business's expectations. 
The eCommerce mobile app development process involves the integration of the back-end, application programming interfaces (APIs), and front-end.  
The back end includes a database and a server-side object supporting various eCommerce app functions.

The application programming interface (API) is an intermediate between the app and the back end. 

The front end is everything a user experiences on the eCommerce app. Simply put, the front end is where an end-user will interact with an eCommerce app.
Once your eCommerce app is developed, thoroughly test it before releasing it to the App Store or Play Store. The eCommerce app testing ensures that the app has fewer bugs or glitches to deliver a smooth user experience. 
The quality assurance (QA) team plans well-thought security practices to assure the eCommerce app's stability, reliability, and usability. Also, try to test the eCommerce app in all the possible scenarios, like what are the most used devices, the user's location, and other aspects.
After eCommerce app testing, you can finally launch your app on the platform of your choice. The app developer will create an account with the relevant app title, screenshots, informative descriptions, and keywords. 
As a business owner, you can ensure post-app launch maintenance to enhance the existing features or services and make them as per the user's expectations. 
Your eCommerce app can never remain error-free, and you must fix the errors with time. The app's design should also get updated over time to attract new users and keep them hooked to the app.
How Can Businesses Earn From an eCommerce App?
Business owners can provide paid membership or premium subscriptions to their intended users, where they will have to pay a nominal fee per month. 
Paid eCommerce apps help businesses generate higher revenues that help get more income, leading to better business growth. Moreover, subscription-based mobile apps keep the audience engaged and convert them into loyal customers.
In-app advertising is one of the greatest sources of generating higher income in eCommerce apps. Business owners can run personalized ads through banners or push notifications and inform users of ongoing or upcoming offers/deals.
How Much Does It Cost to Create an eCommerce App?
The eCommerce app development cost is based on primary and complex features. The more basic features you integrate into your eCommerce app, the less expensive it will be and vice versa.
Basic eCommerce App Features
The basic features of the eCommerce app include:
Registration Process

Product Listing

Product Gallery

Shopping Cart
On average, the estimated cost of eCommerce app development can range between $50k to $75k.
Advanced eCommerce App Features
The advanced features of the eCommerce app are as mentioned:
Multiple Payment Integration

Order/Delivery Tracking

Push Notifications

Social Media Integration

AI Voice Assistant
On average, the estimated cost of eCommerce app development can range above $75k. 
You can get a no-obligation cost from us to get into more details. 
How Can We Help?
We, at AppsChopper, develop high-end eCommerce apps according to the business's objectives or expectations from different industry niches. Developers at our organization deploy fast, scalable, and conversion-optimized eCommerce apps for all mobile platforms. 
Here, we use cutting-edge technologies to create feature-rich eCommerce apps to strengthen the user experience. So, if you have an app idea, and want to turn it into reality, contact us.
Conclusion
To conclude, the eCommerce mobile apps market is booming due to the significant usage of mobile phones. That said, having a high-end eCommerce app can help you scale your business at an unprecedented rate. 
Also, if you want a successful eCommerce app, you must stay updated with the ongoing trends, like AI, ML, AR, VR, multiple payment gateways, etc. Most importantly, contacting a suitable eCommerce app development company is advisable as it will serve the best purpose for your app solution.