Reading Time:
7
minutes
Do you also want to build a successful mobile app for your business, the same as Twitter or Uber? If yes, develop a minimum viable product. It is considered one of the most suitable approaches that decide whether your mobile app will make or break it. 
No business owner would prefer to spend a hefty amount in developing a mobile app only to discover a failure. That is why an MVP is the go-to approach that helps meet the user's requirements and thrive in the market. 
To ensure what your users expect from your mobile app, consider a minimum viable product development as it is cost -and time-effective. It also helps enhance the app's performance based on the analysis of user feedback. 
The blog has briefly discussed MVP, including popular examples, benefits, development procedures, and the estimated cost to create MVP.  
What Is a Minimum Viable Product (MVP)?
A minimum viable product is a basic version of the app with essential features to attract early users. MVP validates the product idea during the development cycle and releases it in the market for testing. 
The main agenda of MVP is to determine how your targeted users will react to the product after getting familiar with the app's core functionalities. With the help of MVP, you can collect user insights that will lead you further to move on to the next step. 
MVP development guides the marketing team regarding where the app is lacking and how they can stay ahead of the competition. The idea of a minimum viable product is to get user feedback that helps develop the final product accordingly and turn app development ideas into reality. 
Popular Examples of MVP That are Now Successful Brands
Initially, Twitter got defeated in the audio/video marketplace due to the presence of iTunes. It resulted in the launch of a completely new product by Odeo, known as 'twttr.'

During the early phase, the platform was accessible to Odeo employees, and after success, they decided to make it for public use as well. However, it didn't gain popularity instantly, but now, Twitter is one of the most popular social media networks globally.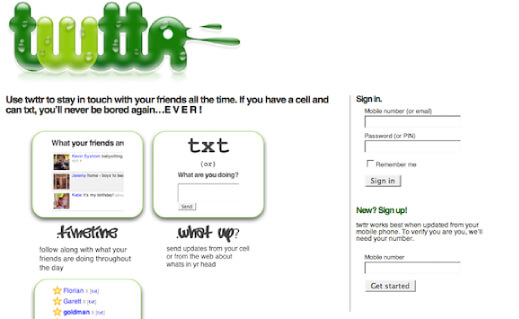 Joel Gascoigne didn't want to develop a product that would not benefit his targeted audience. That is why he decided to develop a minimum viable product of Buffer that contained a product description and a few subscription plans.

He later shared it on Twitter, and in order to subscribe, people wrote emails about the product's unavailability and asked to monitor the full-fledged building process. As a result, developing an MVP was a success.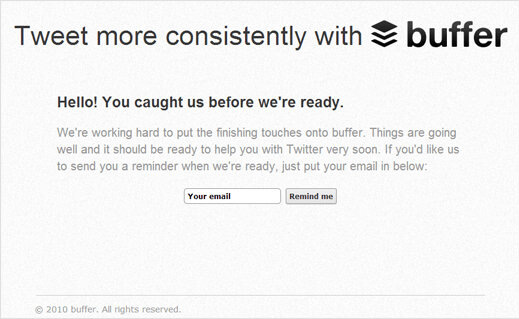 Two San-Francisco men decided to rent out the top floor of their apartment to visitors who didn't get any room at the hotels. It led to a business idea that begin with MVP development. They built a landing page and posted their housing pictures.

Initially, three clients rented the room during the conference, and in the present time, Airbnb is a successful project. In the first quarter of 2021, it generated $887 million profit.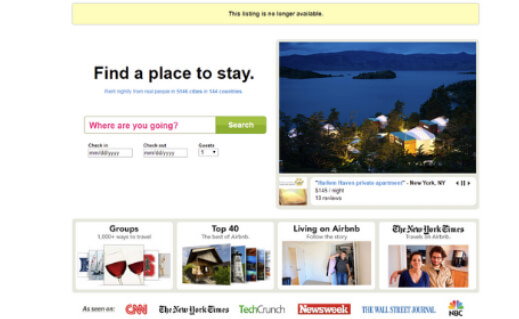 Top 5 Advantages of MVP
Focus on Core Functionalities
The first advantage of a minimum viable product is that it focuses on the core functionalities of the product. This approach lets users test their app idea with minimal yet essential features at a low cost.

Many business owners are more inclined to add multiple features even before launching the final product. However, developing an MVP helps decide whether the app will make it. 
Better Understanding of Customer Needs
It is important to understand the requirements of your targeted audience so that you can provide them with their preferred services.

Receiving feedback from early adopters is valuable, and MVP helps you achieve the same. The quicker an entrepreneur tests the product, the more effective development you get. 
The next advantage of developing an MVP is validating the actual demand in the market, which reduces the risk of an app failure. A minimum viable product will test your product and see what will benefit your app and what not.

In simple words, an MVP will help you give shape to your app idea and help you understand the market demand at an early stage. The minimum viable product can prevent you from spending a hefty amount.  
An app's user interface is the first thing that will attract your targeted audience, so make sure you are designing the UI as per their preference.

That said, the approach of MVP will help in designing your initial product with minimum yet essential features. As a result, the app will be less complicated and easy to use. It also helps in determining which feature will work best for your app. 
Testing Business Concepts
One of the significant benefits of an MVP for your startup is you can test your business ideas by offering a set of basic features. This way, you can easily see how well the app resonates with your targeted audience and allows you to modify or integrate the features accordingly.

After launching the app, you can identify the most active users and how they interact with your app. Later, you can collect the data to customize the app's functionality to meet user demands.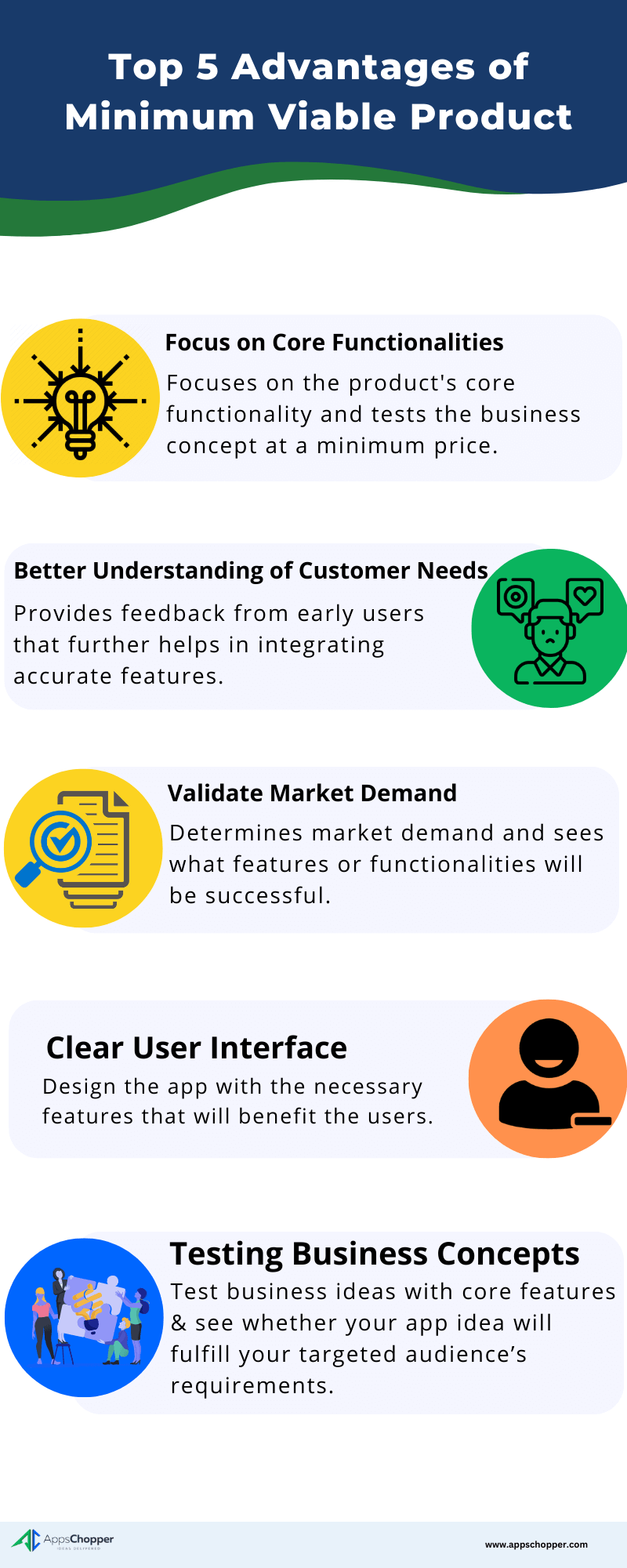 How to Build Minimum Viable Product?
Begin with Market Research
The first step to begin with for MVP development is the market research. It is a significant step that you should not miss as it can save you money. It is important to develop an MVP app that will benefit your potential users.

With the help of market research, you will get to know your targeted audience's preferences, pattern, likes/dislikes, etc. You can create questionnaire or conduct surveys to know about your audience. 
Besides that, you will also get to learn about competitors regarding any major steps they are taking to build an MVP. 
After completing the market research, you will have a clear idea of what features you can integrate into your app. You can ask the MVP app development company to prioritize the features as per the user's expectations and add accordingly.

It is advisable to note down all the essential components for your future app in the planning phase. As a result, you can integrate features based on high, medium, and low priority. 
Designing process is a crucial step in MVP development because it will attract your targeted audience. So, create the app in such a way that will deliver a flawless user experience.

Mapping out the user flow during the development stage is imperative because it will define the steps that are required to reach the final goal. You should focus on the basic yet crucial activities, like search filter, product buying, managing order, and more. 
After finalizing the app's design and user flow, ask the MVP app development company to launch the product with basic features and functionalities.

The purpose of launching the minimum viable product is to collect the feedback of early adopters to determine how well a full-fledged app will work. As a result, it will be easy to develop a mobile app with advanced features & functionalities that will meet the user demand. 
The main objective of an MVP is to analyze the user feedback to see how well a mobile app will perform once it will be launched with advanced features. It will guide  you regarding any improvements or upgrades in order to make the app accurate.

After receiving the feedback from early adopters, you can continue with the development process and add more features or functionalities.
How Much Does It Cost to Develop an MVP?
The MVP development cost is not definite and it may vary from business demands or requirements. 
Moreover, it also depends on the uniqueness of each app and feature complexity. Many times, a few clients contact the company after completing their discovery phase, so this is also a factor that affects the development cost of the minimum viable product. 
Conclusion
An MVP app development for startups is one of the well-proven strategies. It eliminates the risk of app failure by launching it with minimal features to see how early users will interact with the app. 
A minimum viable product is beneficial for businesses with unique ideas as it will save their time, cost, and resources. This approach helps in developing the final product much better.
By now, you must have got an idea how an MVP works and how helpful it can be for your business. So, before spending a lot of money in launching the final product, go with the minimum viable product first. 
You can also get a no-obligation consultation from us for more detailed information.
Frequently Asked Questions:

What Is the Need for an MVP?
MVP app development allows entrepreneurs to test the product idea with minimal investment of resources. It helps validate the concept and identify potential issues before committing to full-scale development. 
A minimum viable product can also attract early adopters and generate buzz about the product. It helps to establish a customer base and gather valuable feedback for future development.
How Long Does It Take to Build an MVP?
The development time of MVP varies on factors like app complexity and available resources for the development. On average, it can take anywhere from a few weeks to 3 months to build an MVP. 
Other factors impacting the development time include the size and experience of the development team, the number of features & functionality, and more. 
What Is the Difference Between MVP and Prototype?
An MVP is a basic mobile app version with enough features to satisfy early customers and provide feedback for future development. It is a product released to the market and generates revenue while providing valuable data and feedback for future iterations.
On the other hand, a prototype is an early version of a product used for demonstration and testing purposes. It is often used to test a product idea and gather feedback from potential customers before committing to full development.
How to Select an MVP App Development Company?
There are several key factors that you should keep in mind while selecting an MVP app development company.
Experience:

Look for a company with experience building MVPs in your industry niche or businesses similar to yours.

Portfolio:

Review the company's portfolio to get an idea of the quality of their previous work.

Communication and project management:

Ensure the company has clear and effective communication channels. You can also look after the company's project management process to ensure timely delivery within the budget.

Technical expertise:

Ensure the company has the required technical expertise to build your MVP, including experience with the platforms and technologies you plan to use.

Referral and Reviews:

Ask for referrals from other business owners or read customer reviews online to get an idea of the company's reputation.