Reading Time:
3
minutes
Are you longing for your favorite series or movies and attempting to relieve the boredom? It's showtime. In this blog, we've picked 'SHOWTIME Anytime' as our app of the week that lets you enjoy your favorite shows anytime, anywhere on-the-go.
From Netflix, YouTube to Amazon Prime, and others, there is video streaming service for every genre. According to Forbes research, Netflix added almost 16 million subscribers during the first three months of 2020. YouTube has over 2 billion monthly active users, and the list of such exciting stats is never-ending.
The online video streaming industry is becoming increasingly popular. In the past few years, streaming apps have revolutionized how people consume video content. A streaming app like SHOWTIME Anytime is bringing people closer to the cinema and enhancing their cinematic experience day by day. Considering the stats mentioned above and the increasing popularity of movie streaming apps, businesses are avidly looking for professional app developers to build a persuasive streaming app.
What Is SHOWTIME Anytime?
SHOWTIME Anytime is a service that provides instant access to award-winning series, movies, groundbreaking documentaries, laugh-out-loud comedy shows, hard-hitting sports, and much more in the US and its territories and possessions. It lets you watch live TV or catch up on-demand on your TV, tablet, phone, or computer.
When offered through a participating TV provider or streaming service, SHOWTIME Anytime is available free as part of your existing SHOWTIME subscription. You can download your favorite shows for later watch anywhere and everywhere. SHOWTIME Anytime app is available for free on iOS and Android and contributes more in today's streaming world in the best way possible.
How does the SHOWTIME app work?
SHOWTIME Anytime app has partnered with many various TVs and video streaming networks, such as U-verse, Direct TV, Cox, Frontier, Mediacom, Spectrum, etc. It also lets you stream to Amazon FireTV, Android TV, Apple TV, Chromecast, and others.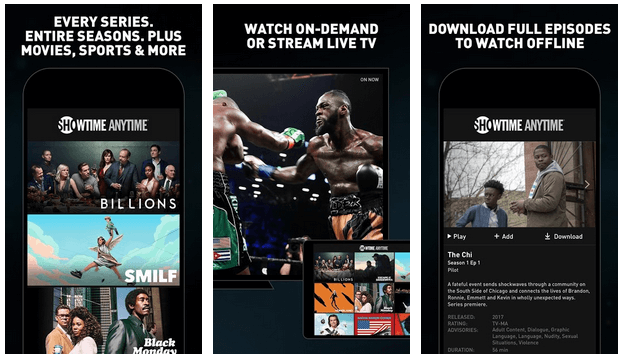 The app is a masterpiece from SHOWTIME Digital Inc. to stream content anytime. Being one of the most sought-after streaming apps, SHOWTIME Anytime lets users browse different videos to download or play. Let's see how it works.
As mentioned, the app partners with many media channels. Thus, reserving the right to stream their videos.
It stores information regarding the star cast, synopsis, and more of every show/movie to its back-end server and displays information following viewers' requests.

When users download or watch the shows live, it sends a request to the server, which further processes requests to respective media channels to access the particular shows' data.
When users stop watching any content in between, the back-end server saves the accessed video and resume from the same frame when users request to watch the same videos.

Also Read: App of the Week: DoorDash – On-Demand Food Delivery You Need

Features of SHOWTIME Anytime App

Offered through participating TV providers and streaming services, SHOWTIME Anytime is available at no additional cost as part of your existing subscription. The SHOWTIME Anytime app holds various exciting features that can pull your attention instantly. Let's jump right in!

Enjoy live TV by exploring what's airing live on SHOWTIME East and SHOWTIME West.
Easily switch between several channels.
'Resume Watching' feature lets you pick up where you left off on any supported device.
'My List' lets you organize and view your favorite programs.
Automatically add new episodes of your favorite series to your 'My List' as they premiere.
'Chromecast Support' and 'AirPlay' let users get a perfect viewing experience from the app to the TV via a single tap.
Download shows/movies and watch them later offline.
Enjoy control over subtitles and minimize their appearance.
Closed captioning and parental controls available.

To conclude, SHOWTIME Anytime is a free, easily accessible, and engaging on-the-go video streaming app. It is a standalone streaming service that enables you with a high-speed internet connection in the US and its territories and possessions and lets you enjoy your favorite show, movie, and everything within a few taps. Just give it a download and enjoy your favorite show anytime, anywhere.

We would love to hear your comments relating to the post. Got some other thoughts? Drop us words through our contact page.