Reading Time:
6
minutes
Have you ever felt so attracted to a mobile app's aesthetics that you ended up downloading it within a few seconds? In this blog, we'll talk about the best designed mobile apps in 2018 that are well-loved by many users due to their attractive designs.
Mobile apps have become a significant part of our lives; they touch on everything from our schedules, calendars, communication, to many other things. Statista estimates that today, there are nearly 3.5 billion smartphone users globally, and the number will rise to 3.8 billion by 2021. That said, you'll be amazed to know that people spend 90% of their mobile time using apps only.
Considering such numbers, the demand for mobile app developers is continually rising. But, would hiring a professional mobile app development company do the job? Yes, of course, if the company has expertise in UX/UI design. Have you ever wondered why some apps are massively successful while others are forgotten and fall flat? Due to design, it is an integral part of making your app successful.
Highly interactive app design can draw maximum users, whereas a flat design can disappoint users to the core. The first mode of users' interaction with any mobile app is its design; thus, mobile app design needs to be intriguing enough to grab users' attention instantly.
Top 7 Best App Designs: They're So (Not) Ordinary
What are the apps with the best-ever design? Why do users flock to these apps? Here, we've put together a list of some of the excellent and well-loved apps in the market today and talked about their features. Let's get right in and find out what these apps hold in terms of designs!
Amazon Go
Stores: (iOS, Android)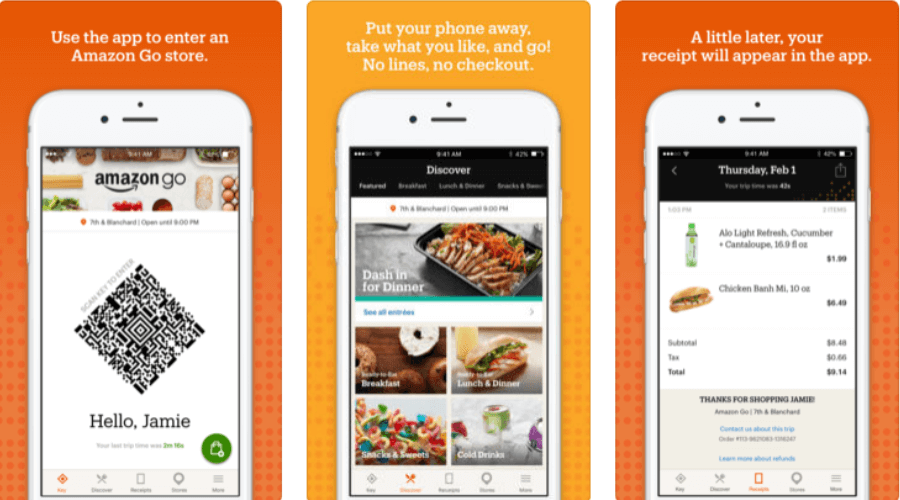 When it comes to talking about the best designed mobile apps in 2018, Amazon Go sure-shot steals the show with its elegant UX/UI. With a sleek design, Amazon Go enables a new kind of store featuring 'Just Walk Out Shopping,' eliminating lines and checkout processes. It's easy to navigate; just use the app to enter, then shop; when you're done shopping, you can simply leave the store. After a while, the receipt will be sent to you, and the amount will be charged from your Amazon account.
Design Highlights of Amazon Go App:
Easy-to-use and navigate user interface.
Simple and clutter-free design with main navigation as a footer menu.
Sleek hamburger menu with easy-to-navigate sections.
Differently styled QR code.
In-built map to find Amazon Go locations.
Quick and user-friendly shopping experience.
GroupMe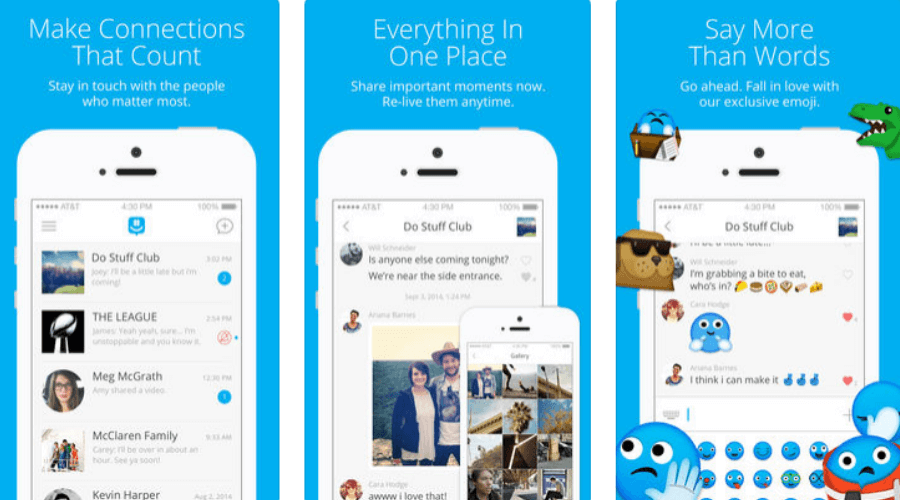 As the name suggests, GroupMe makes group chatting with friends and loved ones more exciting and fun. Its easy user interface and sleek design let you manage messages from friends, families, colleagues, and others simultaneously in a simple way. The easy-to-use app design allows you to stay connected with those who matter most. It's a one-stop-shop for interacting with your friends, from scheduling events to sending each other money.
Design Highlights of GroupMe App:
The overall design is beautified with crisp white, light grey backgrounds accompanied by calm blue.
Sleek hamburger menu on the top left with a search icon on the right.
The availability of everything in one place makes your job even easier.
Customized emojis in the app's theme color for an eye-soothing experience.
Easily upload multimedia and share YouTube videos with anyone.
Great design aesthetics with minimal buttons of fitting sizes.
Gboard
Developed by Google, Gboard has everything that you love about Google Keyboard – speed, reliability, glide typing, voice typing, multilingual typing, Google translate, handwriting, emoji search, GIFs, and more. With beautiful aesthetics, Gboard is another great example of best designed mobile apps. This beautifully designed app can make your typing experience so smoother you haven't ever thought about.
Design Highlights of Gboard App:
Unique features offering users a new typing experience.
Glide typing enables users to slide their fingers to type the text.
Great self-explanatory icons to make chatting more meaningful and quick.
Create and send GIF selfies while chatting.
Search and discover perfect emojis of a wide range.
Gesture cursor control, gesture delete, one-handed mode, and themes to enhance user experience.
Spotify
Designed with an avant-garde UI, Spotify is one of the best designed mobile apps that lets users enjoy music with beauty. Along with having a vast collection of the latest music, podcasts, and more, the app is invigorated with perfect color gradients, conveying feelings and emotions in the best possible way. It fosters feelings of belonging, being understood, and being heard via aesthetics perfectly.
Design Highlights of Spotify App:
Beautiful design with a perfect combination of black, grey, blue, and green colors.
Convenient and easy-to-use browse sections and buttons.
Easy-to-search bar with artists, songs, or podcasts.
Excellent placement of the premium services button, perfectly visible yet not hindering user experience.
'Now Playing' section includes cover art and other song details.
Letgo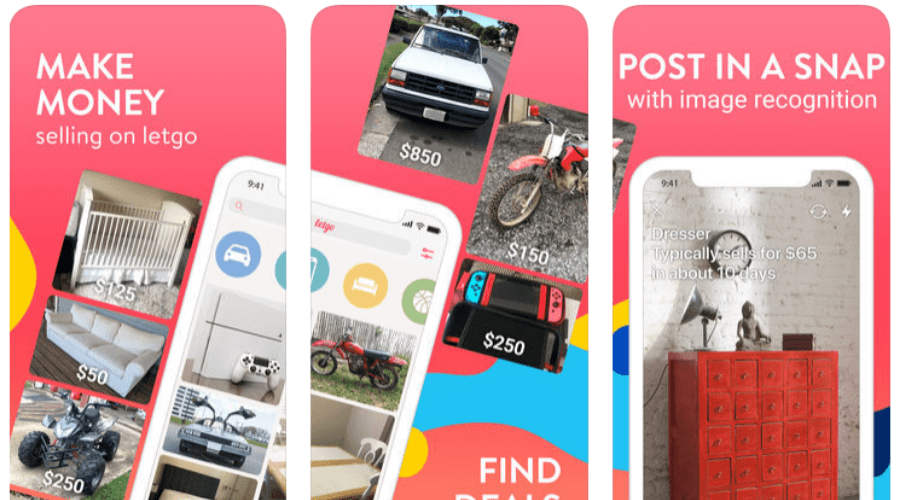 Letgo is one of the most sought-after and your go-to marketplace apps for selling and purchasing goods like used cars, electronics, and more. The Letgo app has an intuitive and easy-to-use interface that facilitates users to use the app to buy and sell items locally quickly. That said, the app is handpicked by Google Play Editors due to its compelling aesthetics.
Design Highlights of Letgo App:
Adorned with minimal and simple design elements for intuitive and excellent user experience.
The combination of dark peach, yellow, and blue colors makes the app more elegant and attractive in the users' eyes.
Clean product categories navigation on top with footer navigation.
The uncluttered card-based layout of listing to make all displayed items more appealing.
Pandora Music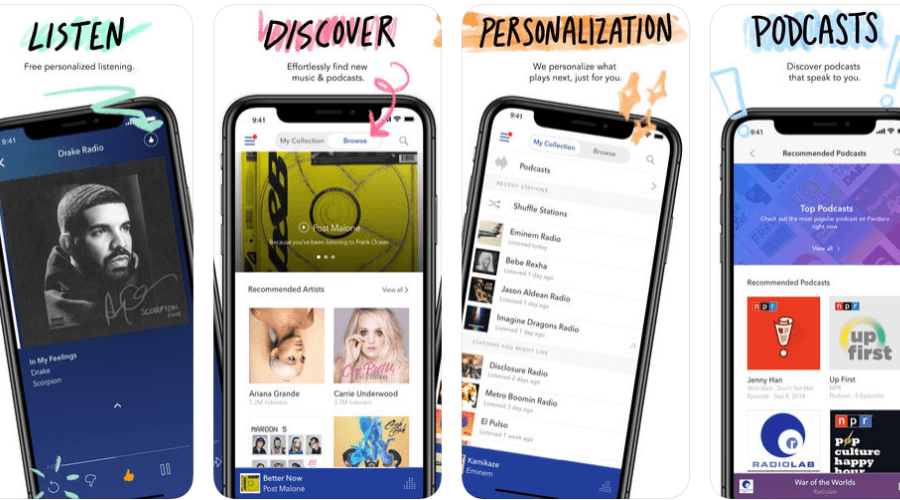 Pandora is one of the highly popular mobile apps among music lovers due to its stunning interface. The app includes various design factors that let you enjoy personalized music, radio, and podcasts with ease and gives you a customized listening experience that continually evolves with your tastes.
Design Highlights of Pandora Music App:
A simple card and grid-based layouts for exploring music.
Simple, easy-to-use, and navigate UI for better user experience.
Easy to browse sections, including 'For You, My Collection, Search, and Profile,' placed in the bottom.
Easily browse tab appears in the top left corner.
Hamburger menu navigation on iOS and Android platforms.
Feedly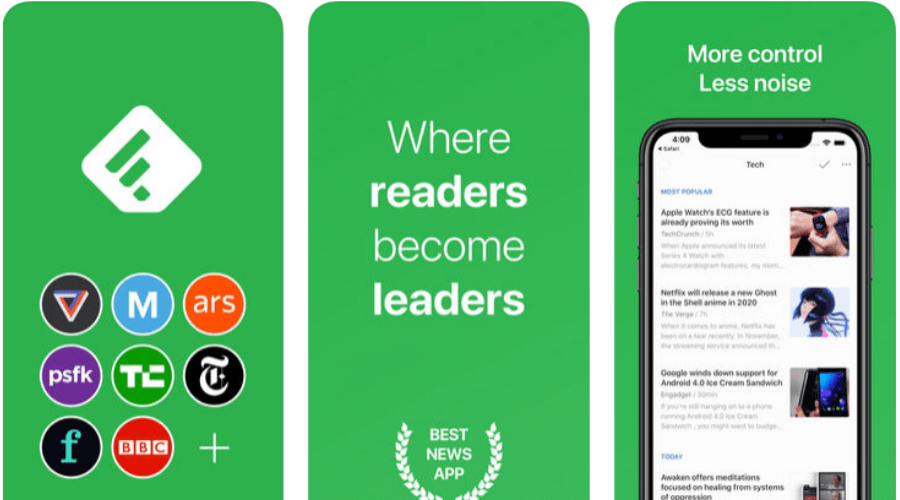 Feedly is another well designed mobile app that lets you organize blogs and other essential publications easily. It is your central place to organize, read, and share the information you need to stay ahead of the industry's next big trend. Talking about its design, Feedly is widely popular, especially due to its simple, easy-to-use, navigate, and persuasive interface.
Design Highlights of Feedly App:
Simplest UI for adding publications to follow.
The only use of Green color in the app makes it appear more eye-appealing.
Elegant breadcrumb menu for Android and footer menu on iOS.
Reader and dark/night modes to enhance the reading experience.
Content read progress indicator for users.
Final Thoughts!
A lot goes into UI design, and every choice made plays a huge role in the app's success. The apps with a perfect combination of colors, icons, and other aesthetics always win a competitive edge over others. We hope that these apps helped you understand the cruciality of mobile app designs in today's age and you've found these apps worth considering for your next project that will help you leave your competitors in the rearview mirror.
We would love to hear your comments relating to the post. Got some other thoughts? Drop us words through our contact page.