Reading Time:
3
minutes
Who doesn't love shopping? We all do, right? Especially in the time of mobile phones and apps. In today's blog, we've picked the 'Wish – Shopping App' as our app of the week that can make your online shopping fun and infinitely more convenient!
The advent of e-commerce platforms has refrained people from visiting the malls, offline stores, and others to shop. Nowadays, most people have perceived the trends of online shopping. Thus many retail owners, startups, and entrepreneurs are looking for reliable mobile app developers that can create awesome shopping apps and take their online store a step further.
According to app analytics firm Sensor Tower, Wish was the most downloaded Shopping category app worldwide for May 2020 with more than 17.5 million installs, two times more than in May 2019. However, the country with the most installs of the app was the US.
What Is a 'Wish' Shopping App?
Wish is one of the largest mobile shopping apps with more than 500 million users worldwide; it has an online marketplace for anything you can imagine. Once the users register, they can browse deals by categories like accessories, baby & kids, fashion, gadgets, hobbies, home decor, phone upgrades, and more.
When it comes to discovering discounted online shopping, the Wish shopping app's name always tops the list. The Wish e-commerce app has become insanely popular amongst people because of its dramatically reduced prices on everything from fitness trackers to clothes. The app is available on iOS and Android and connects you directly to over 100 million manufacturers worldwide in a few clicks.
How Does 'Wish' Shopping App Work?
To get started with Wish, one needs to register for an account via Facebook or Gmail login, or with a new login created with an email address. Once you're done with that, you'll browse through the available deals by category (Accessories, Baby & Kids, Fashion, Gadgets, Hobbies, Home Decor, Phone Upgrades, and more). There's even a 'Made for You Section' that includes T-shirts and mugs customized with your name.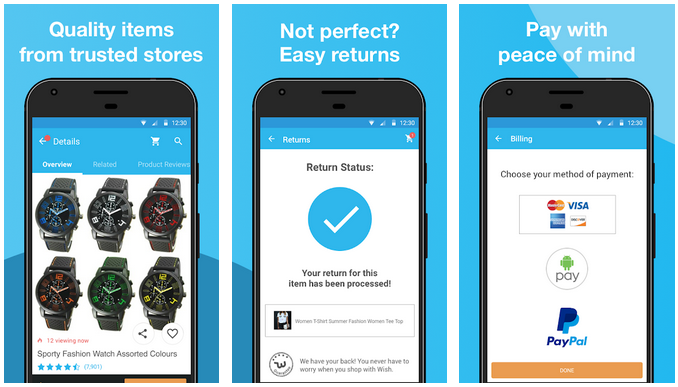 Have you ever wondered how the Wish collects all the items and shows it to you, or are you curious to know? Let's jump right in to know!
Wish saves all the products categorized on the backend server.
When users opt for a particular category, the request goes to the server, and the list of products reflects accordingly.
When users place their orders to buy the products, the app sends the requests directly to retailers for the required action.
It uses a payment channel and helps customers pay now to retailers for the products they purchase.
Also Read: App of the Week: Charity Miles – Walk & Run for a Good Cause
How Wish Offer Items at Discounted Prices?
People who have browsed through Wish observed that it shows unbelievable discounts. Let's take an example – a smartwatch listed on Wish marked down from $250 to a mere $20. With that being said, it has also been noticed that Wish never reveals any brand-related information or other specifics for its products.
People who shop on Wish can't verify from where they're receiving such a huge discount. Keeping that in view, it also leads to one crucial thing about Wish is that it ships products directly from the manufacturers eliminating the involvement of intermediaries, which explains why it's able to keep prices so low.
Features of 'Wish' Shopping App
Browse through millions of top-quality and affordable products.
Avail 60-90% off on millions of products.
Security-focused and keeps transactions data encrypted.
Secure payments using a credit card, Paypal, or Google Pay.
Watch videos and images of customers who've previously purchased the products.
Get a great save on big brands like Apple, Samsonite, Tommy Hilfiger, and others.
Get faster delivery with Wish Express.
Track real-time product delivery.
Resolve product-related queries instantly.
Easy return and refund policy.
Get ordered products within 5 to 7 days directly from manufacturers.
Collect points with every purchase and earn rewards.
To conclude, Wish is one of the largest shopping apps that can offer you huge discounts (with 60-90% off), unique products along with a satisfied buyer guarantee. Its affordable prices make it tempting to go on an all-out shopping spree. Give the 'Wish' shopping app a download and make your online shopping smart, fun, and rewarding.
We would love to hear your comments relating to the post. Got some other thoughts? Drop us words through our contact page.