Reading Time:
3
minutes
Do you want to master multiple languages to communicate better, reach, and influence more people around the globe? In this blog, we have picked 'Duolingo' a language learning app as an app of the week, that lets you learn different languages easily.
In today's time, people who want to learn a new language prefer smartphones, download an app, and start learning, it's that simple. A language learning app can help you build up vocabulary, develop proper grammar, and make fluent through effective lessons. Duolingo is one of the most popular language-learning apps that is fun and addictive and lets you learn languages for free.
As per Verified Market Research, the global online language learning market was valued at $12.49 billion in 2019

and is projected to reach $25.73 billion by 2027, growing at a CAGR of 10.2% from 2020 to 2027.
Language learning apps are popular in app stores worldwide. Looking at the stats and ever-increasing demand for language apps, businesses are coming forward and looking for an app developing company that can build a revolutionizing language learning app.
What Is Duolingo?
With more than 300 million learners, Duolingo has the world's largest collection of language-learning data at its fingertips. Duolingo is the most popular and most downloaded education app in the world. Duolingo is an American platform, including a website and mobile app that offers a quick, easy, and free way to learn the language.
Available for both iOS and Android, the Duolingo app is free to download. The apps have an in-app purchase business model, with the option for those seeking to use some extra features.
How Duolingo App Works?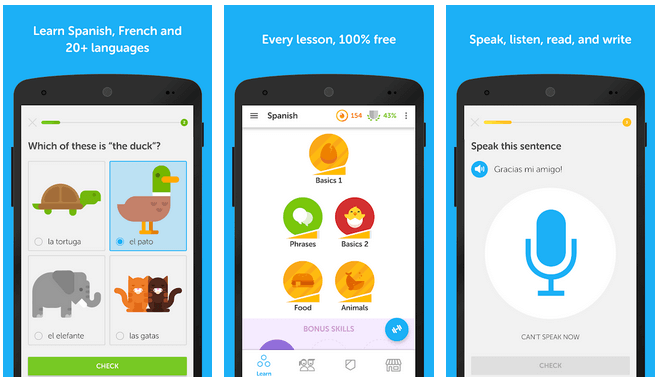 Anyone can learn a language with Duolingo. Learning a language with Duolingo lets users get a similar experience as playing games as Duolingo believes that learning becomes easier when you're having fun. Here's how the Duolingo app works:
All lessons and language data are saved on the backend server.
When users make their preferences (either through voice or manually) of a particular language and choose the level of lessons, the request goes to the backend server.
Data gets processed as per users' preferences, and then the desired option appears on the screen accordingly.
Users' requests to team up with their friends on social media to complete the course, first go to the server, which sends the request to the desired networks for further response.
Features of Duolingo App
Duolingo features interactive lessons and instant grading to attract users.
Short lessons to practice speaking, reading, listening, and writing to improve vocabulary.
Advance by completing bite-sized lessons and track progress with achievements.
Social interaction to connect with friends via interactive features and leader-board.
It supports 30 languages, including English, Hungarian, Danish, Swedish, Russian, Portuguese, Italian, French, Spanish, Turkish, Dutch, Irish, Polish, Esperanto, Greek, Norwegian and more.
Gamification is used in every lesson to make learning more fun, interactive, and interesting.
The app keeps data synchronized on web and mobile devices.
Why Choose Duolingo App?
Personalized Learning – Duolingo lessons adapt to your learning style. Exercises are tailored to help you learn and review vocabulary effectively.
Earn Rewards – Duolingo lets you stay motivated with rewards. You can earn virtual coins, unlock new levels, and watch your fluency score rise as you master new words, phrases, and grammar.
Receive Immediate Grading – You can instantly see which answers you get correct. When you miss a challenge, Duolingo will quickly show you how to improve.
Improve Quickly – Duolingo works efficiently and quickly. A study has shown that 34 hours of Duolingo are equal to 1 university semester of language courses.
To conclude, Duolingo is the only language-learning app you need. It is fun and addictive and lets you learn a language for free. You can make your breaks and commutes more productive with its mobile apps. With real-life communication, standout content, balanced approach, and personalization, Duolingo offers you many ways to learn multiple languages.
We would love to hear your comments relating to the post. Got some other thoughts? Drop us words through our contact page.