Music App Development: Tune-up To Customized Music App For Mind-blowing Experience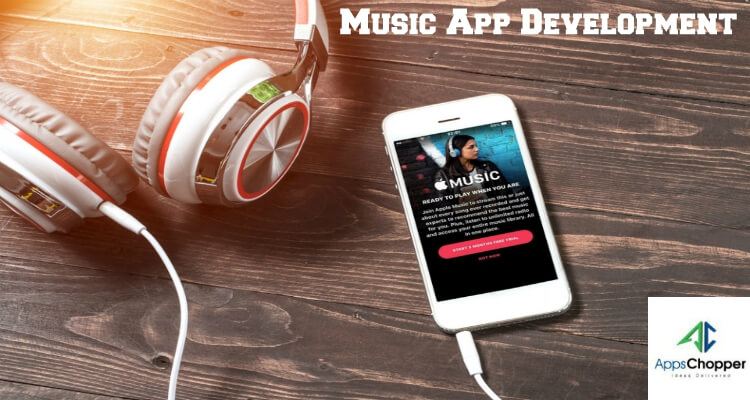 You can relax and refresh your mind anytime whenever you listen to a soothing music composed perfectly using exciting tunes & awesome lyrics. People are fond of various feature-rich & high-performing apps including the music lovers who enjoy varieties of songs as per their moods and likes. From many years, the trends of music app development have changed and transformed with the taste and preferences of users. That's why, people have various options to select the most relevant music app among numerous feature-rich apps available in the respective app stores.
If you want to start your day listening to your favorite music or get back to your rhythmic track along with amazing songs, an advanced music app will definitely fulfill your needs. It is considered that an average time usage of music based applications increased up to 79% from the year 2014 to 2015 & this rate continues to rise consistently in next years as well. Unquestionably, music app development is a great option to get established in the industry with a new music business & facilitate top musicians, composers, bands, independent music learners, as well as the global music listeners.
The recent study reveals that the trusted music app users contribute around 31 to 64 minutes to listen to their favorite soundtracks on a daily basis. Furthermore, it is quite surprising to know that the majority of music lovers check out these feature-rich music apps every day with the peak usage around 5 pm. You must know that considering the target audience along with their likes and dislikes is a crucial factor for successful music app development.
Why are music related apps useful?
Music apps are popular not only among musicians but innumerable music lovers prefer to install a user-friendly & cross-compatible app to:
• Listen to favorite soundtracks anytime
• Browse varieties of songs of different genres & artists
• Create multiple playlists of song categories
• Check out numerous songs in reprise & remix versions
• Share trending music with friends via social media
• Subscribe for regular updates on the latest & upcoming music albums
• Get music suggestions as per your taste & likes
• Enlist various radio stations based on songs & bands
Along with all above functionalities, a user can access a music app in order to enjoy several other features. Irrespective of the common app features, the process of music app development & UI design depend on the behavior & preferences of your target users. Apart from those who love listening to exciting music at any time of the day, you can also introduce a custom-built app for music artists, performers, composers, and singers.
Stunning features meant for music apps
Every music app developer creates advanced UI & integrate the following features in the music development process:
Log in or sign up- Every user must create an account to access any music app for service synchronization. The users can register themselves just by mentioning the basic details including username or email, registered contact number, age, or gender.
List of songs- Upgraded functionalities to search & enjoy numerous songs effortlessly. Many music apps gain increased user retention due to modified search options and features to categorize songs.
Well-defined playlists- A user can create playlists of their favorite songs & listen to them instantly. Also, they can view the details of songs and select them to add to the respective playlists.
Share songs instantly- Many people like to dedicate or share all soundtracks they love with their near & dear ones. The social mediums like Facebook allow users to tag their friends instantly with other people.s
Push notification- This a major option to consider for music app development as it offers better user engagement. By updating users with the latest information regarding recent & upcoming music launch, recommendations, message alerts for nearby music launch, and more.
Several businesses aspire to opt for music app development services to stun the global population with exciting music they want to hear. So, let your audience discover various rhythmic soundtracks via a customized music app & make profits.