Unveiling Top Mobile App Design Trends For 2018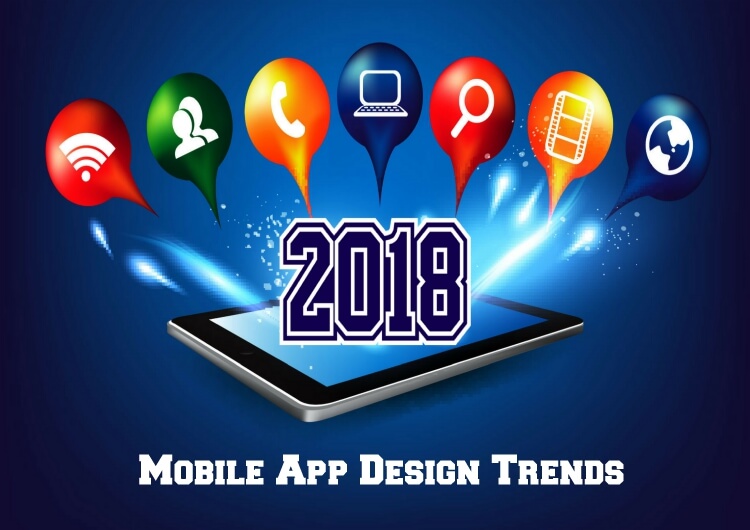 In the era of ever-changing technology, many interesting mobile app design trends gain popularity among the global mobile app developers. In 2017, every developer at a mobile app design company must have gathered in-depth knowledge regarding various trends & techniques for customizing scalable & appealing mobile app designs. Now, it's time to set your eyes on the upcoming trends that will help you in 2018.
The arrival of new technologies is impactful for the mobile app designing industry and thus, you need to prepare yourself to adapt them. So, here is a list of top mobile app design trends that will roll out in the next year.
1.Enhancement In Color Palette
No doubt, a perfect color combination is an inspiration for every mobile app designer. You must be using vibrant & contrasting color shades to add glitters on your attractive mobile app design. Usage of diversifying color palettes has been in trend from many years but materialistic patterns & catchy color shades will gather every mobile app design service provider's attention in 2018.
2.Customized Icon With Minimal Outlines
Being a mobile app designer, you understand the significance of using impressive icons to grab user's attention and let them navigate in a flawless manner. In 2018, the usage of animated icons will be trending as more & more mobile app design service companies are getting familiar with this concept.
You must go for this trend & customize animated icons without emphasizing on outlines or highlights. Remember, it's essential to experiment with your concepts & mobile app design techniques to adapt the upcoming trends for next year.
3.Material Designs Will Dominate Flat Designs
Designers who want to adorn their mobile app design will be choosing material designs in 2018. It simply means that the compilation of shadows, pop-up textures, & translucent images will enhance the entire layout of mobile app design and this will deliver astounding user experience.
This trend will allow designers to use their creative ideas and customize attractive mobile app designs with amazing transition & realistic effects.
4. Illustrations Is a Key
Depicting your creativity via illustrations is the most popular trend in all areas of mobile app designing and no one can ignore it. In 2018, the usage of interactive, meaningful, & custom illustrations will continue in the mobile app designing process.
Always try using custom illustrations to build powerful brand awareness & user engagement.
Every mobile app design trend revolves around user interaction & enhanced experience. In 2018, every mobile app design company will get familiar to all above trends and therefore, you must keep them in your mind in advance.