Reading Time:
5
minutes
Building a social media presence is the prime concern of businesses these days. The reason is simple: social media networks and apps are transforming the way we communicate with each other.
According to Statista, over 84% of the US population used at least one social media network last year.
Having one's own social media app is wise for businesses already using social media networks. So, if you are considering social media app development for your company, now's the time to act.
This post covers the most important aspects surrounding social media apps and their development.
Why Should You Create a Social Media App in 2022?
An SEJ survey earlier this year states that the average monthly users of popular apps are in the billions. 
Facebook tops this list with 2.89 billion monthly users; YouTube, WhatsApp, and Instagram follow with 2.29, 2, and 1.39 billion monthly users respectively.
As you can see, the use of social media apps has been prevalent for over a decade and shows no signs of slowing down. They have transformed online communication among users with their extensive features and the creative freedom users get from them.
Social networking app development is in high demand because of the opportunity such apps provide to the users. They can find and interact with like-minded people on such apps while exploring their creative expressions.
Types of Social Media Apps
Social Networks
The main purpose of a social networking app is to build networks and facilitate connections between people. LinkedIn and Facebook are two of the best examples of social networking apps.
Media Sharing Networks
This type of app provides a range of sharing content, from pictures to live videos. While some media sharing networks like YouTube provide a single content type, there are social media apps like Facebook that offer multiple content types.
Discussion Forums
These facilitate discussions on various topics, enabling people to learn something valuable from experts. Users can also initiate discussions or get the answers they seek from knowledgeable users by posting a question. Reddit and Quora are great examples of discussion forums.
Content Sharing Networks
Users interested in collecting different types of content can do so on content-sharing networking apps. Apps like Pinterest and Flipboard are the perfect examples.
Consumer Review Networks
Reviewing apps like Yelp and Trustpilot offer information that users share about their product or service-related experiences.
Blogging and Publishing Networks
Such apps enable people to create and publish blogs for their users. For example, Medium and Tumblr provide users with the information they require about a specific area.
Relationship Networks
Relationship networking apps help users build meaningful relationships and network with other users. Bumble Bizz and Tinder are two examples of relationship-building in different settings.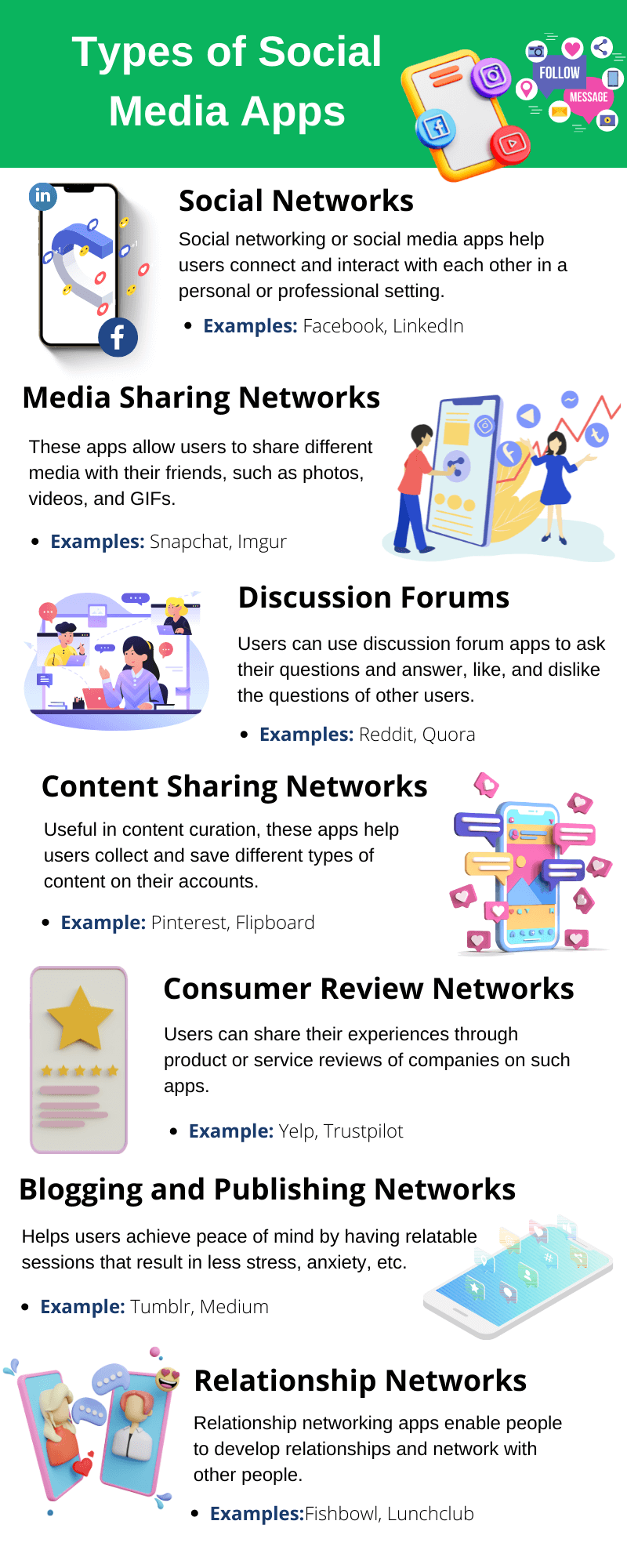 Top Social Media App Development Trends to Follow in 2022
Engaging UI/UX
Understanding the most popular color choices and themes is part of social media design. Users also want the ability to scroll infinitely and customize the interface.
Live Streaming
This is an increasingly popular feature that a majority of social media apps include. Many users are more interested in watching live videos than reading posts.
Short Video
Video content is certainly more popular than written posts, and the shorter the videos, the quicker and easier they are to understand.
Augmented Reality
Integrating AR filters can change photos and videos significantly. For instance, Snapchat and Instagram offer lots of AR filters to deliver a unique user experience.
Integration with Wearables
Smart wearables come with integrated social media app features that allow wearers to receive notifications and respond to calls.
Must-have Features for a Social Media App
Sign Up/ Sign In
Registration is the first step and, as such, should be convenient. For instance, you can make your app easier to use by integrating the "Forgot Password" and other such features.
User Profile
The more options you provide users within the user profile section, the better the app experience. Including features like View Profile make the app more interesting.
Search
The search bar is the main method to find friends or other users to follow. The more filters and functionalities it offers, the quicker it can yield results.
NewsFeed
It keeps users updated about the friends and pages they follow. This feature is often on the home screen of the app.
Chat
A convenient way to chat is what users generally look for in a social media app. The chat system is vital as users can share photos, videos, and other media.
Post
The post-creating feature is what lets users get creative with that which they want to share with the world. For this reason, it provides options to insert images, videos, and text from multiple sources.
Push Notifications
These provide important notifications related to new posts, messages, comments, etc. Push notifications are great for boosting user engagement.
Media File Sharing
This feature enables users to share any post or media they want their friends to know about. 
How to Create a Social Media App
Discovery Phase
This is where the client and business analyst discuss various details about the project. Market research is also conducted to define the target audience and purpose of creating the social media app.
Prototyping
After the discovery phase, the UI/UX designers step in to build complete app mockups based on business requirements and the latest design trends.
Design and Development 
Developers begin working as soon as they receive the go-ahead to develop the sections as agreed by both parties.
Quality Assurance
An incredible user experience is a must; the app needs to run flawlessly. The QA team has the task of picking out all the bugs for the development team to fix.
Launch and Maintenance
Once the development phase comes to an end, the development team hands the completed product over to the client for launch. They continue to provide subsequent updates and fixes for the app.
Monetization Models For Social Media Apps
Advertisements
Advertisements are the primary source of revenue for social media apps. Top applications like Instagram show ads relevant to the users' choice of posts and stories in their feed.
In-app Purchases
Many social media apps offer paid content for users to purchase and use within the app. Twitch and Facebook are excellent examples in this regard.
Subscriptions
Premium subscriptions come with additional features to attract customers. For example, LinkedIn and YouTube offer premium subscriptions with exclusive features for an additional advantage to users.
Events, Sponsors, and Partnerships
Social media apps serve as excellent platforms to promote events and online activities. All you have to do is place some links to one or more ticketing platforms to begin ticket sales.
How Much Does it Cost to Create a Social Media App?
There is a range of costs for building a social media app, depending on how you want to design it. For instance, the cost of building a social media app is less if you choose a CMS or SaaS-based solution in comparison with say an open-source project. It is because open-source solutions involve additional costs of software, expertise, and hosting.
There are a few essential costs to consider if you are interested in building a social media app from scratch. These include the choice of platform and the costs associated with back-end development. Consulting a professional mobile app development company will help you get a proper estimate, since your requirements will likely differ.
How Can AppsChopper Help You To Build A Social Media App?
All this information can be a lot to process – which is why it's a good thing you don't have to. AppsChopper is a social media app development company that can save you hours and days researching the right development service. 
We understand that people in search of a good social media app want a proper digital connection without any terms and conditions. Our team knows how to create a social media app for your niche. We also know that there's no time like the present to get started.
You might think that project will require an inordinate amount of time and money, but you'd be wrong. There are quick and convenient social media app solutions available at AppsChopper that will suit your budget and requirements.