Reading Time:
3
minutes
Virtual Reality (VR) is an immersive technology that allows users to experience a whole new world. In this blog, we've picked 'Fulldive VR' as an app of the week, a 100% user-generated VR content and navigation platform that will give you an incredible experience.
Virtual reality is transforming the imagination into reality and providing a competitive edge for businesses nowadays. Plenty of marketing solutions and mobile app development are expected using this technology in the future. With endless benefits, VR technology helps businesses improve customer satisfaction and customer loyalty, resulting in increased profit.
According to stats, 42.9 million Americans used virtual reality at least once a month in 2019, the global VR market is expected to top $34 billion by 2023. Also, the gaming and entertainment media hold 40.5% of the virtual reality market share. Considering such stats, businesses are investing more in AR & VR development for better revenue.
What Is Fulldive VR?
Fulldive VR is one of the best all-in-one social and VR platforms and the easiest way to give a completely immersive experience. Fulldive VR has 100% user-generated content with over 1 million videos and hundreds of VR apps, approved by renowned sources like Facebook, YouTube, and others. With Fulldive VR, users can access VR videos, galleries, app stores, and travel to places users never imagined.
With over 6.5 million downloads, the Fulldive VR app is thriving unprecedentedly, and the app is available for iOS and Android devices and compatible with Google Cardboard and Daydream. The application lets users gain a real experience of accessing new generation media. All VR content featured on the app is highly engaging and growing tremendously.
How Fulldive VR App Works?
The Fulldive virtual reality app pushes VR beyond immersive headsets. It is a complete feature-packed VR app, letting users follow what your friends watch, react, and comment on, and share your favorite reacted videos. It works in the following ways: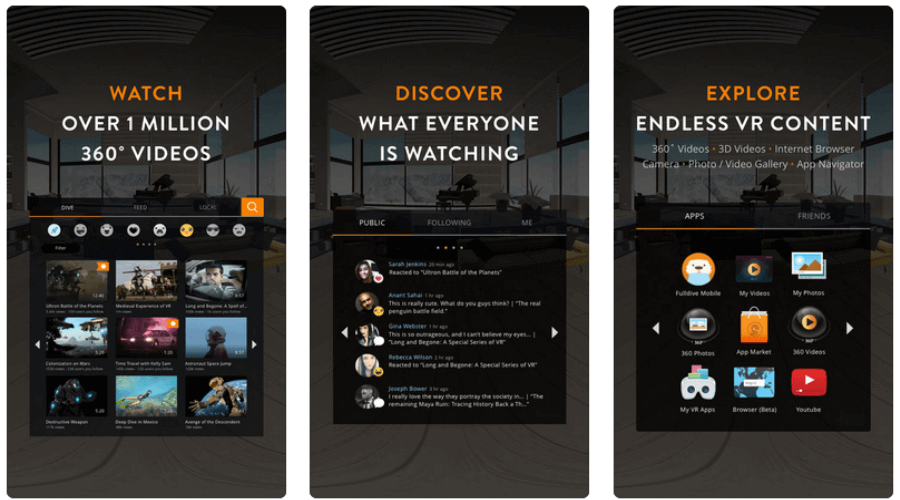 The app stores all the content such as movies, videos, games, and others on the backend server. When users click on particular videos to watch, the request goes to the server based on that, which processes data further to stream the videos.
It features several VR content, including My Video, Fulldive Mobile, My Photos, My VR Apps, YouTube, and many others. Users can make their choice of using these content by sending their requests to the server.
The backend server stores every activity of registered users and lets an individual follow the activities of others
Features of Fulldive VR App
Enables users to stream all YouTube videos in virtual reality.
Enables users to live stream all 3D YouTube videos in virtual reality.
Allows users to enjoy watching 360 YouTube videos in VR.
Use VR 2D/3D Video Player to stream all the videos and experience like a movie theater.
VR Browser enables users to browse anything online in virtual reality.
VR Photo Gallery lets users store and access beautiful pictures and videos in virtual reality.
VR 360 Photo Gallery lets users store and access their 360 photos.
Access all VR apps on Fulldive VR, such as VR Store, Market, and Launcher.
To conclude, VR is one exciting and emerging technology that delivers impressive user experience. Likewise, Fulldive VR is a 100% user-generated VR content and navigation platform with all the competencies and functionalities required to deliver a unique VR experience.
We would love to hear your comments relating to the post. Got some other thoughts? Drop us words through our contact page.