Reading Time:
8
minutes
Healthcare is one of the booming industries and one of the most significant sources of the world economy. It has gained technological acceptance and continues to thrive at an unprecedented rate. 
Nevertheless, healthcare has experienced more growth in the midst of COVID-19. According to a study, the pandemic has led to a 25% increase in healthcare app downloads.
Healthcare apps are advantageous for both professionals and patients. First off, the app helps doctors to have better coordination with patients and colleagues. Secondly, health care apps are popular among patients as it helps them in measuring blood pressure, daily physical activity, and much more. 
That said, the medical app market is evolving and allowing hospitals & patients to leverage the popular healthcare app features. 
This blog post has a complete guide to healthcare app development.
Types of Healthcare Apps
Medicine Delivery App
One of the popular app types of healthcare is the medicine delivery app. As the term suggests, patients can order their prescribed medicines and get them delivered to their doorstep. 
The app consists of a list of several medicines segregated into different categories to let users find the prescribed medication easily. By 2026, the global pharmaceutical drug delivery market will reach $2,206.5 billion. 
An app like CVS Pharmacy is one of the examples of a medicine delivery app. The app was launched in 2012, and it currently has 10,000,000+ installs.
Features:
Prepay for your prescriptions, then show your barcode for more private pickup.

Order refills, check their status, and see your prescription history.
Online Doctor Consultation App 
An online doctor or medical consultation is a kind of app where doctors connect with patients virtually. The online doctor consultation app has features like appointment booking, selling medicines, etc. 
Most importantly, online doctor consultation apps are much more comfortable & convenient. An app like Doctor On Demand has made communication between doctors & patients much more manageable. 
Doctor On Demand app was founded in 2012, and the app has more than 1,000,000 installs. 
Features:
Live Video Conferencing.

Strong database to store medical records.
Diet and Nutrition Applications
Another type of healthcare app is diet and nutrition. It helps individuals to have a healthy lifestyle by tracking nutritional intakes on a regular or weekly basis and managing diet charts accordingly.
A diet and nutrition-related app like MyFitnessPal helps change lifestyle and eating habits and makes users aware of food & drink consumption. 
MyFitnessPal was launched in 2005, and the app presently has over 50,000,000 downloads.
Features:
The automatic macro calculator shows carbs, fat & protein breakdown by gram.

Nutrition Insights – Analyze nutrition intake and see how foods compare by calories and macros.
The fitness app records the user's daily physical activity. The app shows data for active calories, stand minutes/hours, walking distance, stairs climbed, exercise minutes, and much more. 
An app like Freeletics benefits the users in many ways, like showcasing workout sessions or high-intensity interval training (HIIT) to build mental resilience. 
The app was launched in 2013, and it has 10,000,000+ app installs. 
Features:
An AI-powered personal trainer who puts every HIIT workout together based on your experience, goals, fitness level, and preferences.

The AI-Coach builds customized training plans, available in all subscriptions.
As the term suggests, a health monitoring app like Withings Health Mate helps monitor health conditions like blood pressure, sugar level, cholesterol level, heart rate, etc. It enables users to set a target and achieve their desired goals. 
The app also measures the previous & current data, letting the users improve regularly. 
The Withings Health Mate app has more than 1,000,000 app downloads and was launched in 2013. 
Features:
Monitor hypertension from the comfort of your home with medically-accurate systolic and diastolic blood pressure results.

Automatically track your daily activity and workout sessions with in-depth insights, including steps, heart rate, and multisport tracking.
The mindfulness app is one of the preferable healthcare apps for people who want to start practicing calming activities for better peace of mind. An app like Headspace: Mindful Meditation helps users become more focused, reduces stress, lowers anxiety, and more. 
The app also has personalized meditation options, reminders to keep users aware, and statistics for tracking the meditation journal. 
The Headspace: Mindful Meditation was launched in 2012 and has over 10,000,000 installs. 
Features:
Boost your concentration & productivity with focus-enhancing music.

Guided meditations and hundreds of mindfulness exercises.
A pregnancy app lets pregnant women keep tabs on everything related to the health & well-being of a baby-to-be. A pregnancy app can help would-be mothers record everything, from medical appointments & fetal growth to tracking the contractions. 
For instance, an app like BabyCenter has a baby development calendar & pregnancy tracker that guides the pregnant woman through the countdown to the baby's due date. 
The app was launched in 2010 on the iOS platform, and in the following year (i.e., 2011) was created in Android OS. BabyCenter has more than 10,000,000 installs. 
Features:
Learn all about baby growth during pregnancy with our 3-D fetal development videos.

Receive pregnancy workouts by trimester and nutrition advice.
Regulations and Compliance in Healthcare Application Development
What is Healthcare Compliance?
Healthcare compliance abides by all the legal, ethical, and professional compliance standards in the healthcare sector. In other words, healthcare compliance is all about following all the rules & regulations related to healthcare practices. 
In healthcare compliance, the organization or a provider has to create an effective process, policy, and procedures. Simply put, the compliance provides information safety and focuses on delivering high-quality care to patients. 
It is a part of the comprehensive approach known as healthcare governance, risk management, and compliance (GRC). 
What is HIPAA? 
HIPAA stands for Health Insurance Portability and Accountability Act, enacted in 1996. It is a federal law used to create a national standard for protecting patients' information from being disclosed without their permission. 
HIPAA mainly includes information sharing, billing, and health insurance coverage. Further, it contains taxation-related provisions in medical expenses. Healthcare apps hosted on HIPAA compliant have strict rules to ensure the user's data security and privacy. An app like online doctor consultation is HIPAA compliant. 
Health Insurance Portability and Accountability Act has four primary goals:
Minimize the risk of healthcare fraud.

Enforce standards for health information.

Assure health insurance portability.

Guarantee security and privacy.
Also, Read | All You Need to Know About HIPAA Compliance
Other Healthcare App Compliance
HiTech is a type of healthcare app compliance that includes the processing, storing, and exchanging of health-related data in the electronic environment. 
This healthcare app compliance has expanded HIPAA compliance rules to enhance health care quality, prevent medical errors, decrease paperwork, etc. 
The California Consumer Privacy Act is another foundation of data confidentiality. CCPA is often referred to as a General Data Protection Regulation (GDPR) to collect, access, and delete the user's data from an organization's files. 
This act keeps the clients in the loop by sharing the collected data, preparing a free-of-cost report, deleting the information, etc. 
However, it is not entirely similar and differs; for instance, CCPA does not demand prior consent as GDPR does for activities like email marketing or collecting cookies. 
NIST is another set of standards, tools, and technologies for protecting users' data in healthcare apps. It is a non-regulatory organization under the US Department of Commerce focusing on building standards for electronic health records and a smart electric power grid.
Why Should You Create a Healthcare App?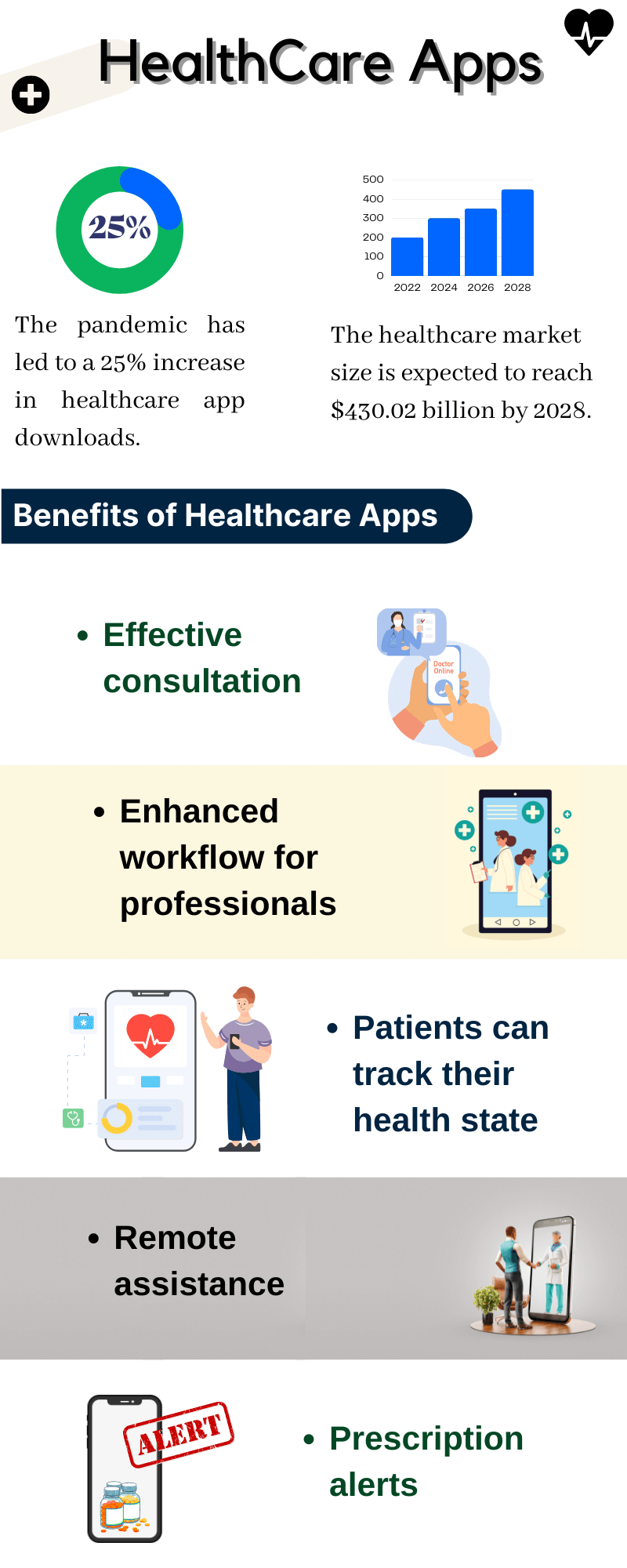 In today's time, quality care has become much more important, and healthcare apps help facilitate engagement through effective patient-focused care. Now, patients can access & monitor their medical records, prescription details, and more. 
Patients and doctors enjoy the countless benefits of a healthcare app. Thus, providing medical consultation through mobile apps has become an ever-increasing trend. 
Healthcare apps are equally beneficial for doctors because it minimizes the risk of misdiagnosis. In short, apps like this eliminate these challenges by storing an accurate record of a patient's health. 
After witnessing the healthcare app's convenience and its increasing demand, business owners are inclining more toward healthcare app development. In fact, a study by Statista has shown that by 2025, the global health market will reach $189 billion. 
Steps to Build a Healthcare App
Discover Your Healthcare App Idea
You can begin healthcare app development by discovering your app's ideas, vision, purpose, and goal. In this stage, business owners can visualize multiple app ideas, see the latest technology in the market, and more. 
Besides that, the discovery phase also includes market research to understand the competitor's insights and user preferences. As a business owner, it is your responsibility to study your niche properly, know what values your competitors bring, their strong points, and how you can stand out.  
Following is a list of questions you can list down to get a better healthcare app opportunities:
What are you expecting from healthcare app development?

Which technology do you think will fit your healthcare app development the best?

How much budget have you set for the app?

What are the areas of improvement for better business growth?

How are your competitors meeting the customer's demands?

Design Your App
A healthcare app's user interface is the first step for attracting users and making them stick to your app longer than expected. Thus, make it count. 
You can consider adding multiple healthcare app features with an aesthetically-pleasing app design to deliver an excellent user experience. With the help of a healthcare app development company, you can also create an app prototyping to validate the app design. 
In the app prototyping, business owners will get a mockup of the healthcare app before releasing the final product. Here, app designers create a wireframe of the healthcare app, explaining how users will interact with the app. 
The wireframe is an app's layout that includes research, mapping out user flow, sketching, and afterward, adding details & more features with time. 
After finalizing the healthcare app's design, the coding process begins. Now, the app developers can start converting the UI mockups into a fully-functional healthcare app with all the features. 
The healthcare mobile app development company picks the suitable technology stack and technical architecture for creating high-end healthcare apps to deliver an excellent user experience. 
The healthcare app development includes three crucial aspects, back-end, Application Programming Interface (API), and front-end. 
The back-end includes a database and a server-side object supporting the healthcare app functions.

The application programming interface (API) is an intermediate between the app and the back-end. 

The front-end is everything a user experiences on the healthcare app. In simple words, the front-end is where an end-user will interact with your app.
Once your healthcare app is developed, make sure you have tested the app properly before releasing it to the App Store or Play Store. The mobile app testing minimizes the risk of any bugs, glitches, and other technical issues. 
The quality assurance (QA) team plans well-thought security practices to assure the healthcare app's stability, reliability, and usability. Also, try to test the healthcare app in all the possible scenarios, like what are the most used devices, the user's location, and other aspects. 
Your healthcare app is finally ready for release on App Store or Play Store. Ask the app developer to launch the app on the platform of your choice and create an account with the relevant app title, screenshots, informative descriptions, and keywords. 
Also, as a business owner, you can ensure post-app launch maintenance to enhance the existing features or services and make them as per the user's expectations. 
What Are the Best Revenue Models for Your Healthcare Mobile App? 
Healthcare app owners can create an app with paid membership or premium subscriptions wherein the users can pay a nominal fee per month. 
Once the business owners integrate this model, they will be capable of generating higher revenues, earning more reliable income, and keeping their audience engaged, resulting in better sales. 
Besides this, premium-based healthcare apps help achieve customer loyalty by making them feel valued. 
In-app purchase is another revenue model for healthcare apps that business owners can leverage. In essence, users can pay money for a fitness app to get extra workout videos, or patients can prepay visits, buy supplements, or get their medicines refilled in medical apps. 
Advertisement is one of the greatest sources of generating higher revenues for healthcare apps. This revenue model lets businesses run their personalized ads through banners and other special schemes on healthcare apps.
How Much Does It Cost to Build a Healthcare App?
The healthcare app development cost varies on several factors, and some of the common ones are listed below:
Suitable app development platform

List of core app features

App design complexities and functionalities

Different technologies used

Focusing on app testing

Providing post-app launch maintenance and support
In short, healthcare mobile app development cost depends entirely on its different types and how much uniqueness you want in your healthcare app to stay competitive. 
You can even get a no-obligation consultation from us to know more details. 
Concluding Words
The pandemic has undoubtedly given rise to the development of healthcare apps. Many verticals, like AI, Telemedicine, Digital Therapeutics, and more, provide more limelight to the healthcare apps as it focuses on enhancing the user experience.
In a nutshell, if you truly want to elevate your business growth and brand name, creating a high-performing healthcare app with essential features is the right thing to do.