Reading Time:
8
minutes
Instagram is the most used social media platform, with billions of active users around the world. Earlier, Instagram was a photo and video sharing app, but with time and technological advancement, it became more than that. 
Now, people can create a wide variety of content that includes long-form of video (IGTV), short-form of video (Reels), users can go live with their friends/followers, and many more. 
According to a study by Statista, there will be 127.2 million active Instagram users by 2023. Hence, proved, Instagram's popularity is not fading any time soon, and will only grow with time. 
Instagram is constantly succeeding because of the advanced features & functionalities it provides to end users. Consequently, Instagram has become a platform for many business owners to market their brand and earn profit. Currently, there are more than 200 million business accounts that people visit on a daily basis. 
Now, this brings us to the question, how to create a social networking app like Instagram?
This blog discusses the in and out of Instagram that includes essential features, social networking app development cost, revenue model, and more.
Essential Features In a Social Media App Like Instagram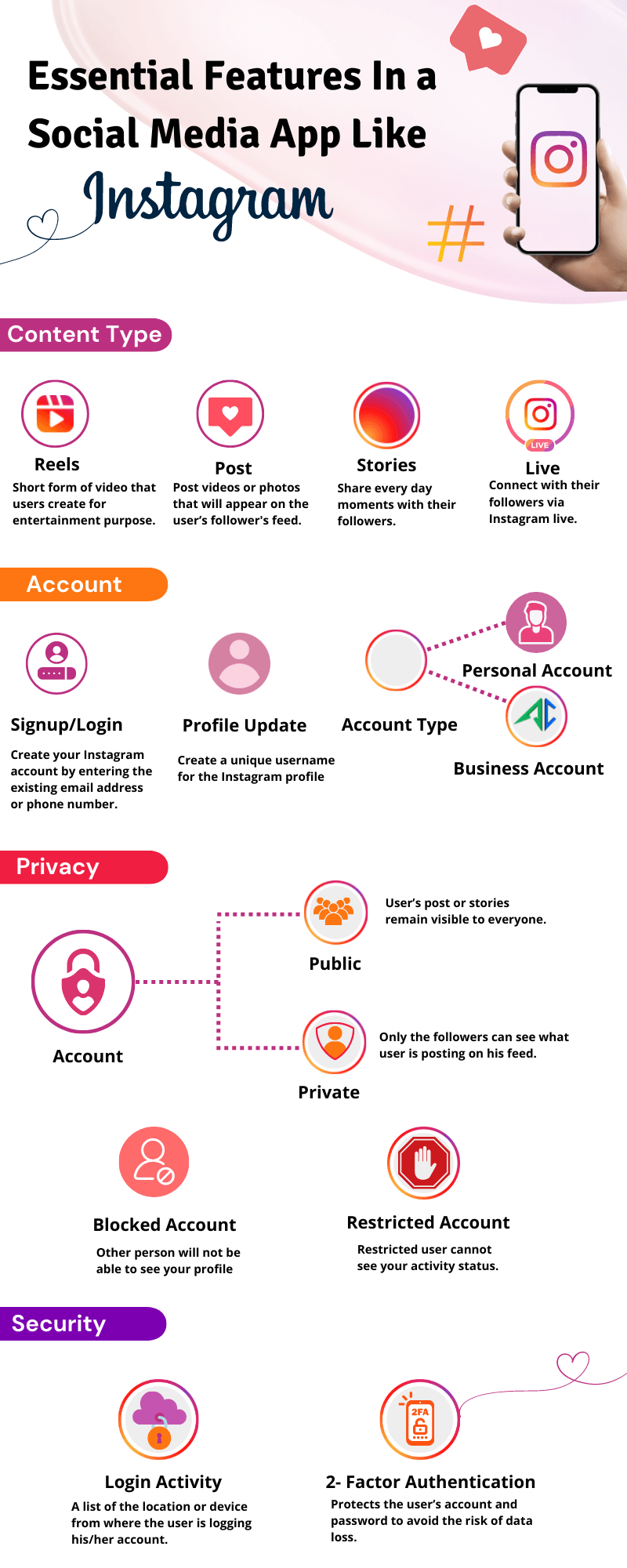 Content Type
Instagram Reels are a short form of video that users create for entertainment purposes. People with small (or large-sized) businesses use reels to express their brand stories, educate the audience, and get discovered with the targeted group of people. 
Users make reels on the ongoing trends for better reach, collaborate with communities of same interest, etc. 
Traditionally, Instagram was introduced as a platform for posting videos or photos that appear on the user's follower's feed, and they can engage by liking or commenting. Most importantly, Instagram posts remain forever until a user decides to delete or archive it. 
On Instagram stories, users share everyday moments with their followers, and they can give reactions or reply to the stories. But unlike Instagram posts, stories disappear after 24 hours; however, users can add story highlights to their profile in order to view them even after 24 hours. 
Instagram live is an interesting feature, where users can connect with their followers for interaction purposes. In fact, three more people can join Instagram live for a fun session. The latest update on Instagram allows users to save their live.
Account
An individual can create their Instagram account by entering their existing email address or phone number. Users can even link their Facebook account with Instagram, and follow their Facebook friends or even do dual-posting. Also, set a strong password for your Instagram account. 
After signing up, the user will have to create a unique username for the Instagram profile. Afterward, s/he will display a profile picture and write a bio-based on their interests. 
Type of Instagram Account
There are two types of Instagram accounts- one is a business (or creators) account and the other one is personal. 
Business account is basically for entrepreneurs with SMBs on Instagram platform. This account has a set of advanced features that allow business owners to track their growth or check insights. Business accounts permits for schedule posting, add action buttons, products, and more. 
Personal accounts, on the other hand, give users the access to all the basic features, and for uploading purposes. 
The verification badge on Instagram is specifically for brands, creators, public figures, and celebrities. A verified account on Instagram help them to stand out in the competition, look credible, and prevents them from impersonation.  
Privacy
In the privacy setting of Instagram, users can make their account public or private depending on the interest. 
In a public account, the user's post or stories remain visible to everyone (even if the other person is not following him/her). Private account: Only the followers can see what user is posting on his feed. 
Blocked & Restricted Accounts
Instagram has an option of blocking or restricting the person's account that you do not want to see for any reason. 
When you block someone, the other person will not be able to see your profile. Whereas, when you restrict someone's account, they won't be able to see your activity status or if you have read their messages. 
Additional Features

Instagram has a privacy setting of hiding comments, likes or views counts, and request messages. 

Users can also allow tags either from everyone, their following list, or no one. 
Security
The login activity on Instagram displays a list of the location or device from where the user is logging his/her account. 
The two-step verification on Instagram protects the user's account and password to avoid the risk of data loss or identity theft. 
Advanced Features
Instagram has an option of archiving the posts or reels for as long as the user wants it to be. Archiving the post from Instagram hides the specific post from your Instagram wall; however, you can still retain the data. 
QR code is a useful feature for business owners that helps in increasing their sales. They can integrate an QR code in order to make it easier for customers to scan it through easily. 
Instagram has a feature, where users can bookmark any post, reel, or audio they like and save them in a separate category to use later.  
Close friends is a unique feature, where users create a separate list of followers with whom they want to share their Instagram stories. This feature is also useful for business owners that allow them to share any special message or announcement with a specific group of customers. 
Add Post on Multiple Accounts
If a user has multiple accounts, and wants to add the same post on all those accounts, s/he can do it in one go. Adding posts to multiple accounts at the same time saves the user time that automatically leads to a smooth user experience. 
The integration of Augmented Reality and Virtual Reality features on Instagram boosts the user experience. While creating Instagram stories, users use different kinds of face filters to make fun content for stories or reels. 
Steps To Create an App Like Instagram
Your app's success is dependent on the features you will integrate, and functionality that will deliver an excellent user experience (UX). Therefore, defining the app's vision and objective is crucial. 
Understanding the app's goals, vision, and purpose makes it easier for the app development company to incorporate the features accordingly. 
You can define the following questions during this stage in order to get the exact app as you want.  
What outcome are you expecting from your social networking app?

How are your competitors meeting their targeted customer's requirements?

Which technology do you think will fit your app development best?

What are the areas of improvement for better business profits?
After the discovery stage, you can move ahead with market research. In this phase, you will get the insights related to the ongoing market trends, your targeted audience's preferences, and competitors. 
The main objective of conducting market research is to understand your competitor's weak points that you can cover up in your app with a well-planned strategy. 
You can keep the points mentioned below in your mind while doing market research:
Who can be your targeted audience?

Who are your competitors, and what can you learn from them?

How are you planning to monetize and market your social networking app for effective results?

Prototype
Now, you can move forward with app prototyping, and get the app's mockup before finalizing it. Mobile app prototyping exhibits the app design and reduces the cost of expensive rework. 
App designers create an app wireframing, explaining how users will interact with the mobile app. Mobile app wireframing is basically an app's layout that includes sketching, and mapping out the user flow. 
Afterward, you can start adding the details as per the user's feedback. The app prototyping can cost up to $15,000; however, creating an interactive user interface provides an additional expense to the project. 
Minimum Viable Product development
Move forward and start building a minimum viable product (MVP) to ensure the success of your social networking mobile application. 
MVP focuses on the app's core functionalities, a better understanding of targeted users' needs, a clear user interface, quicker release, flexibility, and constant updates. 
Also, building an MVP saves time, money, and resources while entering the market, and makes your app ready to stay ahead of the curve.
The Evolution of Instagram
Instagram has evolved a lot in past days. Let's have a look at its different phases. 

After developing the social networking app, make sure to test it thoroughly before releasing it to the App Store and Play Store. The app testing ensures that the app will have fewer bugs or glitches, and deliver a better user experience. 
The quality assurance (QA) team follows well-thought security practices to assure the social media app's stability, reliability, and usability. Also, test the app in all the possible scenarios, like what are the most used devices, the user's location, and other aspects.
Provide Post-App Launch Maintenance
Once you are done with the app testing, launch your app on the platform of your choice. The app developer will create an account with the relevant app title, screenshots, informative descriptions, and keywords. 
As a business owner, you can ensure post-app launch maintenance to enhance the existing features or services and make them as per the user's expectations. 
Make sure that your social media app like Instagram is highly scalable and timely updated in order to avoid any kind of issue. The app's design should also get updated over time to attract new users and keep them hooked to the app.
Instagram Technology Stack
If you want to develop a high-performing social media app like Instagram, you must know the basic technologies used in the development process. 
Following is a list of top technologies used for developing Instagram.
What is The Cost to Build an App like Instagram?
There is no definite cost for developing a social networking app like Instagram because it depends on multiple factors, like the app platform you choose, UI/UX design, app testing, security, and maintenance. 
The estimated cost of developing a social networking app like Instagram is more than $75k (minimum). For a more detailed information, you can get a no-obligation app development cost from us. 
How Does an App Like Instagram Make Money?
Advertisement
Now, that you have an idea about the social media app development, it is the time to have an in-depth understanding of its different revenue models. Instagram comes in the ecosystem of Facebook, where business owners can post an advert on Instagram directly through Facebook.
Apart from it, carousel ads are one of the engaging ways to promote the brand because they are aesthetically-appealing and interactive. An advertiser or a business owner can earn money by adding multiple photos/videos of the product and tell a story. 
Is Developing an App Like Instagram Worth It?
Instagram is a popular social media app and leading the market ever since it came into existence. According to a study, there were 2 billion active users on Instagram in 2021 and will reach 2.5 billion by 2023. 
Business owners want to invest in a social media app development like Instagram because of the numerous benefits it offers. For instance, Instagram helps in forming direct connections with the audience, lets you gain valuable customer insights, increase brand awareness, loyalty, and more.  
Conclusion
If you are thinking to develop a social networking app like Instagram, you need to make sure that you are focusing on every minor detail. Instagram is already a successful app and will continue to do so. 
If you also want to have a high-performing social media app like Instagram, think of unique app ideas that will make your brand stand out from the competition. You can even research about the issues a user faces while accessing Instagram in order to avoid the same mistake in your app. 
Most importantly, integrate the ongoing market trends while creating a social media app, as it allows you to break the boundaries of the market. In the end, consider to hire a well-established social media app development company that will meet your expectations.