Reading Time:
5
minutes
In this blog post, we have listed the top and best free e-book reading apps that are available for readers for free on iOS and Android app stores by some cool apps company.
Reading books, novels, magazines, etc., is an interesting activity. But, readers quite often find it tough to organize their reading in terms of searching for the right topics, remember where they left, highlighting the important lines, etc. Besides, they also find it quite clumsy to carry the books with them. As of result, they often fail to continue their reading and complete the topic.
So, are there any good apps to read books for free on iPhone and Android devices?
Well, the answer is YES. Thanks to the advancement of mobile app technology. There are plenty of apps developed by mobile app development company, which help readers renovate their reading experience by managing and customizing their reading easily. Let's dive into some popular e-books reader apps that are available for free.
List of Best Free E-book Reading Apps
Google Play Books
Nothing could be better than Google Play Books, for those searching for the best app to enjoy ebooks and audiobooks. With Google's e-book reading app, users will be able to choose from a wide range of comics, e-books, audiobooks, etc.
Google Play Books Features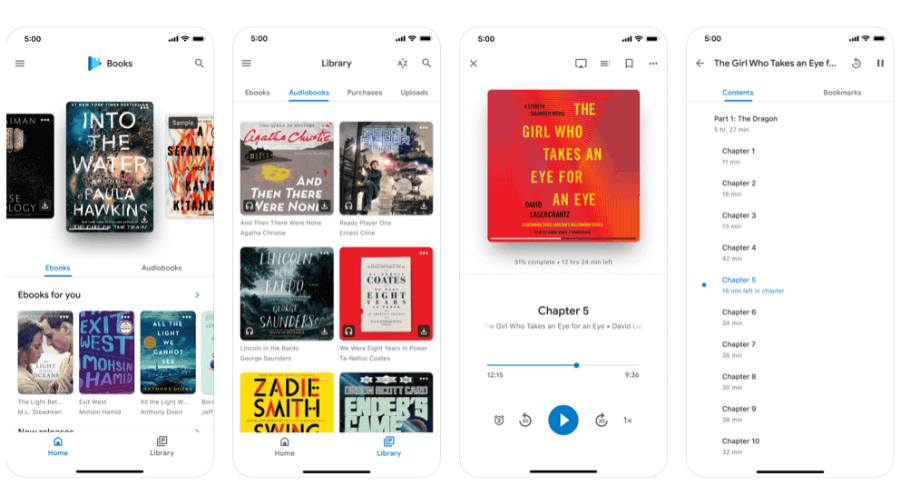 Readers can explore many e-books at their fingertips.
Google Play Books let readers listen to their favorite audiobooks anytime and anywhere.
Readers can get a preview before they purchase e-books.
The night mode setting enables readers to adjust brightness and background color automatically.
No need to use track-list. Readers can directly navigate chapters with the help of genuine chapter titles.
Amazon Kindle
Kindle lets you turn your iOS or Android devices into a complete Kindle to read the latest, top-selling, and amazing e-books. It lets users carry all their favorite e-books wherever they go. Once they purchase an e-book on Amazon, it then automatically gets displayed on their application.
Amazon Kindle Features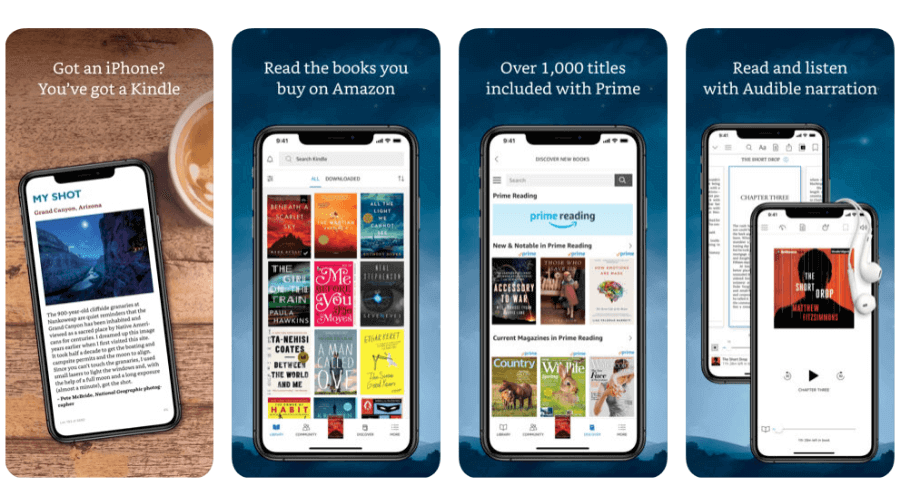 Readers can get a

truly

customizable experience of reading with their choice of font size, font style, etc.
The app includes certain amazing features like Whispersync, X-Ray, Flashcards, etc.
Instant translation ability lets readers read the books in their preferred language.
Readers can make their reading experience more comfortable and amazing with bold font and a great text size option.
Nook
Nook lets users discover and read award-winning novels, books, hot topics, etc., to take their reading passion to the next level. Users can avail an option to access the app's vast library consisted of 4 million graphic novels, e-books, magazines, comics, etc. The e-book reading app easily syncs across multiple devices.
Nook Features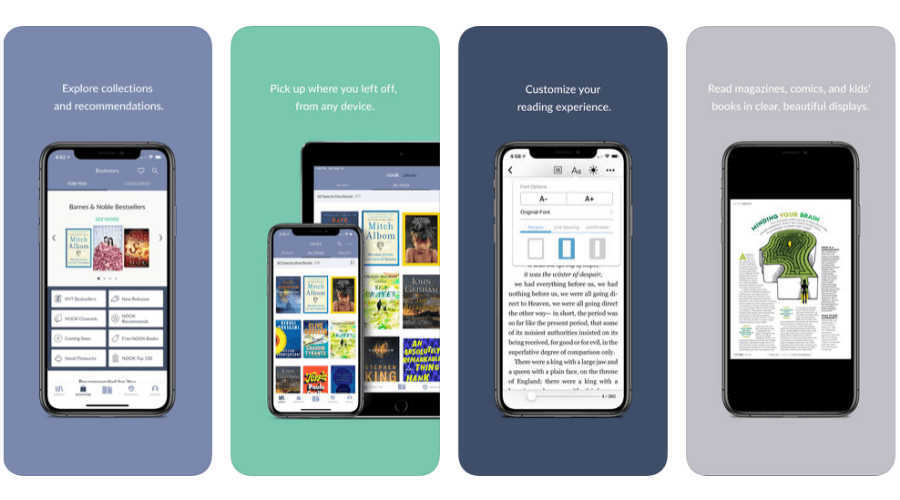 Nook lets readers buy the latest-released, best selling, and demanded e-books that match their interest.
Readers can customize reading option including adjust line spacing, font style, screen brightness, background color, page animation, etc.
Nook is one for the whole family. Using profiles, family members can easily share an account with a completely customized experience.
Readers can also grab an opportunity to join a vast community of Nook readers and can also enjoy Free Fridays book selection every week.
Also read: Top 10 Programming Languages to Overview in 2019
Wattpad
When it comes to the world's most-loved social storytelling platform, it's impossible to exclude Wattpad. It is an ebook reader app that enables users to connect with a global community of 70 million readers and writers, with some interesting stories.
Wattpad Features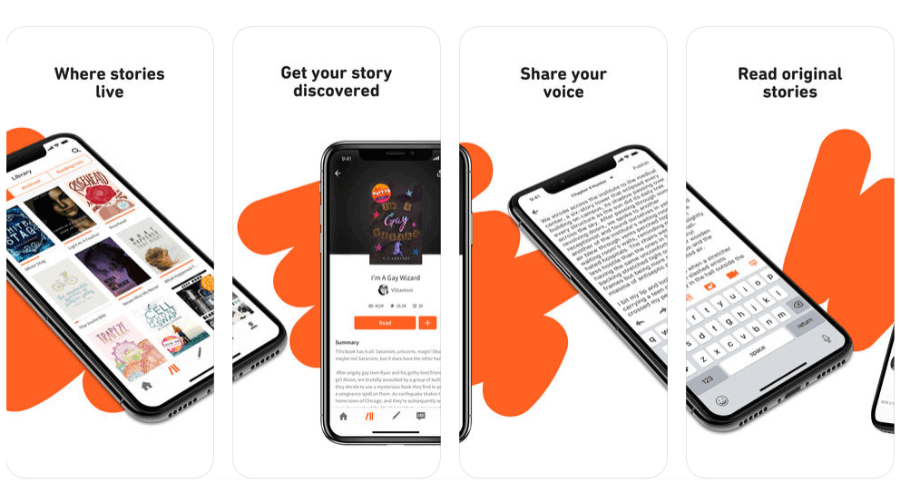 With Wattpad, readers can also publish their own stories and get it discovered among a strong community.
Readers can read genuine stories from dedicated writers. They can find varieties of stories including comedy, romance, science, fiction, etc.
Users can easily save their favorite topics and read them wherever they go.
Wattpad lets users read the stories that inspired the blockbusters.
Bookari E-book Reader
Stores: (iOS, Android)
What is the best app to read PDF books on Android and iOS?
The answer is none other than the Bookari e-book Reader, which is another famous book reading platform in the market. It is quick, strong, and user-friendly with a complete synchronized library. Readers with the Bookari e-book app get complete flexibility, comfort, and speed while reading books. They can also switch between one to other devices to explore books, collections, reading positions, tags, etc.
Bookari E-book Reader Features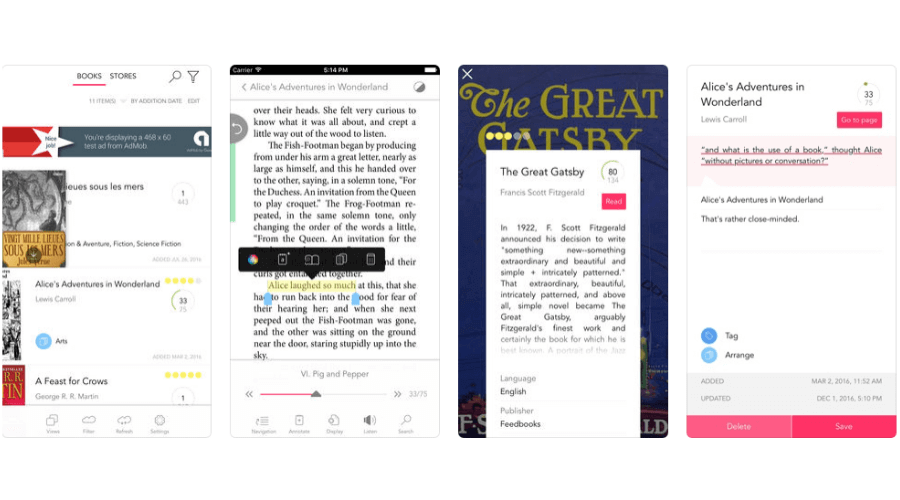 Bookari e-book Reader supports some common e-book formats including PDF and EPUB2.
It lets users highlight text, bookmark pages, pin navigation panels to highlight notes, etc.
With the app, users can easily edit details of the book including, organize title, tags, language, author, etc.
Users can also use the synchronize option to retrieve their organization on their synced devices.
FBReader
FBReader is another popular e-book reading application that delivers an entirely new experience to readers. It lets users engross themselves in the topic they read and connect with every word emotionally.
FBReader Features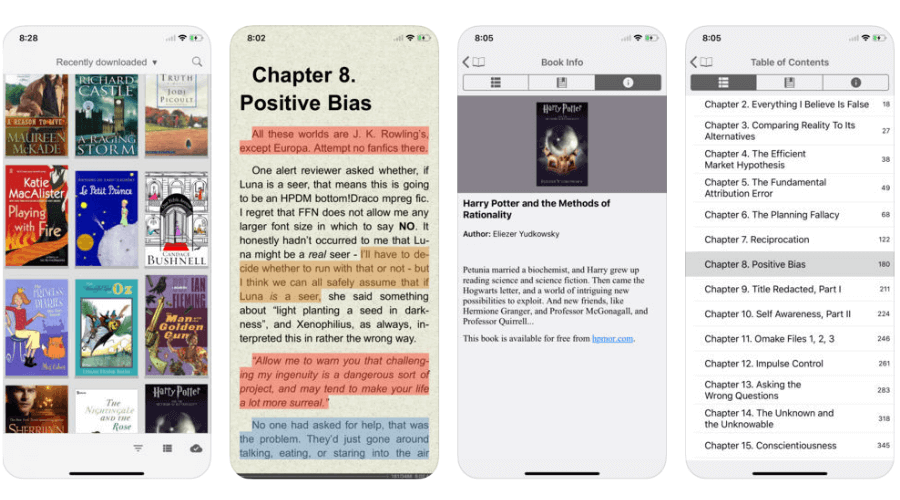 FBReader lets users get 34 languages to choose from to read their favorite topics. It also includes a pattern like hyphenation for 24 languages.
It includes several ebook formats like ePub, fb2, azw3, etc.
Readers can synchronize library, bookmarks, reading positions, etc.
The app lets users download books in the browser and access using it.
Kobo Books
Kobo Books lets readers start their adventurous book reading journey. With 5 million titles to choose from, Kobo Books offers something for every reader. Once readers buy audiobooks and e-books directly from Kobo, it automatically gets displayed within the app.
Kobo Book Features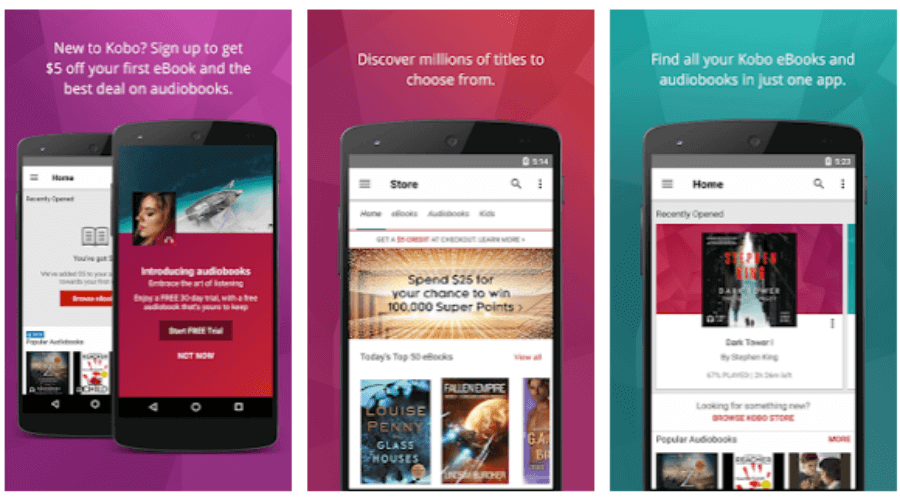 Customize your reading with clear texts that appear in a perfect style and size.
Get recommendations for reading that suits your interest.
Begin your reading journey with one device and then catch the same on others.
Share your passion, love, and dedication of reading on Facebook and other social sites.
Get multiple languages like French, German, Spanish, Dutch, etc., to choose from. And also rate and reviews the topic that you already read.
We would love to hear your comments relating to the post. Got some other thoughts? Drop us words through our contact page.