Reading Time:
3
minutes
Do you often need to digitize documents on the go but unable to find the right tool for doing so? In this blog, we've picked 'Genius Scan' as our app of the week, a free on-the-go mobile scanner app for document scanning.
In a world where mobile phones are quickly moving towards the digitization of every document, you don't necessarily need to have bulky scanners to scan the essential documents. Thanks to smartphones that pack a good camera and mobile app developers who build fantastic scanner apps to ease your document scanning job.
On-the-go app scanners are widely used in today's digital age and time. Genius Scan app is also one of those apps that saves your time by turning your phone into a portable document scanner. It also enables remote work, goes paperless, expedites expenses, empowers the digital classroom, and more.
What Is Genius Scan?
Genius Scan is a scanner in your pocket that meets all your document scanning needs. It helps you digitize and scan all your documents right from your phone, on-the-go every day. You don't need to worry about the glares or shadows; its smart algorithms automatically detect documents and apply perspective correction so you can scan from any angle.
Genius Scan is a high quality, powerful, and easy to use app that instantly scans documents, creates PDFs, enables you to share your scans, archives your documents, and whatnot. According to the app stores' recent figures, 20+ million people have downloaded the Genius Scan app on iOS and Android and have scanned hundreds of millions of documents.
How Does Genius Scan Work?
Genius Scan app is efficient in quickly scanning any document and delivering the final copy in PDF format. This mobile app works on a robust back-end system to instantly capture, process, and export the final scanned copies. Let's delve deeper to know how the app works.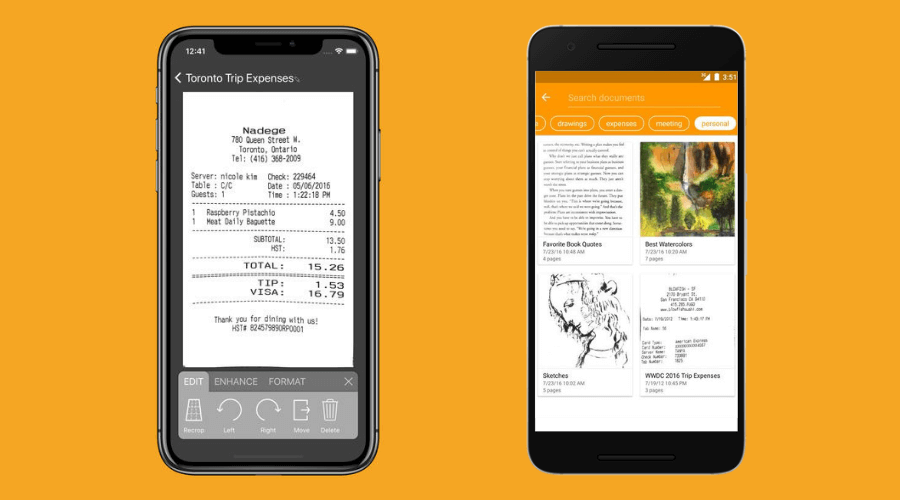 Open up the Genius Scan app and press the plus at the bottom left and scan your document.
Genius Scan captures the documents through the device camera.
Once the scanning is completed, you need to click done on the bottom right and rename it to save.
The app saves the documents and processes it for the best possible document size.
In a few taps, Genuine Scan creates a digitized copy of captured documents and saves them on the device in PDF or JPEG format. It also allows you to upload documents to your account and other storage.
The app also asks you to add a password (optional) to your document while saving to ensure safety.
The app lets users access the saved files directly from the server, which they can easily share through email, social networks, or other mediums.
Also Read – App of the Week: Charity Miles – Walk & Run for a Good Cause
Featured in 'The Guardian' and others, the Genius Scan app has claimed numerous prizes and awards for outstanding performance, as promised to users. It was also selected as a "New and Noteworthy Business App" by Apple. Genius Scan app also keeps your privacy safe with features like PDF protection and Touch/Face ID by serving the core purpose of digitizing the documents easily and quickly.
Features of the Genius Scan App
Scan paper documents on the go and export them as multi-page PDF files.
Smart scanning with document detection, background removal, distortion correction, shadow removal, filters, and more.
Improve scanning quality with color or black-and-white post-processing.
Snap images hands-free with magic mode.
Scan pages in real-time with the Batch Mode feature.
Availability of PDF creation and editing.
Provides optimal security and privacy with biometric unlock and PDF password encryption.
Efficient in document organizing like document tagging, metadata and content search, backup, and multi-device sync.
Export to email, Dropbox, Evernote, Google Drive, One Drive, FTP, and WebDAV.
Tagging option to discover it quickly in explorer.
Processes documents over the phone rather than sending them to any third-party server.
Share documents through Wi-Fi to access them from your devices.
To conclude, Genius Scan is a free to use and fully functional pocket scanner that quickly scans your documents on the go and exports them as multi-page PDF files. So, are you ready to make your business life easier and enhance productivity? Download this app today and start scanning your documents!
We would love to hear your comments relating to the post. Got some other thoughts? Drop us words through our contact page.