Reading Time:
6
minutes
Social media has become a life and limb for people nowadays. Millennials are going crazy and gravitating towards it day by day. In this blog, we will talk about the best social media apps of all time to make you feel more connected to the world.
The Internet has completely changed the face of communication and how people interact. In 2019, apps from development companies have made life easier for people who always want to stay connected with each other. Social media platforms are flourishing these days, and mobile phones are a great contributor to it.
Smartphones have become a hit among today's population, and allow you to live a tech-savvy lifestyle. As per the stats, social media platform is a driving force of the internet usage in the US. In January 2019, North America had a mobile social media penetration rate of 61 percent.
With this trend in mind, we have covered the list of some top social media apps in this blog to give you the best experience of using social media.
List of the Best Social Media Apps
Facebook
Facebook is a social media platform that does not require any introduction. With over 2.38 billion monthly active users as of 2019, It has become today's largest social media platform in the world. Facebook started leaving its imprint on people since its inception, keeps its users connected to their loved ones more interestingly and excitingly such as uploading a momentous pictures, sharing views, chatting with loved ones, and a lot more.
There are two versions of Facebook apps available, the regular one is with the size of 41MB in Android devices and 441MB in iOS devices. The second one is Facebook Lite which is a lighter version and smaller in size (1.3mb in Android devices), which lets users with limited resources access the platform swiftly.
Features of Facebook App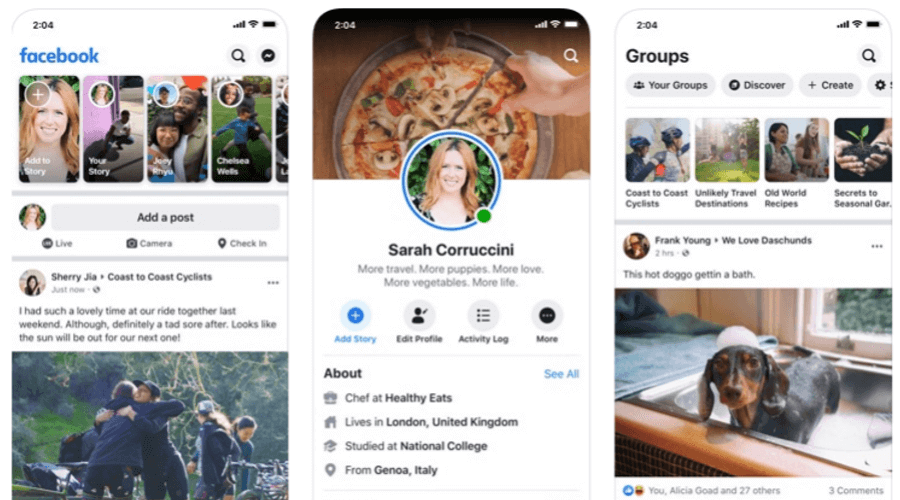 Facebook Regular Version
Share thoughts, photos, videos, memories, etc.with friends and family.
It helps you to stay connected with other people, with millions of groups of interests.
You can find local social events, and make plans to meet up with friends.
You are allowed to play favorite games online with Facebook friends.
You can follow famed personalities to get their latest updates.
It provides you a large marketplace.
It allows you to stream and watch live videos on the go.
Promote your business through tweets on its massive user base.
It also gives you the option to share stories with your connections for a short 24 hours span.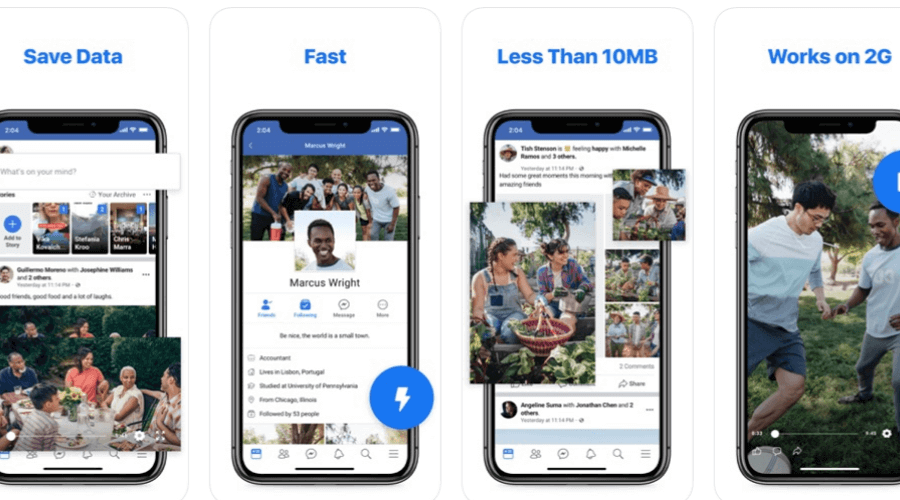 Facebook Lite Version
Almost all the features of the regular Facebook app are available in the lighter version.
With simple UI, it is faster and easier to use.
It saves up your data because of its small size.
It works perfectly fine at location with limited connectivity.
Download: Android, iOS (Regular Version) – Android (Lite Version)
Twitter
Staying informed about what's happening in the world, following the latest news related to anything and everything such as sports, entertainment, politics, everyday interests, and whatnot, Twitter has always been an online sensation for everyone.
With an average of 330 million monthly active users as of the first quarter of 2019, Twitter does have a highly engaged user base, enables to post short text messages called tweets.
The users have an option to choose between two versions of the Twitter app, the regular one is with the size of 16MB in Android devices and 117MB in iOS devices, the second one is Twitter Lite which is a lighter version and smaller in size (1MB in Android devices and 84MB in iOS devices named feather-lite for Twitter), makes Twitter more even more handy to use.
Features of Twitter App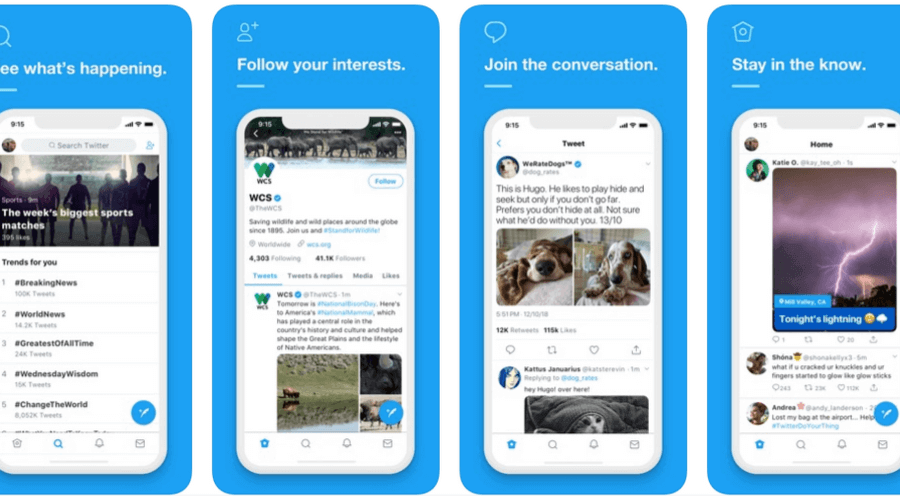 Twitter Regular Version
Stay updated with the latest news on the tip of your phone by following accounts of interests.
See trending topics and hashtags.
You can retweet, retweet with comment, like, or reply to tweets on your timeline.
You can have a chat with your friends and followers.
You can also start a group conversation with anyone who follows you.
It is easier to customize your profile with a photo, description, location, etc.
You are allowed to sync your contacts to find profiles using Twitter or can send an invitation to those who are not on Twitter.
Promote your business through tweets on its massive user base.
Create lists of people with specific interests.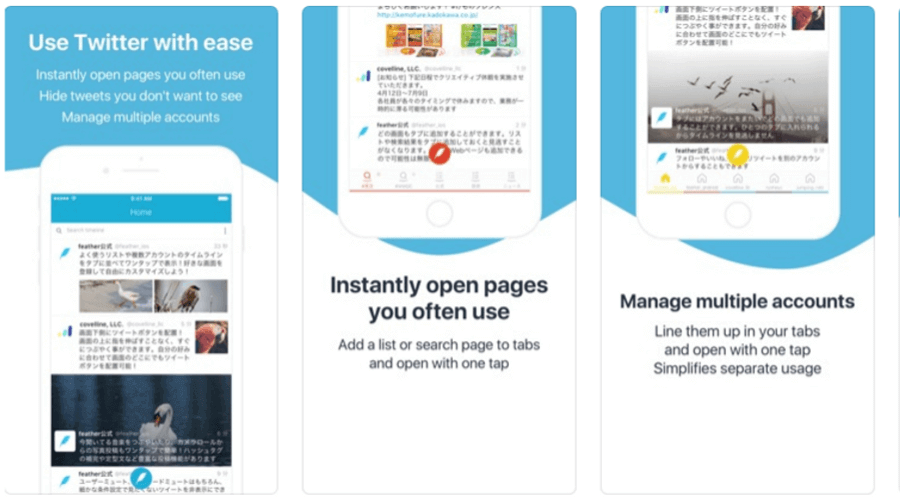 Twitter Lite Version
Along with all the features of the regular Twitter app, it also saves data on your phone.
It allows you to turn on data saver mode to download only the images or videos you want to see.
Its simple UI makes it handy to use.
Get global news, quickly even on 3G connection.
Download: Android, iOS (Regular Version) – Android, iOS (Lite Version)
Also read: How to Strategize Social Media App for Great User Experience?
Instagram
Instagram is a photo and video-sharing social networking platform owned by Facebook that gives users complete freedom to express.
With 1 billion monthly active users as of June 2018, it has become one of the fastest-growing social media platforms among people, especially millennials.
The Instagram app gives users a different experience of exploring and sharing things from daily moments to life's highlights.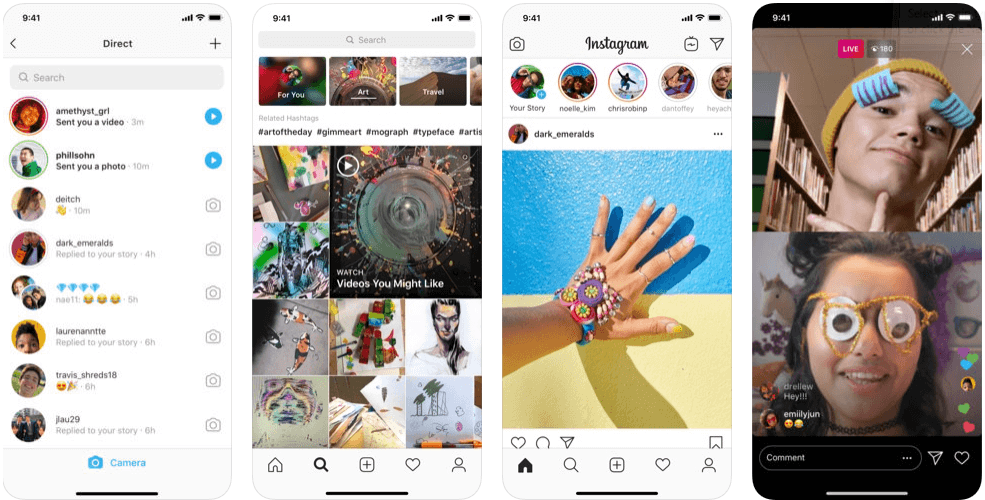 Features of Instagram App
Express yourself and get connected with your friends and followers by sharing images and videos.
It also allows you to add photos, videos, and share stories for 24 hours as well.
You can go live with Instagram live video feature.
See your friend's feed and stories, DM (Direct Message) them.
It has the feature of IGTV (Instagram TV) for longer videos to post on your feed.
Follow your favorite celebrity to get the latest updates of their day to day routine.
It allows you to shop for products and promote your business through Facebook Ads Manager.
LinkedIn
LinkedIn is a social media networking platform mainly designed for business professionals that allows professional networking. With an estimated 630 million users, it is one of the most popular social networking services among B2B (Business to Business) and working professional audiences since its inception. LinkedIn emphasizes skills, employment, education, certifications, accomplishments, etc.
The users can choose either a regular version of the LinkedIn app or a lighter version of the same. The regular version is with the size of 24MB in Android devices and 173MB in iOS devices, the lighter version is named LinkedIn Lite which is a lighter version and smaller in size (697KB in Android devices, not available for iOS devices), saves space on mobile phones.
Features of LinkedIn App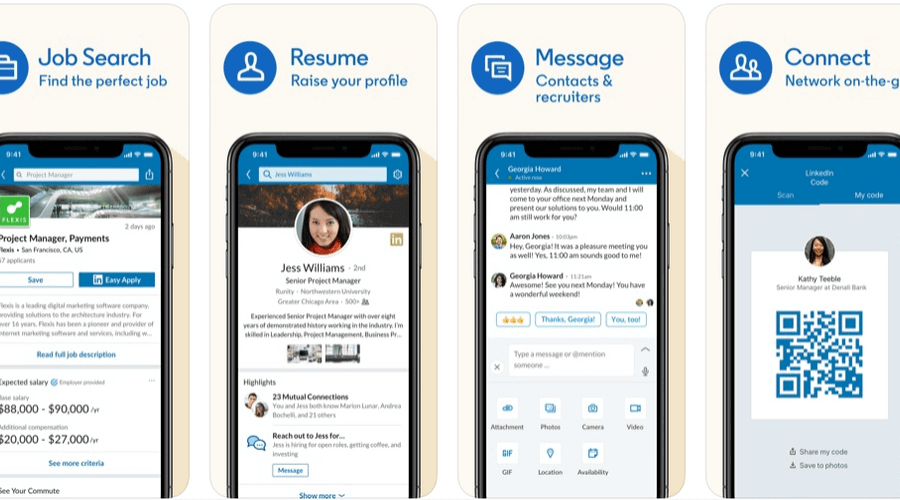 LinkedIn Regular Version
It allows you to showcase your skills and qualifications.
You can easily search and apply for the desired job with a resume via the app.
You can use your LinkedIn profile as a virtual resume.
You can contact the recruiters via message.
It allows you to share valuable articles with LinkedIn connections and communities.
You can follow companies you are interested in to get the latest updates.
You can join groups of your interests.
Linkedin provides you with a great opportunity to market your business among target audiences.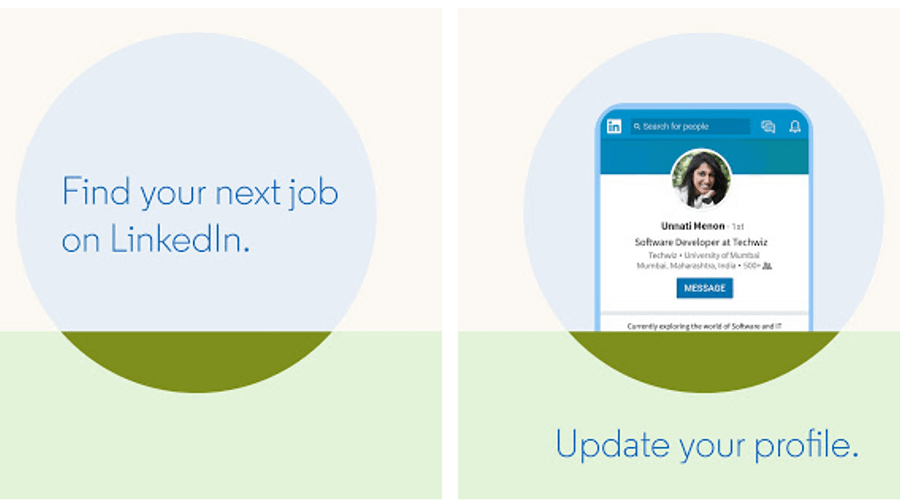 LinkedIn Lite Version
It has almost all the features of the LinkedIn regular version.
It works smoothly even on 3G connections.
With simple UI, it is much easier and lighter to use.
It saves up space on your phone with less battery usage.
Pinterest
Pinterest is a social media platform that allows users to share their interests by posting, which is known as pinning on Pinterest. It reminds us of a scrapbooking we all used to do in our school days. With 300 million active users as of the second quarter of 2019, Pinterest has become a widely popular social media platform among people. On Pinterest, users are allowed to save posts as a bookmark in their saved pins which can easily be accessed later by them.
The Pinterest app is developed by keeping its users in mind and has many features for the users who are looking for creative ideas, home design concepts, fashion and fitness tips, recipes and many other things.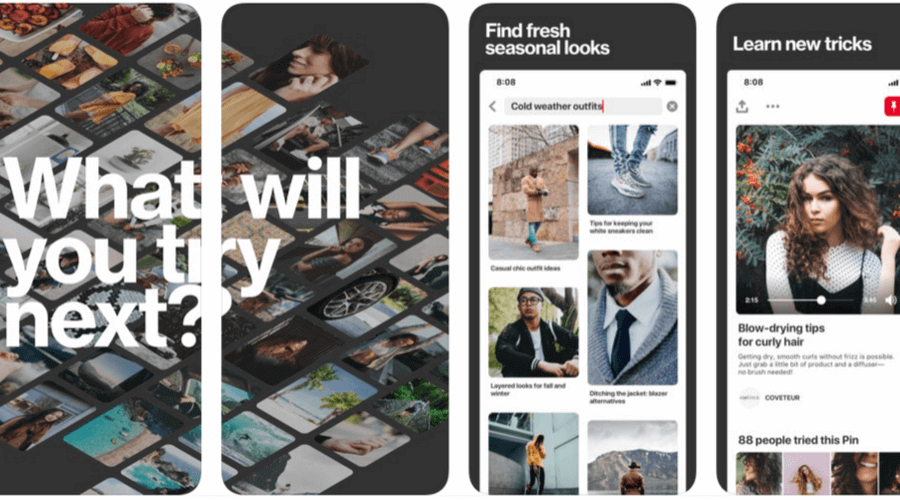 Features of Pinterest App
Discover personal interests such as inspiration, recipes, tips, and many other things.
It allows you to share pins with your followers and other users of the platform.
It allows you to create your boards on different topics and publish pins in the same.
The platform has good marketing and analytics tools that can be used to promote your business.
We would love to hear your comments relating to the post. Got some other thoughts? Drop us words through our contact page.