Reading Time:
7
minutes
With the emergence of technology, traveling apps like Uber, Tripit, and Skyscanner have gained immense popularity. The travel app provides all the traveling details, like tracking location, ticket or restaurant booking, etc. 
During the pandemic, the traveling industry witnessed a dramatic downfall; however, it again began to recover. As per the survey by Statista, the revenue of mobility market outlets will reach over $600 million in 2023. 
To reap huge profits, you can consider developing a high-performing travel app from a reliable mobile app development company. An agency has in-depth understanding of the business model, features, budget, and more. 
This blog has mentioned everything about travel app development, from popular types and must-have features to monetization model and app development costs. 
Why Should Businesses Invest in Travel App Development?
Technology acceptance is present in almost every industry, and travel is no exception to this. Business owners hire travel app development companies to develop a high-end app. Users leverage different traveling apps to get travel information, book tickets or hotels, etc. 
Traveling apps can be a powerful marketing channel for your business where you can connect with your targeted audience easily. 
You can create a travel app to convey your brand message and keep users engaged by offering useful features & creating a loyal customer base.        
Travel app development has 24/7 accessibility that provides useful information to travelers at their convenience. 
In other words, your travel app can ease the user experience by letting them acquire the information they want at any time and from anywhere. This way, people will be hooked and become more familiar with your travel app. 
The traveling app can help business owners track their intended user's actions, which helps better understand their needs. 
Moving forward, business owners can provide a more personalized experience by offering them what they are already expecting.  
Popular Types of Travel Mobile Apps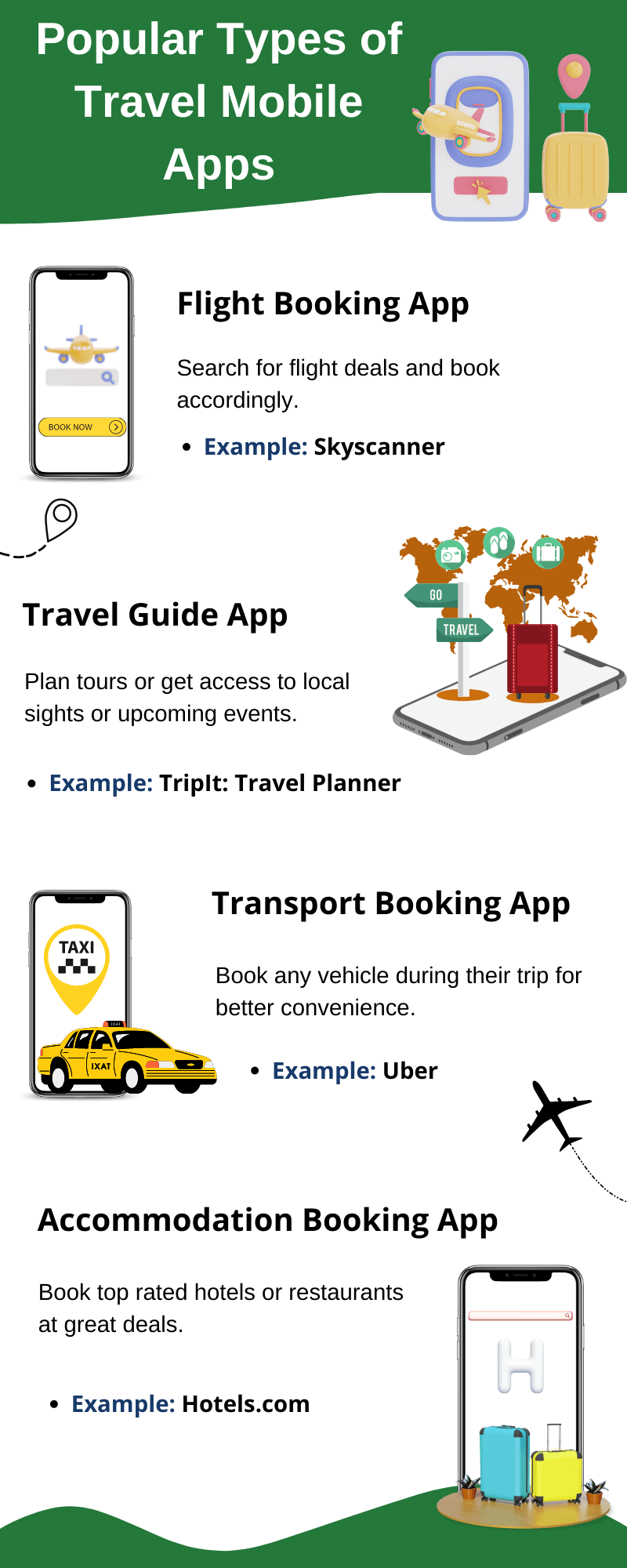 As the term suggests, a flight booking app like Skyscanner lets users search for flight deals anywhere in the world. 
With the help of a flight booking app, users can get a hassle-free experience with advanced features. For instance, features like, one-tap check-in, booking details, special deals, etc. 
Flight booking apps are integrated with a feature like easy check-in that saves users time in verifying documents.  
Another type is a travel guide app, where travelers get everything, from different places to visit, and upcoming local events, to top-rated restaurants, etc. A travel guide app like TripIt: Travel Planner hooks the travelers by providing every detail they may require while traveling across the country. 
The transport booking app is one of the popular categories of travel apps that let users check available offers and book tickets on a real-time basis. 
Uber is one of the popular transport booking apps where travelers can book a cab or rentals to roam around the city. An app like Uber provides a quick pick-up and drop facility to travelers, offers 24/7 service, etc. 
Accommodation booking apps like Hotels.com allow travelers to book a room as per their preference. Travelers can even get exciting rewards by booking a hotel room via an app where their information gets saved. 
With the help of hotel booking apps, travelers get a complete overview of the hotel's rooms, the pictures, and what facilities are being offered. 
6 Must-Have Features for Travel App Development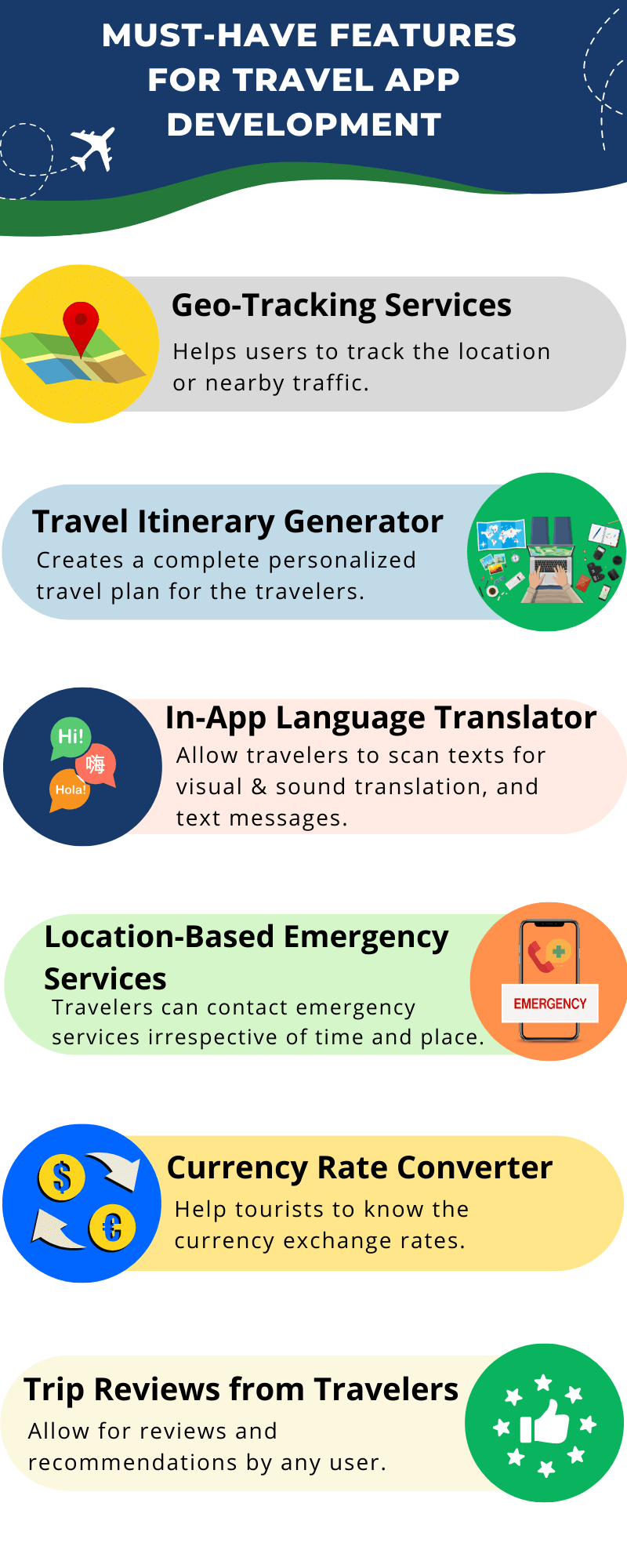 The primary feature of a travel app development is integrating geo-tracking or navigation services. This feature assists travelers by tracking or fetching the location of nearby sights. 
Navigation services also help travelers identify the best routes, better safety, get the estimated time of arrival at the destination, and more. 
Travel Itinerary Generator
Another must-have feature for travel app development is an itinerary travel generator. It allows travelers to make a travel plan and maximize their time. 
A travel planner includes every detail related to the trip, like events, activities, accommodations, sightseeing, etc.     
In-App Language Translator
An in-app language translator is one of the beneficial features in a travel app development, allowing travelers to scan texts for visual & sound translation and text messages. 
This feature boosts the user experience, especially when traveling to another country. In other words, an in-app language translator bridges the linguistic barriers and smoothes the travel experience.  
Location-Based Emergency Services
A location-based emergency is a crucial feature, which is a must for every traveling app. With the help of this feature, travelers can contact emergency services irrespective of time and place. 
You can consider adding the phone number based on the location so that travelers can get information about doctors, nearby pharmacies, etc. 
While traveling across another country, travelers often face issues related to currency exchange. 
Business owners can consider adding a currency rate converter feature to their travel app to help tourists know the currency exchange rates. The currency rate converter also helps compare the current and previous currency rates.
Trip Reviews from Travelers
Before traveling to any new place, travelers often prefer to read reviews to ensure that visiting a particular place will be worth it. 
Therefore, adding trip reviews and ratings in the app section is beneficial as it shows reviews and recommendations from other travelers for better decision-making. 
How to Create a Travel App?
Enter the Discovery Phase
You can conduct market research to know your competitor's insights and users' preferences during this stage. 
As a business owner, you can discover your app ideas, vision, and goal and validate your app idea by availing of the travel app development services. Also, it is your responsibility to have an in-depth knowledge of your travel industry, how well your competitors are doing, and how you can stand out from them.  
Following is a checklist that comes in the discovery phase:
What results are you expecting from the travel app?

Which technology do you think is best to use as per your travel app requirement?

How are your competitors meeting their customer's demands?
One of the creative ways to attract your intended users is by crafting an aesthetically pleasing (yet engaging) travel app's interface. You can consider maintaining consistency using common UI elements with essential travel app features to boost the user experience (UX). 
It is advisable to create a travel app prototype before developing a full-fledged app and get it validated by a reliable travel app development company. 
In the travel app prototype, business owners will get a mockup of the travel app before launching the final product. With the help of an interactive blueprint, business owners get an idea about how the user's will interact with the app. 
Begin the Travel Mobile App Development
Now, the travel app development company will begin with the coding process, where app developers will convert the app mockup into a fully-functional travel app and integrate all the features. 
Here, the developers will pick the right stack of technology based on the selected platform and start developing a high-end travel app as per the business owner's expectations.
The travel mobile app development is integrated with three approaches- back-end, application programming interfaces (APIs), and front-end. 
The back-end includes a database and a server-side object supporting various travel app functions.

The application programming interface (API) is an intermediate between the app and the back-end. 

The front-end is everything a user experiences on the travel app. In simple words, the front-end is where an end-user will interact with the travel app.
Once your travel app gets developed, ensure to test the app properly before releasing it to the App Store or Play Store. The mobile app testing will minimize the risk of any bugs, glitches, and other technical issues. 
The quality assurance (QA) team plans well-thought security practices to assure the travel app's stability, reliability, and usability. Also, try to test the travel app in all the possible scenarios, like what are the most used devices, the user's location, and other aspects.
Your travel app is finally ready to get released on the App Store or Play Store. Ask the app developer to launch your travel app on the platform of your choice and create an account with the relevant app title, screenshots, informative descriptions, and keywords. 
Also, as a business owner, you can ensure post-app launch maintenance to enhance the existing features or services and make them as per the user's expectations. 
Your travel app can never remain error-free, and you need to fix the errors with time. Apart from it, the app's design should also get updated over time to attract new users and keep them hooked to your travel app.
How to Generate Revenue with a Travel App?
The primary way to generate higher revenues via a travel app is through booking and reservations. You can consider adding an affiliate link that helps in generating commission on each converted lead. 
Another option for generating revenue is directly selling the booking or reservation link to standalone businesses for a better conversion rate. 
Another way of generating higher revenues is by paying money to the travel app owner to appear on the top list of the travel directory. As a result, your travel offerings' visibility will increase, which will automatically boost the customer base. 
The subscription model is another strategy for generating higher revenues that most business owners prefer to use. Here, travel publishers collaborate with well-established travel providers, like airlines or restaurants, in order to connect their brand to the travel app. 
What Is the Travel App Development Cost?
The overall travel app development can range from $100,000 to $130,000; however it may vary on several factors. Some of the common influencing factors are listed below:
Suitable app development platform

List of core app features

App design complexities and functionalities

Different technologies used

Focusing on app testing

Providing post-app launch maintenance and support
In short, travel mobile app development cost depends entirely on its different types and how much uniqueness you want in your app to stay competitive. 
You can even get a no-obligation consultation from us to know more details.
Conclusion
The digital transformation of the travel industry is expanding as it offers great flexibility & convenience to travelers. Traveling apps provide a number of advantages to users, like planning the travel itinerary, currency converter, accommodation, etc. 
If you are looking for a way to strengthen your traveling business, developing a travel app from a reliable mobile app development company is highly advisable. A well-established travel app development company can help you achieve your desired goals and attract existing or new users.