Reading Time:
4
minutes
In this blog post, we will be sharing insights of app uninstall trends, why users uninstall mobile applications and how you can improvise your apps to sustain more users.
Do you know as per Gartner, the success rate of mobile apps is even less than 0.01%? According to FlyerApps, the uninstall rate of mobile apps after 30 days is 28%. It describes approximately 3 in 10 users uninstall the apps within such a short period. Below is the uninstall rate of mobile apps falling in different categories.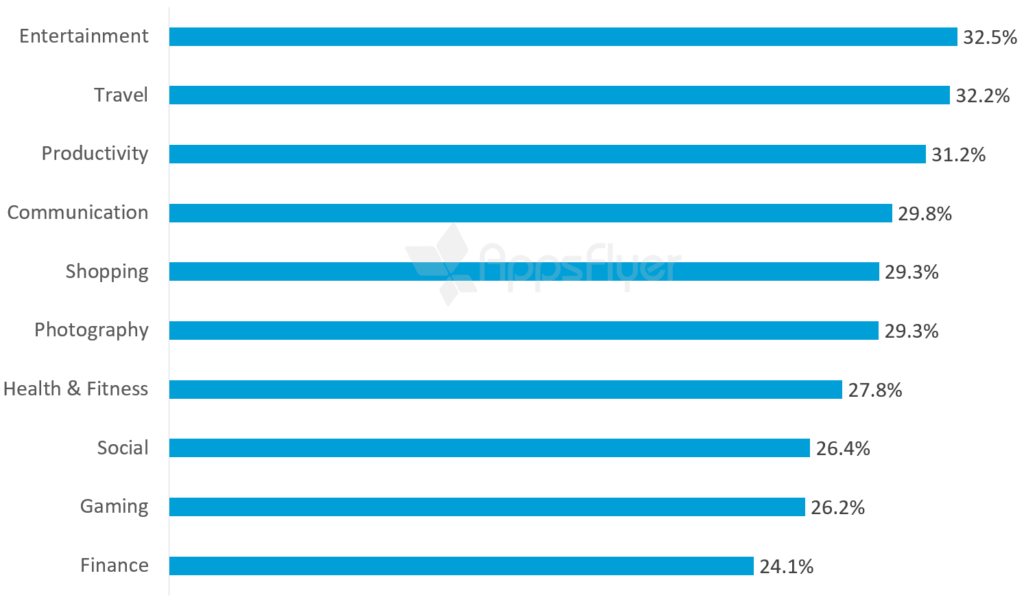 You may be shocked! Right? Every year billions of apps are developed and get listed in app stores. But, only a few of them fulfills the expectations of users. The rest of them either remains unnoticed or get uninstalled by users after the first use or within a short time.
This prevails how tough is the competition in making a successful mobile app for your business. We're outlining some of the valid reasons here that will give you insights on why users uninstall mobile applications from their devices.
Larger App Size
The average size of Android and iOS apps should be 11.8MB and 34.3MB respectively. If your app size is larger than above, your app will consume more storage space on your users' device, which is a big factor of users uninstalling apps, especially when they try to free up some storage space. Until and unless your app provides some unique value proposition, you should be focused on maintaining the above sizes while developing your business app to ensure its success. On the other hand, a large app also tends to crash more frequently.
Slow Loading Speed
Smartphone users don't wait if your app has a higher load time. A slow-loading app even kills its potential and capability. It fails to display every content that is meant for users and adds as a frustrating experience, which usually results in uninstalling your app. As per industry standards, a simple and quick app takes an average of 2 seconds to display every content and lets users engage with what suits them. Get is coded with a good mobile app development company.
Unable to Meet User Expectations
An app is developed with a defined purpose and targets users accordingly. If an app fails to serve its actual purpose and is not able to give target users what they are expecting from it, then there are maximum possibilities that users will avoid accessing your app and finally uninstall it from their devices. Your app should be focused on providing features to enhance user experience to support the defined purpose of the application.
Data Security Issues
Asking too many questions related to users' details especially when installing the app raises alarm in users' minds, leading to your app getting uninstalled right away. Instead, you should include limited fields while users access it for the first time with an assurity that their personal information is secure, give users the option to complete their profile and other details for later while accessing specific features. Maintain transparency and inform users honestly where and how their information will be used.
Also read: Steps Involved in Building a Dynamic Mobile App Strategy
Complex Registration & Log-in
Those mobile apps designed with a stringent login process often fail to get users' love. Smartphone users want everything on their fingertips. To simplify the login process of your mobile app, facilitate your users to access it through their social media accounts other than the traditional email option.
Too Much Ads, Notifications, Messages
Too much appearance of advertisements on your mobile app not only creates a bad impression on visitors, but they gradually start to avoid accessing your app. Sometimes, businesses also send too many unnecessary notifications, promotional messages, etc., directly to users through apps. This makes users frustrated and they tend to uninstall the app.
Bad UI/UX Experience
An elegant and simple user interface not only improves the visual of a mobile app, but also simplifies accessing features for users. And lets them easily find everything that they are looking for, effectively enhancing user experience. So, if your mobile app fails to deliver an amazing UI/UX experience to users, it will fail to impress them, resulting in uninstalls.
Rectifying Bugs
Bugs usually slow down the performance of mobile applications that further gives a bad user experience. Sometimes, users think that the developers will come up with the solution, but when it doesn't happen, the users mostly uninstall the apps.
High Battery Consumption
Those mobile apps that consume more battery often make their failure inevitable, no matter how good it is in performance and feature-wise unless it is a high-graphics engaging game. Excessive battery consumption accounts for a large percentage of app uninstalls today. Also, make sure during the usability tests that your apps don't cause the device-overheating issue.
Unable to Work in Offline Mode
A large number of smartphone users seem to be more inclined towards those mobile apps that work offline (even without an internet connection). There are many social media apps, news portals, gaming apps and more that work offline. Consider making your app work in offline mode to make users love it more.
We would love to hear your comments relating to the post. Got some other thoughts? Drop us words through our contact page.