Reading Time:
3
minutes
Are you thinking of selling your personal stuff, ranging from furniture to clothing and books? OfferUp allows you to do so. In this blog, we've picked 'OfferUp' as our app of the week that lets you sell anything to make extra money.
Do you know that Americans spend trillions of dollars each year on new stuff, billions on storage units, and they throw tons of their stuff away every day? However, in all that buying, storing, and tossing, Nick Huzar, the co-founder of OfferUp, saw an opportunity and established a marketplace to bring people together to get more value out of all that stuff.
According to Business Insider, OfferUp users spend 25 minutes on average a day on the app – the same as Snapchat and Instagram, and it is growing faster than eBay. After observing the success of OfferUp, businesses started gravitating more towards mobile app development companies to develop such types of apps to bloom unprecedentedly in the industry.
What Is OfferUp?
OfferUp caters to your needs in all situations, whether you want to buy something or make more money by selling things. It connects you with the buyer or seller whom you could trust completely. OfferUp is a free application on Android and iOS that allows you to sell personal items, ranging from musical instruments and furniture to clothing, books, and a wide variety of items including:
Vehicles
Electronics
Clothing
Household items
Toys
Jewelry
Musical instruments
Antiques
Tickets
Tools and machinery
OfferUp claims that it is the largest mobile marketplace in the US that has won the 'App of the Year' category award in the GeekWire Awards and ranked as 'Top 3 app' in the shopping category.
How Does OfferUp Work? Steps to Sell on OfferUp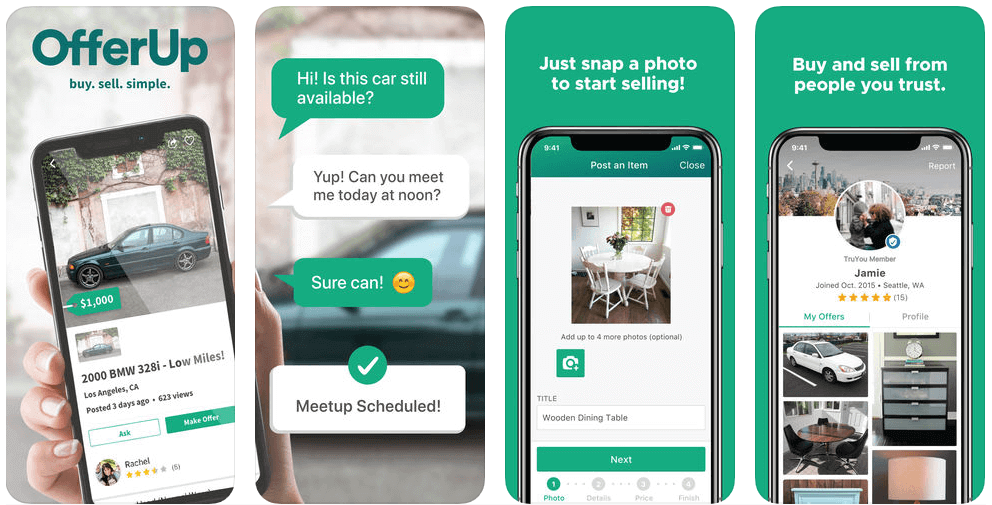 OfferUp specifies that you can only sell tangible items rather than something intangible such as services. As the largest marketplace for buyers and sellers, the OfferUp app aims to make buying or selling products quite easier. It doesn't charge any fees; however, if you want your item to get more attention, you can pay to have it 'bumped' or 'featured.' It works in several steps, let's have a look:
Set up an account, and set your location – Once you install the app, set up an account and your location to show the area you are selling.
Click the "Post" button – Then click on the post button with the camera icon, which you can find in the bottom middle of your app.
Select your item to be displayed – Take or select photos of your item to let buyers see what they're really getting. Ensure to have a clear photo without any clutter.
Add a title – Add a title to your item. Keep it short and simple.
Add a description – Add a description to your item by selecting a category and its condition.
Give details to your item – If you want to add any extra details about your item, like details on the item's condition or whether you're selling it with accessories included, or something else, you can do so.
Fix the price – Set your price and choose whether your price is rigid or buyers can negotiate with you.
Select a delivery method – You can choose to sell only locally or ship your item nationwide.
Wait for the buyers – Once you've posted your item on the app, it's time to wait for your potential buyers to look through it and contact you.
Also Read – App of the Week: Duolingo – Only Language Learning App You Need
Features of the OfferUp App
Buy or sell anything: Offer up your items for sale within 30 seconds.
Shop local items for sale with thousands of new postings daily.
Use reputation features to see who you're dealing with and build trust.
Message buyers and sellers securely from within the app.
Build your reputation with your unique seller profile page.
Browse items by image and sort by category or location.
Shows you what's selling nearby right in your neighborhood.
Directly interact with the local community.
To conclude, OfferUp is the simplest, most trusted way to buy and sell locally. It makes it easy to find great deals on the things you want and make money on the things you want to sell. So, are you ready to leverage the biggest mobile marketplace for local buyers and sellers?
We would love to hear your comments relating to the post. Got some other thoughts? Drop us words through our contact page.