Reading Time:
2
minutes
Looking to minimize the complexity involved in paying bills and IOUs? Sharing bills among your friends and others are hectic; there is an app for the rescue, Splitwise. The app lets you split and share expenses, and ensure everyone gets back the due amount, precisely. Whether looking for figuring out your total expense of group vacation or household, Splitwise lets you easily do all this.
Splitwise Features
Split and share bills, expenses, and IOUs quickly by adding contacts using email-ID or phone numbers.
Users can create groups segregated for separate expenses, adding only the involved members.
Easily access the groups and contacts, for adding and splitting bills and expenses quickly.
It displays the total amount of users are owed and the balance that they are in debt.
The activity tab helps users in keeping eyes over every split activity.
Splitwise app also allows splitting the amount in percentage as well.
Push notifications send alerts for every update and when bills are due to be paid.
Uses payment integration services like Paypal and Venmo to settle outstanding.
Popularly described as 'best roommates app ever', the app does the mathematical calculation for you. The mobile app helps you pay bills each other back in a single big payment rather than doing it in small ones. Splitwise app prevents you from saving the receipt of expenses. All you need to do is to add the expenses as soon as they take place and then share it among groups or with individuals.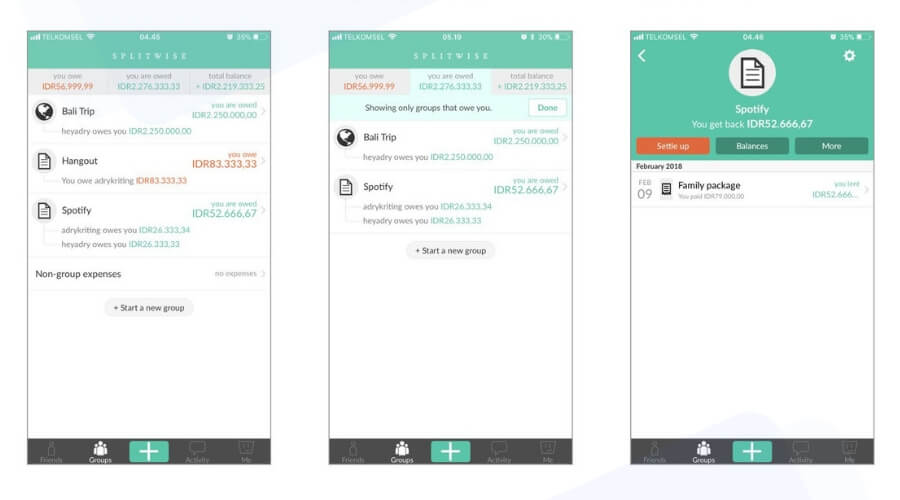 Available on iOS, Android, and web, you can use Splitwise without paying anything. However, the pricing plan for 'Splitwise Pro' varies by plan and country, offering you some additional features.
Another featured app: Genius Scan: App of the Week – PDF Scanner for Documents
How Does Splitwise Works?
The cloud-based mobile app saves users' data as profiles and processes all the calculations at the account level. Here's how the app works:
The app saves data related to users' expenditures in the cloud server.
Splitwise captures users' spit activities among groups and individuals and assigns the due amount to respective profiles.
When the user accesses the app, it fetches data linked with the profiles and displays the recent transactions and calculated amounts.