Reading Time:
6
minutes
Have you tried so many app marketing practices and still don't feel satisfied with the outcomes? Explore some proven mobile app marketing tips that ensure greater results.
Entrepreneurs are nowadays more focused on mobile apps to target the growing number of smartphone users and also to contend with today's competitive business environment.
For app development, they spend more time with an app development agency to choose the right platform, features, functionality, etc. As their main aim is to develop a quality app for their business that drives revenue.
But, quality alone is not enough to help apps get higher user engagement and downloads. You need to promote your business app with impeccable marketing strategies to encourage your target users to gather details, download, install, and use your app.
In this blog, we're going to discuss mobile app marketing tips that will help you make your iOS app marketing or Android app marketing strategy successful.
How do you Market a New Mobile App?
To market your newly launched app, you need to increase awareness of your app among your target audience. In other words, make your target audience curious about your new product.
This, of course, works to encourage them to explore details about features, functionalities, and lots of other details related to your app. And thus, it maximizes user engagement and popularity of your new business app.
How to Start Your App's Marketing?
To start your mobile app marketing campaign, you need to define your target audience, market, etc., first. This activity requires a lot of research work, which you must not avoid. Remember, get everything documented with numbers.
After all, you need to be aware of those whom you're going to serve with your app. You can gather details like demography, behavior, age, occupation, etc., of your target audience.
This helps you know about their needs and expectations. At the same time, you will also be able to find out whether or not your app can match the needs and expectations of your target audience. This ensures success not only of your app marketing campaign but also your app.
Mobile App Marketing Tips for Result-oriented Outcome
Create an Excelling Landing Page
So what, every app has a landing page?
You may be thinking like this! Isn't it? Though it's one of the oldest mobile app marketing practices, yet highly effective. It serves those users who are seeking to gather detailed information regarding your application (in case not satisfied with other resources).
You should be more focused on your mobile app landing page design. It should be attention-grabbing, well structured, informative, and should have all the elements to grab the attention of more users. Needn't to mention, landing page plays a pivotal role in the app conversion too.
Google Duo's landing page tells everything about the app to users at the first glimpse. It's one of the best examples of better placement of texts, images, icons, etc. The landing page has every reason to engage users.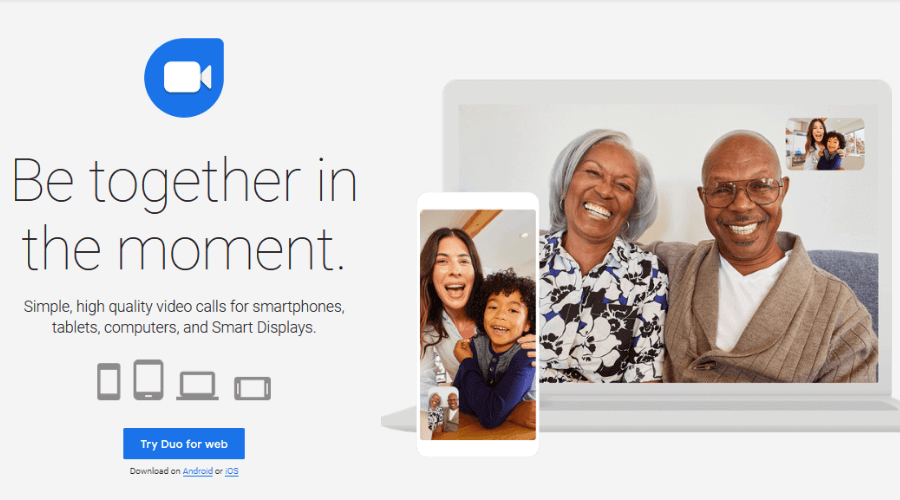 Guest Blogging
Blogging is the most accepted way to let people hear what you have to say about your product. So, you should include this in your app marketing strategy.
How does a guest blog work?
Well, guest blogging is all about publishing your content on some popular platforms that have your target audience, it helps you reach genuine readers of those publishers, who might be interested to use your app.
Bear in mind, good content publishing sites only accept limited and high-quality content. And assures genuine readers for your content.
So, there may be chances that your post gets rejected if quality is not maintained thoroughly. To avoid rejection, you need to focus on creating quality content and avoid making it a sales copy.
You need to focus on the title of your post and create in the way to increase the curiosity of the readers. The title of your post should be like;
"These 6 App Marketing Tips Help Business Gain Result Within One Month"

"Tips to Make Your App Marketing More Productive Within 6 Months or Less"
Influencer Marketing
Believe it or not, but the fact will remain the same. Influencer marketing works more effectively and yields higher outcomes. When influencers speak about your product, it increases the popularity of your app among their followers.
What is a good influencer marketing strategy?
To make the right strategy, you can find influencers who have a large fan following on social networking sites like Facebook, Twitter, etc.
While choosing influencers, focus on their followers and find out whether the majority of them are your target audience. If you find the same thing, you can go ahead with that influencer for your mobile app marketing.
Why is influencer marketing important?
To understand it, you should know how Color Switch, a popular gaming app, harnesses major benefits of influencer marketing. It features influencers like Julien Marlon, Brookelyn, Nessa Varez, and others. The app has earned over 180 million downloads so far.
For influencer video:
Social Media Strategy
There are several ways to use social media platforms like Facebook, Twitter, Instagram, and others, to promote your app and increase downloads. Let us make things clear here, influencer marketing is just a part of social media promotion. Some other parts are Paid Social Ads, user-generated content, increase ratings and reviews, etc.
So, how do you market an app on social media?
First and foremost, you need to create an impressive social media page for your app on the targeted social media sites.
While creating a page, you must make your product's correct placement and deal smartly with important factors such as your app name, image, URL (of the landing page), description, features, etc.
Your aim should be creating a landing page that can increase the demand and downloads of your app.
Some quick facts about social media marketing:
93% of social media advertisers use Facebook to promote their products regularly. It implies 3 million promoters use this platform for marketing.
Approx 200 million users on Instagram visit the business profile pages every day.
Between Q4 2017 and Q4 2018, Twitter ads witnessed 33% engagement.
You may also like to read: A Comprehensive Mobile App Design Process
Video Blog
It is well-known that videos have the power to quickly describe products compared to texts. The trend of video blog (popularly known as 'vlog') is getting widespread of late, with the acceptance of many app marketers. So, you should also leverage the power of vlog.
How do you start a video blog?
You can create a high definition (HD) and appealing videos for your app. Your videos should include description, features, screenshots, infographics, etc., of your app with an engaging storyline. Including a 'call to action' at the end is a must to encourage viewers to post their comments, ratings, likes, etc.
YouTube is the right platform to post your video blog. Apart from this, you can also target several other platforms like Instagram, Daily Motion, etc.
When talking about vlogging, it's impossible to forget Casey Owen Neistat. He is a famous personality and vlogger. Take a look at one of his best vlogs and see how it earned likes and comments:
For Video

ASO
Once you publish your app in the app stores, it's now time to focus on ASO (App Store Optimization). Whether you are looking for marketing your iPhone or Android app, you can't avoid ASO. This marketing activity is necessary to increase the visibility of your app in the stores, whether it's App Store or Play Store.
How to do ASO?
ASO includes several practices like using a descriptive title, defining keywords, description, quality screenshots, app preview video, icon design, encourage users for reviews, etc.
Why is ASO important?
As mentioned above, ASO increases the visibility of your app in the app stores. So, it makes your app easily discoverable among your target audience. It also boosts user engagement and downloads of your app.
Conclusion
To harness the maximum benefits of the above app marketing tricks, you need to ensure its proper implementation. Here, the role of a mobile app marketing agency becomes highly important. They know how to perform the above activities more efficiently and make effective strategies that get the desired outcomes.
So, you need to choose the right agency who renders goal-oriented mobile app marketing service to make your campaign successful.
We would love to hear your comments relating to the post. Got some other thoughts? Drop us words through our contact page.