Reading Time:
4
minutes
In this post, we will share insights on one of the most debated topics, mobile application vs mobile website, and which is best for your business growth.
The number of smartphone users across the world will cross the mark of 5 billion by the coming of 2019. The US alone had 223 million smartphone users in 2017. Moreover, the forecast increases in this figure to 247.5 million in 2019.
Therefore, if you are planning to make an important strategy for your business, then the numbers above may help you make it solid to win your target audience. Many businesses often get puzzled while deciding to choose the right option between a mobile app and a mobile website. As it is just like choosing your right hand or left hand.
Though mobile websites and mobile apps design is made to cater to smartphone users, still they are different from each other in terms of their capability of engaging users and delivering outcomes. Let us discuss how they are different and which a better option for your business is.
Difference between Mobile App and Mobile Websites
It's important to understand that mobile websites and mobile apps, both can be accessed on a smartphone or other handheld devices.
A mobile website is just like any other website consisted of many pages that are linked together. It needs an internet connection to access. Its responsive page design is easily accessible on different screen sizes and users can visualize the content including video, image, infographic, etc., with maximum clarity. These websites can also access features such as location-based mapping, click to call and more.
A mobile app is, on the other hand, can be downloaded from the app/play stores and installed on devices. The app either pulls or uploads data directly from the browser, allowing users to access it even without an internet connection.

Comparison: Mobile Application vs Mobile Website
Basic Principles
Mobile App
Users have to install the app on their devices.
An app design is highly interactive for a great user experience.
Apps are accessible online too.
An app can directly access the device features including GPS, microphone, Camera, etc.
Mobile Website
A mobile website is accessible through browsers only.
It has near static and navigatiobile app is fastn UI design.
It is accessible only with an internet connection.
A mobile website has limited features.
Development Time and Cost
Mobile App
Good apps development companies can be expensive, especially if you are seeking to develop a native app. Moreover, if you are looking to make your app presence on multiple platforms then it could further make the development process expensive.
Mobile Website
The process of developing a mobile website is quite simple, though sometimes it takes more time. There are many free and paid templates available, which can give a modern look to your mobile site. The overall development cost for a responsive site is reasonable and everyone can easily afford to build it.
Speed
Mobile App
The mobile app is faster than a website as it does not store anything. It displays content pulled up directly from the website or other sources like the cloud server. This makes it quick and easily accessible.
Mobile Website
The mobile website is slow in comparison to a mobile app. The main reason is the loading time of a responsive website page, which is slower than an app. To read the content, users have to wait until the entire page gets loaded.
Accessibility
Mobile App
Android apps and iOS apps are available in Google Play Store and Apple App Store respectively. Users can access these stores to download their favorite apps and install them on their devices.
Mobile Website
To visit the mobile site, users don't need to download or install anything. They can directly access the website using the right URL and visit all pages.
Also read: Hybrid VS Native App Development: How to Pick The Right Ones?
User Reach and Engagement
Mobile App
Mobile apps especially those of native apps have a limited reach, but get the maximum user engagement. These apps run on a single platform (iOS or Android) and cater to only specific device users.
Mobile Website
Mobile site, on the contrary, has a wider reach among users as it enjoys greater flexibility to run on different platforms hassle-free. Both Android and iOS users can access the mobile site smoothly. However, it fails to get the same kind of user engagement as native apps.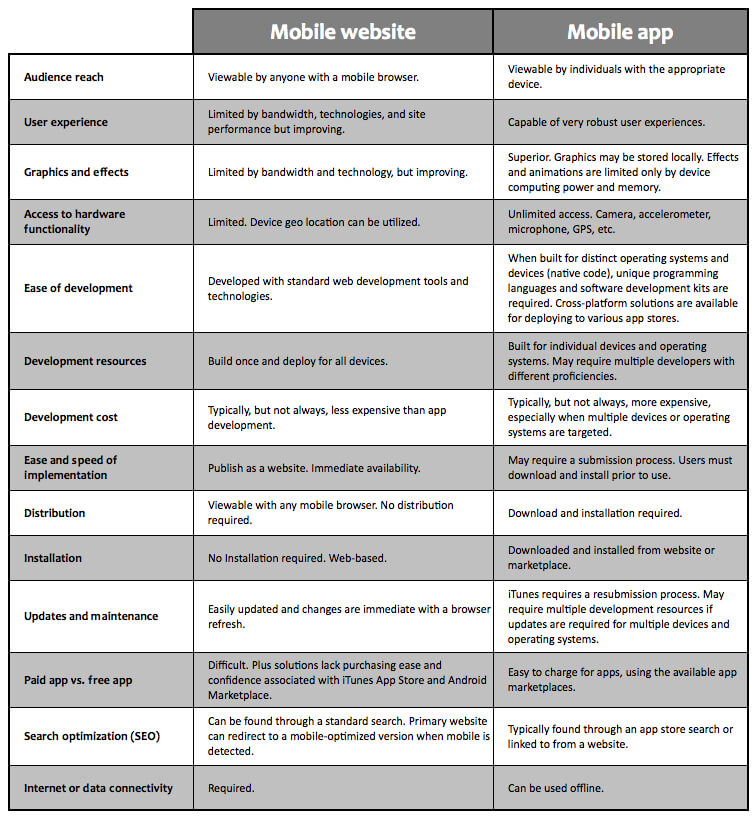 User Preference by Task
Mobile App
Users access mobile apps to engage with activities like interacting with service providers directly. It allows them to explore important information regarding diverse subjects. They use a mobile app to locate any places easily and manage various important tasks.
Mobile Website
The mobile website serves as a one-stop destination for users for buying their favorite products and services. A site also serves as a perfect source of entertainment and helps users search everything easily.
For more expert views about the concept. you can check out this video:
Conclusion:
So, which one is the er to choose thright to go with?
Well, it is again not easy to speak in favor of one between these two. To choose the best alternative for your business, you need to consider the above important criteria and then make your final decision accordingly. It's also crucial to consider your specific business goal before finalizing these things.
We would love to hear your comments relating to the post. Got some other thoughts? Drop us words through our contact page.