Reading Time:
3
minutes
Are you looking at ways to pass your time and release your stress via painting beautiful drawings? In today's blog, we've picked the 'Paint by Number' as our app of the week that can make you release all your anxiety from your daily chaotic life.
Coloring can be a great stress reliever and a fun way of passing the time. It can even work as a therapy if you're having a stressful time. Coloring books have been around for ages, but the idea of adults doing them to relieve stress is fairly a new concept. Nowadays, it's more or less pertinent to kids and adults alike to crack open a coloring book.
Coloring books, painting games, and others have become a trending upright for mobile apps on Google Play and App Store. The app stores are filled with millions of fun activity apps; however, the stores have scope for some amazing concepts. Paint by Number is one such example. Businesses with great ideas can collaborate with the skilled mobile app development agency to create a successful app.
What Is Paint by Number?
Paint by Number is a popular coloring and puzzle game that can give a complete boost to your creativity. Find plenty of fascinating pictures, mandalas, unicorns, animals, scenarios, and many more and paint them to make them more rejuvenating, available on both iOS and Android for everyone.
As the app's name describes itself, you can choose your tones by the number to bring them to life and form beautiful pictures to share artworks among friends and earn lots of appreciation. There are constantly new pages added for you, so the fun will never end, as long as you keep painting.
How Does Paint by Number App Work?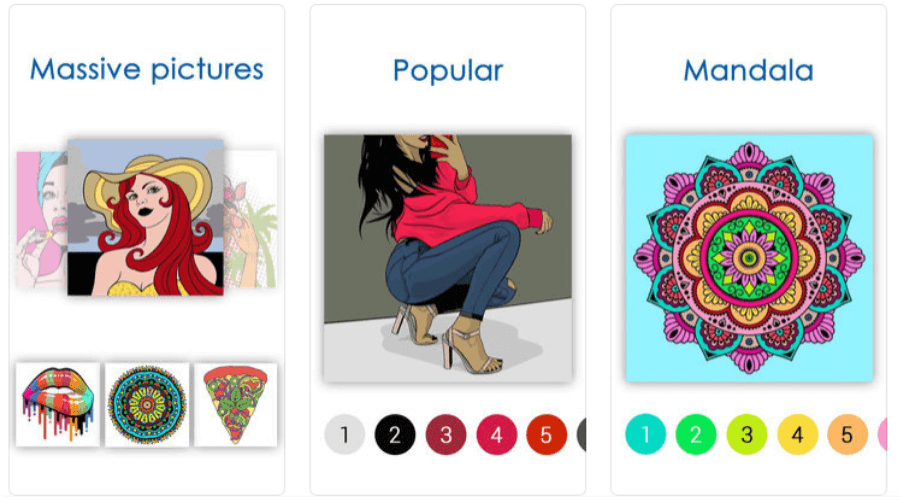 Being one of the best art drawing games, the Paint by Number app lets users experience the fun and intriguing way of coloring. Let's get right in and understand how it works.
The app stores all images in the backend server and displays them as per users' requests.
Once users choose a particular image for coloring, the server allows users to follow numbers and paint pictures accordingly.
Once the user is done with painting, the server automatically saves all the images.
Users can share saved images on various social media platforms and get feedback from their friends.
Steps to Install and Play Paint by Number
Step 1: Install the app on your iOS or Android device. For PC, download and install BlueStacks.
Step 2: Complete Google sign-in to access the Play Store (Can be done later also).
Step 3: Look for Paint By Number – Free Coloring Book & Puzzle Game in the search bar at the top right corner.
Step 4: Click to install Paint By Number from the search results.
Step 5: Complete Google sign-in (if you skipped step 2) to install the app.
Step 6: Click on the Paint By Number game icon on the home screen to start playing.
Also Read: App of the Week: One Clue Crossword
Features of Paint by Number App
Convenient and fast to use anywhere with no pencil or paper needed.
Thousands of fascinating images to choose from and paint.
Unique images and new coloring pages are updated every day.
Available variety of categories, including adorable animals, characters, beautiful places, and more.
Enjoy the simplicity and ease of painting by numbers and app use; use hints to find tiny hard-to-find cells.
Engage with coloring books anywhere or anytime, whether you are offline or online.
Boosts artistic skills with different colors and moods.
Share colored artworks on various social media platforms, including Snapchat, Facebook, Instagram, and others.
To conclude, Paint by Number is a free and easy-to-use app that doesn't demand to be an expert in painting to enjoy the puzzle coloring game. Just follow the given numbers in squares and color palettes to play the game. Download Paint by Number – Free Coloring Book & Puzzle Game and explore the coloring adventure right now!
We would love to hear your comments relating to the post. Got some other thoughts? Drop us words through our contact page.