Reading Time:
3
minutes
Does playing Crossword puzzles excite you and your brain? One Clue Crossword is for you. In this blog, we've picked 'One Clue Crossword' as our app of the week that is an extremely entertaining game for all ages and ability levels.
What's unique about Crosswords? Well, Crossword puzzles are more than just a game and pass time activity. Being a boredom buster, they're actually beneficial to your mental and physical health. With such crossword games, you can exercise your brain every day. These entertaining grids add value to your life in such a manner you're not aware of.
It improves your vocabulary, releases stress, maintains social bonds, enhances problem-solving skills, improves memory and brain function, gives a sense of accomplishment, and more. Keeping the ongoing demand for mobile games in mind, businesses are leveraging the skills of mobile app developers and investing more in developing intriguing mobile games.
What Is One Clue Crossword?
One Clue Crossword is a new kind of puzzle game. Instead of a list of written clues, each puzzle includes a single picture. Every word in each puzzle can be deduced from the picture. In some of the puzzles, you'll need to say what you see – but in others, you'll need to think a little more laterally. It's easy to play, but with 100s of unique puzzles, you might find it hard to put down!
Discover a unique experience with One Clue Crossword! Packed with 1000+ puzzles accompanied by 230+ bonus puzzles, the app lets you explore lots of fun and joy while solving puzzles. It helps you grab a wonderful opportunity to sharpen your mind when playing One Clue Crossword.
One Clue Crossword is available on iOS and Android for free to download; however, the app offers in-app purchases. You can disable in-app purchase functionality in your device's settings if you do not want to use this feature.
How One Clue Crossword Works?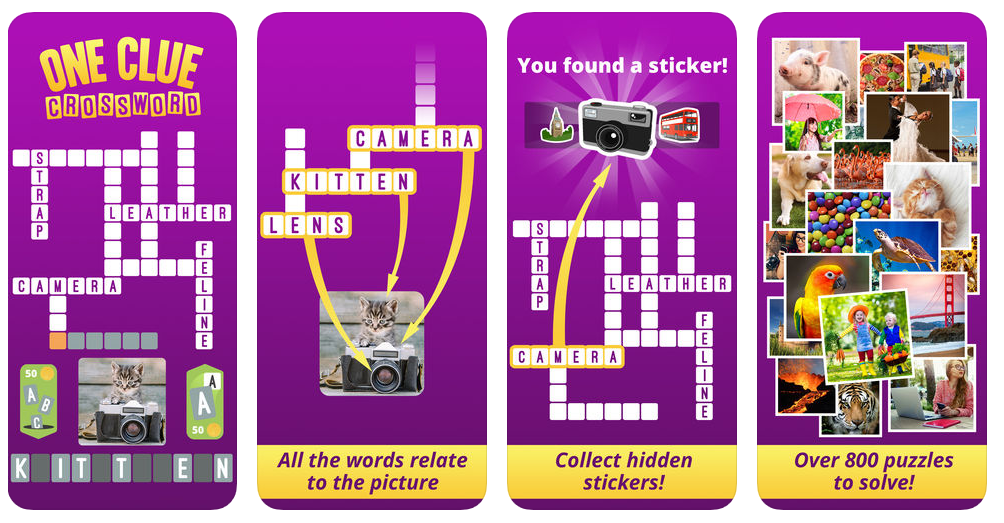 One Clue Crossword is an exciting puzzle game that gives users a challenge of solving unsolved puzzles and relates every word with a picture to complete the game. It works in the following steps:
It saves all puzzles in a backend server.
The app sends requests directly to the server system when users choose a particular crossword puzzle.
The backend server stores all activities that users make while solving puzzles, and the app displays content accordingly.
At the end of the puzzle, the server sends data back to the app to complement users with stickers.
How to Play?
To play, you need to examine the picture closely to find the answers. Every word in the puzzle can be deduced from the picture. For example: If the picture is of the 'Statue of Liberty.'
The answers might include:
Torch
Statue
America
Landmark
New York
As you unlock each chapter, you'll find new puzzles and pictures – there are people, places, animals, food, vehicles, household objects, and lots more.
Also Read – App of the Week: Duolingo – Only Language Learning App You Need
Features of the One Clue Crossword App
Discover a new and unique way to engage with Crossword puzzles.
Engage with 730+ puzzles over 46 chapters (with more to come).
Discover 230+ all-new bonus puzzles as you play.
Test your skills with end-of-chapter Guardian Puzzles.
Packed with several top-notch images to make puzzles more appealing.
Use instant Hints to remove unused letters or reveal the next letter in a clue.
NEW – 'Mix-Up' mode builds words from the component pieces.
To conclude, One Clue Crossword is a free, unique, easy-to-play, and new kind of Crossword puzzle with picture clues. It lets you exercise and sharpen your brain every day with picture crosswords! So, give this addictive game a download and enjoy it!
We would love to hear your comments relating to the post. Got some other thoughts? Drop us words through our contact page.