Reading Time:
9
minutes
The pandemic has impacted every sector, and the education industry is no exception.
However, amidst the chaos, remote education has emerged as a popular choice for accessing learning resources, with online mediums being the preferred mode of delivery.
In fact, the global education market is projected to reach a staggering $125.3 billion by 2031!
To meet this demand, education apps have emerged as an effective alternative to traditional learning methods while offering a dynamic business model.
If you have education mobile app ideas that require proper guidance on the mobile app development process, costs, trends, and other significant factors, this blog will provide you with the necessary information.
Here's what we are going to cover in the upcoming sections.
Post-COVID-19 Transformation of Learning With Education App Development
Nearly every student is aware of online learning apps, from kindergarten and undergraduates to college graduates. Business leaders and educational administrators are increasingly investing in futuristic and feature-packed online learning resources.
The pandemic has compelled educators and learners across the world to adopt online educational tools and methods.
Due to this, learning systems now utilize the latest technologies like Blockchain, AI, Big Data, and others to introduce new capabilities to traditional architecture.
Here are a few insights that indicate the growth of online resources like education apps in the modern-age space of enterprise mobility:
Education apps have gone beyond geographical boundaries to teach deprived people.
The United Nations has launched multiple eLearning apps, helping the organization to work towards its mission in different regions.
These eLearning apps by the UN have helped children in regions like Africa and APAC access basic educational content and resources amid the disturbed education system due to COVID-19.
These applications also encourage reward-oriented learning by implementing features like gamification and social media integrations.
From solving puzzles to answering quizzes, app users can view and manage their scores on the leaderboard. They can share their achievements with fellow gamers or learners and contribute to a healthy competitive environment.
You can ask education app developers to build applications that can store and manage data effectively.
Also Read | The Importance and Benefits of Educational App Development
Types of Education Apps You Can Develop in 2023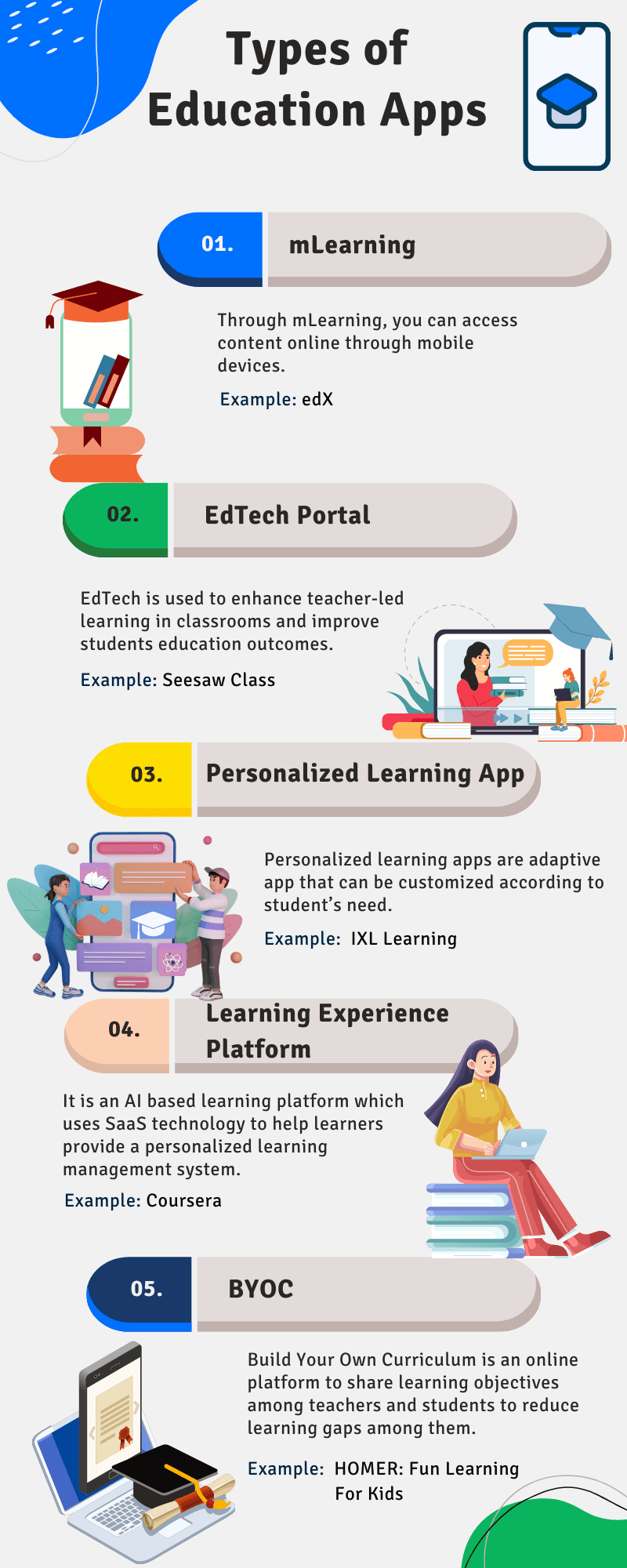 Consider different education app ideas and pick the most suitable one before you finalize how you are going to begin building a feature-packed education app.
mLearning apps help learners access educational content in different formats across different mobile devices. These apps primarily focus on sustainable mobile learning with no geographical boundaries or restrictions.
Earlier, classrooms used to have bulky desktops to take online classes. But in the present scenario, things have changed. Now, students have an EdTech portal to connect with their laptops and tablets and access all courses, study materials, lectures, and online classes.
Personalized Learning App
A personalized learning app is a combination of education programs, learning experiences, instructional methods, and procedures planned to handle student-specific learning needs. To create a personalized learning app, there should be proper designing of UI, graphics, and development process, or you can hire an e-learning app development company for better customization.
Learning Experience Platform (LXP)
A learning experience platform is an AI peer learning experience platform delivered using SaaS technology. This platform uses Artificial Intelligence to make learning modules comply with individual needs.
Learning Management System (LMS)
These apps provide content delivery and management systems to trainers and learners with rich environments for hassle-free and result-oriented training.
A BYOC learning app brings profitable business to enterprises by adding core values to the learner's education. It uses an innovative way of e-learning, where learners access a collective and complete curriculum.
Most Popular Examples Of eLearning App Development
edX is an American online course provider developed by Harvard and MIT. The app deals with university courses, online lectures, etc. It was founded in May 2012 and has more than 5 million downloads.
The eLearning app provides users with a self-paced learning facility with open discussion forums. A collaborative approach to learning services provides app users access to quick support and comprehensive, logically strong content.
Cost to build an app like edX
It may cost anywhere between $50,000 to $150,000 to create an edX-like education app.
Duolingo is a language learning application that provides various certification-based programs to learn the languages of your interests. The platform utilizes the personalized learning pattern to engage in interactive learning.
The platform uses gamification as a primary component of its educational content.
Cost to build an app like Duolingo
The cost of Duolingo-like elearning application development range anywhere from $40,000 to $100,000.
Seesaw Class is a student-driven digital portfolio that inspires students to do their best. The app was developed in 2013 and has an active downloads of more than 1 million.
The application provides both students and teachers an opportunity to enhance learning by sharing data from their end and engaging in a more lucrative engagement.
Cost to build an app like Seesaw
Developing a Seesaw-like education app may cost between $30,000 to $80,000.
Coursera is an online learning platform that provides different programming languages from different university experts. It has more than 10 million+ downloads in Play Store.
The platform designed its mobile app to allow mobile device users to leverage an efficient infrastructure to pursue their learnings.
Cost to build an app like Coursera
A Coursera-like education app's development cost may be between $40,000 to $150,000.
HOMER is an online early learning platform for ages 2-8 years, and the content is customized according to your child's interest. It has more than 1 million downloads in Play Store.
The application focuses on bringing reading, problem-solving, social learning, and creativity to a centralized space.
Cost to build an app like HOMER
The pricing range for developing an education app like this may range between $40,000 and $150,000.
Udemy
Udemy is an online course provider for undergraduates, graduates, and professionals. It was founded in 2010 and has 10 million+ active downloads in Play Store.
From quizzes, text lectures, and video subtitles to audio lectures, Udemy is an education app delivering multi-format content dynamically and effectively.
Cost to build an app like Udemy
If you plan to develop an education app like Udemy, you may need to invest anywhere between $50,000 to $300,000.
Top Features to Consider For Education App Development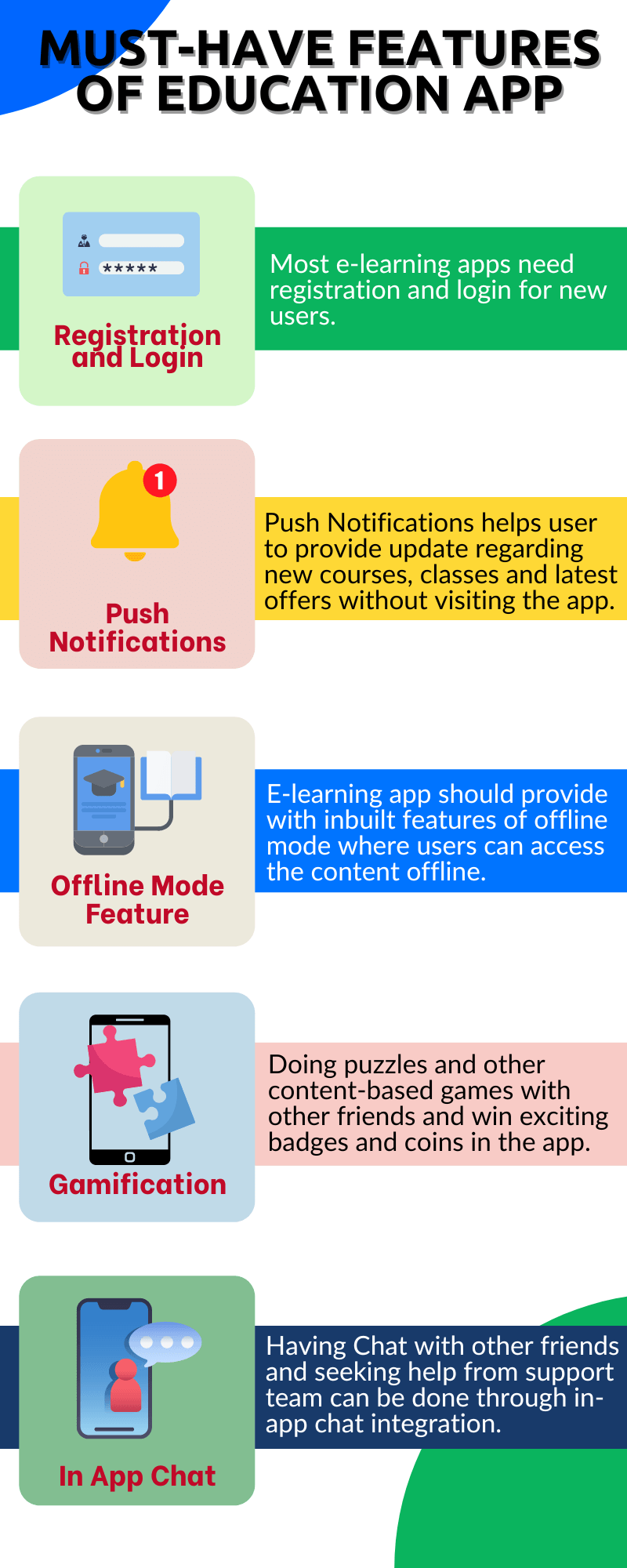 An online learning app requires plenty of features to function as intended and simplify learning for users. Some of them are mentioned below:
One of the important things that you should implement in the education app development process is user registration and login. This is an essential element where users can register on the app through their email ids or contact numbers.
User account and profile is the first dashboard where users can feed basic information related to their profile, like name, date of birth, mobile number, gender, and a profile photo to ensure that the account belongs to that user.
In an e-learning app, you will see a course catalog where the course name and all their chapters will be mentioned on the front page. It is done to make content-finding hassle-free for users.
The search module in an e-learning app helps the user find the content or specific content that the user wants. They can fetch any content easily with the help of search options.
Many EdTech apps provide premium courses for their students. In this scenario, it is important that all e-learning apps should implement a payment gateway for secure transactions while in the education app development process.
PayPal, Square, and Braintree are good examples of payment gateways available in the market.
Some e-learning apps provide premium subscriptions for their loyal customers. It helps them manage their subscription and helps to know whether the customers are happy with their product.
The process starts when customers subscribe to the product or services and ends when they cancel their subscription.
In the modern app, many assignments help students gain in-depth knowledge about a topic. Through assignments, they can revise their topic twice.
There are many e-learning apps that use the PWA version to provide extra features to their customers. Users will be able to access the app's features even when they aren't connected to the internet.
Self-assessment is a kind of assignment that is given to students to check their learning after completing a full module or course. Self Assessment helps learners to check whether they have the right learning or not.
In today's modern world, all apps come with Push Notifications. Through push notifications, e-learning companies can send notifications about any updates, new courses, improvements, or changes in the app, offers, etc. This helps businesses and customers to understand each other's requirements.
This is one of the coolest features where a student can talk to other students about any course, assignment, or problem they face. Apart from that, they can also connect with the support team if they face any technical issues and need support.
Gamification is a reward and badge recognition given to students for achieving certain achievements or scoring high scores while playing games with friends or the community.
Students participate more actively when they receive encouragement in the form of various achievements, such as rewards and badges.
In a business, it is important to know whether the services you provide satisfy your customers. Through feedback options, customers can share both positive and negative feedback according to their experience with your product and the services you are providing them.
How to Create an Education App in 2023?
1) App Ideas
You must give some thought to your e-Learning app before you decide to develop it.
Go through multiple app ideas. Select the one that looks relevant and best suits your business.
You can think about your app design, targeted audience, and choosing the right platform in your app ideas. Thinking of all these things at the beginning can help you develop a world-class app.
2) Market Research
After you have completed your app ideas, you can directly start with market research to analyze what is going on in the market. Proper market research can help you know about the latest market trends, what could be profitable, and what won't. You can ask your EdTech app development company to develop your app based on your findings.
3) Competitor Analysis
Competitor analysis is one of the important factors in the app development process. Every niche has one or more competitors, and you must analyze all activities they are performing to grow their business.
Conducting thorough research on your competition and their mistakes will keep you from making the same ones.
4) Choose a Reliable App Development Partner
After you have completed your market research and competitor analysis, it's time to choose the best education app development company to develop your e-learning app.
5) Check If You Want to Develop an MVP or a Fully-Fledged App
With a clear project vision, you can identify your business goals. It will help you decide whether you should build an MVP for an education app or move directly towards developing a fully-fledged app.
6) Design and Development
By using the latest tools, trends, and technology stack, the eLearning app development company can design your application's UI/UX, develop its backend, and configure it according to the real-time scenario.
7) Test
Once your education app has been designed and developed, you will need to test it based on its functionality, usability, and performance. Look for bugs, and if there is any error, fix them and publish the app.
8) Launch The App
After the development process is completed, it's time to launch your app. Bear in mind, the app will require maintenance, updates, and user support in the future, so plan accordingly.
Also Read | 5 Steps of Mobile App Development Process from Idea to Launch
How Can Businesses Earn Post Educational App Development?
1) Advertisement
Advertising is one of the most common ways to monetize an educational app. With most businesses looking to build a brand name, giving them visibility on your ed-tech app screen will make for constant money inflow.
You can take help from affiliate marketing. When you open an app, the screen pop-ups and the ads automatically appear on the screen.
2) Paid App Versions
A custom app development company can develop a separate application with additional features available to the customers at an additional cost.
3) In-App Purchases
Learners can use many courses and features of their educational apps for free. However, they may have to pay for additional features or items.
Udemy's courses are good examples of in-app purchases.
4) Referral Program
Referral marketing can quickly increase the reach of an educational app and develop a huge customer base. It allows users to promote an e-learning app online without additional marketing costs.
5) Online Stores
Another way to monetize your educational app is by selling your products and services online.
Educators and tutors can make online lessons and courses available for sale. Relevant items like books, videos, audiobooks, and others can be purchased through online stores in an educational app.
How Much Does it Cost To Create an Educational App?
If you want to develop a simple app, the estimated cost will be between $40,000-$60,000, and the time to develop the app will vary from 2-3 months.
Developing a basic app with some basic features will cost you between $61,000 and $1,50,000; the estimated development time varies from 3-6 months.
Developing a complex app with multi-feature will cost you above $3,00,000 and the estimated time to develop these apps varies from 9-12 months.
Let's talk about developing an app process-wise. The app development cost is mentioned below:
| | |
| --- | --- |
| Discovery | $5000 |
| App Design | $5000-$12,000 |
| Development | $35,000-$1,00,000 |
| Testing | $10,000-$30,000 |
| Deployment | $10,000-$50,000 |
| Support & Maintenance | $5000-$10,000 |
The above mentioned cost of developing education apps is a tentative estimation and may vary depending upon a series of real-time project development components.
How Can We Help You?
Want a full-fledged e-learning app development with us? If yes, connect with AppsChopper, one of the US's leading mobile apps development companies. We've been delivering services for over 12 years. Our experts use emerging app development technologies to develop your app and implement full-fledged features. We help to transform your business dream into a reality.
Conclusion
The objective of this blog post was to help you comprehend education mobile app development with everything related to it.
So, if you are a business owner considering investing in the e-learning sector, you can connect with our experts to discuss your vision.
If you have any feedback, suggestions, or reviews, contact our app development company and communicate further with us.