Reading Time:
7
minutes
The development of the OTT platform has completely changed how people consume video content. In other words, online streaming apps have replaced the traditional television watching experience. For instance, viewers can binge-watch their favorite shows and films from any device with an internet connection.
Over time, OTT platform app development has seen massive growth, and according to Statista, the number of users is estimated to become 3,508.0 million by 2027. Users can watch the pre-loaded TV shows in multiple languages with high-quality video content.
Building an OTT platform app can help you achieve your business goals in this digitization era. So, this is the right opportunity to elevate your business growth and brand name.
This blog discusses the in and out of OTT platform apps, including top benefits, must-have features, OTT app development process, cost, revenue model, and more.
Table of Contents:
Popular OTT Platforms in 2022
Why Should You Choose the OTT Platform for Your Business?
5 Must-Have Features for Your Online Streaming App
How OTT Has Changed the Media Industry?
Step-by-Step OTT App Development Process
Revenue Models of Online Streaming App
How Much Does It Cost to Develop an OTT Platform App?
Popular OTT Platforms in 2022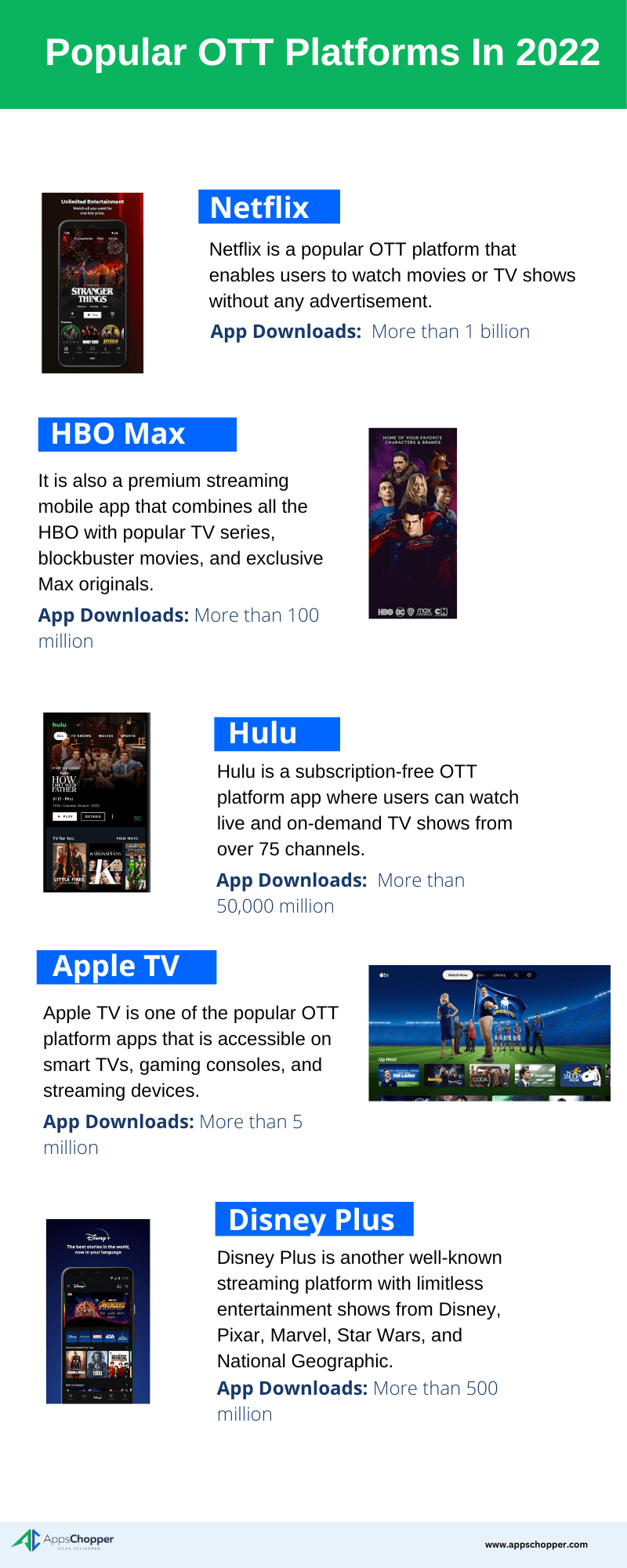 Netflix is one of the popular online streaming platforms where users take a monthly or yearly subscription to watch any TV show or movie without any advertisement.
Netflix users can also download a movie or show it to their iOS, Android, and Windows device and binge-watch in offline mode. This OTT platform has a high-quality library with multiple viewership features.
HBO is an American OTT platform owned by Warner Bros. It is a standalone video streaming platform that mixes all the HBO together, including blockbuster movies, new max originals, or TV shows. HBO Max has 43.5 million subscribers worldwide.
Hulu is another American online streaming platform owned by Walt Disney Company. It has a set of libraries with multiple films and movies from networks like ABC, Freeform, and FX Networks.
Apple TV is one of the most popular digital media players developed by Apple Inc. It received media data in the form of audio and video, which is displayed on a TV set. Apple TV is an HDMI-compliant source device that shows connectivity only with enhanced-definition or high-definition widescreen television.
Disney Plus is a video-on-demand streaming platform owned and operated by Media and Entertainment Distribution. This platform showcases movies and television series like any other OTT platform produced by Walt Disney Studios and Walt Disney Television.
Why Should You Choose the OTT Platform for Your Business?
Builds Brand Visibility
The primary benefit of an online streaming app is brand visibility. A high-performing OTT platform app is one of the significant sources of user interaction that leads to brand recognition.
Nowadays, people prefer mobile apps over any other traditional marketing strategy; thus, creating an OTT platform app with an interactive user interface is advisable. You can add relevant features that will provide more user value and create better word-of-mouth marketing.
If you want to spread your brand name to elevate business growth, build an aesthetically-pleasing app with a well-planned strategy and provide user-centric services.
Higher Revenue Generation
OTT platform app development will help you stay in touch with your targeted audience as apps are one of the greatest interaction sources. Since mobile apps enhance brand visibility, that will automatically lead to higher revenue generation.
A highly interactive OTT platform app with valuable features motivates the users to give positive reviews or ratings that will increase the app's downloads. You must develop the app as per the user expectations because the more benefits you will provide to them, the more loyal users they will become.
You can also integrate different monetization models, like in-app advertising or subscription, which leads to higher revenue generation.
Boosts Audience Engagement
If you want to boost audience engagement, building an OTT platform app for your business is the right thing to do. You can integrate different features in your OTT platform apps, such as push notifications or in-app messages to enhance the user experience.
5 Must-Have Features for Your Online Streaming App
Smooth Onboarding Process
The digitization era has greatly increased the demand for OTT apps, and the pandemic is another major influencing factor. As a result, a smooth onboarding process is a must-have feature.
An online streaming app's monetization model is a monthly subscription, meaning the signup process should be easy to lure more users. You must enable the users to sign up from their existing email address or mobile number.
Personalized Recommendations
Almost all OTT media apps invest in an AI-based recommendation engine to suggest material based on a user's viewing history to personalize their user interfaces.
By gathering information on the type of content seen, the length of time spent watching, the type of device being used for watching, etc., it is possible to offer a custom recommendation feature.
Multi-Device Compatibility
Viewers anticipate that video streaming apps will provide an accessible and flexible content consumption experience as they switch between different devices in light of the market's growth of new gadgets and the rise of mobility.
Therefore, for optimum consumer satisfaction, OTT apps should offer cross-platform interoperability. Users will benefit from having access to content whenever they want.
Parent Control
Don't forget that many of the viewers are young people, and not every piece of content is suitable for a younger readership.
Parental control is useful in this situation. With this feature, parents can control the content that's available to children.
Pricing Strategies
Pricing strategy differentiates from one OTT platform to another; however, you must ensure a flexible pricing structure for a better user experience.
Here is a list of the common pricing strategies that you should consider:
The first pricing strategy is freemium. Here, users can watch the first episode of any show for free, and to continue watching further episodes, they need to buy a subscription.
Cross-platform packaging allows users to access OTT content across devices. Platform owners can plan their pricing packages.
Another pricing model is a one-time subscription where users will initially pay for your service. Later, you can add different monetization models for higher revenue generation.
How OTT Has Changed the Media Industry?
OTT technology plays an increasingly important role in the media industry's evolution. Globally, it is leading viewers to cut the cord on cable.
In 2022, about a quarter of cable subscribers will cancel their subscriptions.
OTT technology offers a few different ways to change the traditional television viewing experience. Viewers can access their favorite shows and films from virtually any device with an internet connection.
The rising popularity of OTT media platforms makes it the preferable option for broadcasters to provide their content to potential customers.
Accessing your subscriptions from any device is possible with your OTT streaming platform account. Also, whether you are in your house or out, you can access it anywhere without worrying about special wiring or hookups.
Viewers can get the most out of their subscriptions when they cut the cord, as it gives them flexibility. This is how it is reshaping the entertainment and media industries.
Step-by-Step OTT App Development Process
Discovery Phase
Begin the developing process with a discovery phase, where you will brainstorm your app ideas and create a unique approach. It is important to deliver a smooth user experience, and defining your app goals or visions will help you achieve the same.
In this stage, business owners also conduct market research, which will help them know the competitor's insights and the user demand. Besides that, entrepreneurs can define app opportunities and different ways to stand out from the crowd.
Here is a list of questions a business owner can consider during the OTT app development process.
What results are you expecting from the OTT platform app?
Which is the best technology to use for OTT app development?
How are competitors meeting the user demand?
How much budget have you set for the OTT platform app development?
App Prototyping
Once you define your app requirements, it is time to focus on app prototyping, where you will get the app's mockup before launching the final version. The main agenda of app prototyping is to exhibit the app's design and reduce the cost of expensive rework.
You can consider hiring a mobile app development company to create an engaging app prototype. It will explain how the targeted audience will interact with your OTT platform app.
OTT platform app wireframing is a basic layout that includes sketching and mapping the user flow. Afterward, you can add advanced features to your app as per the user preferences.
Minimum Viable Product Development
The next step is to create a minimum viable product that helps in ensuring your app's success. The MVP focuses on the app's core functionalities, understanding the targeted audience's requirements, app flexibility, timely updates, and more.
Creating an MVP saves time, money, and resources while entering the market and makes your app ready to stay ahead of the competition.
Start Development Planning
Once your OTT platform app's MVP is ready, the coding process will occur. In this stage, app developers convert the UI mockups into fully-functional apps and include all the relevant features.
While developing an OTT platform app, you can decide which technology will fit the best as per your business requirements and budget. If you want to develop an app for an Android operating system, Java will be the most suitable technology, and for iOS, swift is the right choice.
If you want to save development time and money, choose the cross-platform for your online streaming app. In cross-platform, the app is built for both Android and iOS using a single codebase.
Revenue Models of Online Streaming App
AVOD stands for 'Ad-based Video On Demand.' It is the first revenue model where the video content is available for free; however, the advertisements are placed strategically. Ads are used as a revenue model that accounts for production & distribution prices.
Another revenue model is 'Transactional Video On Demand' (or TVOD), where users buy the video content on the basis of pay-per-view. In other words, users must pay for each video content they consume rather than the entire catalog.
The last OTT platform revenue model is 'Subscription Video On Demand.' It is considered the highest revenue generation model. SVOD creates recurring revenue by charging periodical subscription fees from the users.
The advantage of this revenue model is that- users get access to the entire catalog by paying less money, and they can watch any movie/series multiple times.
How Much Does It Cost to Develop an OTT Platform App?
There is no specific cost of OTT platform app development as it varies on different factors, like the platform you choose, UI/UX design, testing measures, post-delivery app maintenance & support services, etc.
If we talk about a certain factor, like MVP, it can cost you over $10,000, and the app with advanced features, like push notifications or payment gateways, the estimated price will be more than $100,000.
You can also get a no-obligation consultation from us to know the average video streaming app development cost.
Conclusion
If you want to build an OTT platform app for your business growth, ensure to follow all the details properly. Various online streaming platforms, like Netflix or Hulu, are already a success in the market, so you must ensure that you will stand ahead of the curve.
You can research to find out the issues a user faces or what new features they are expecting so that you can fulfill those in your OTT platform app. Also, focus on the ongoing market trends to stay updated and deliver an excellent user experience.
The OTT platform will change more in the future and continue to grow, so leverage its features and have a successful business.