Kids App Development: Find A Relevant App To Improve Your Child's Skills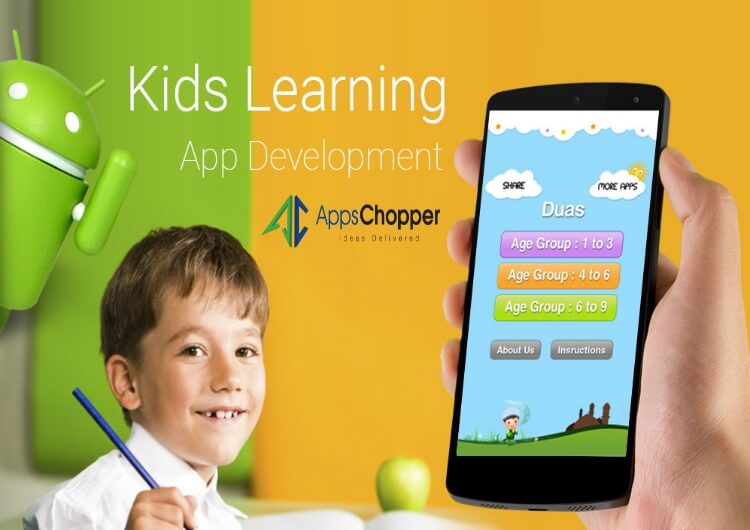 No need to take stress if you want to improve your kid's learning skills & interest towards engaging puzzles or quiz. Kids app development is a fruitful thought focused to enhance your child's intellectual power & perception towards new things. Introducing your kid with innovative ideas and terminologies is important to let them explore something extraordinary & creative. You can make this task easier using a kid-friendly mobile app to familiarize your child with interactive games & analytical challenges.
Your developer must understand that creating an app for kids requires in-depth analysis of several factors that are necessarily considered for kids app development. The current app development market for kids reached beyond 59% while its educational app category exceeded the rate of 13%. It means that the user-base of kids-related apps generate more & more revenues as both parents & kids prefer to enjoy paid app services to unlock more levels of a game or puzzle.
Get in Touch for Kids App Development Company
Contact US
Kids-related apps are categorized as per the child's age & his/her interest. You must consider the below-given points in mind & decide whether the app is useful for your kid or not:
Age group- You must consider your child's age first & then find a relevant mobile app that can help your kid to learn some interesting terms in an effective way. An interactive way of learning delivers better user experience & therefore, mobile app developers customize these apps for smart devices as well. You can specify an app for your kid by considering this age-wise category:
For Toddlers- Animated characters to define a storyline, interactive video songs, graphics to interpret various activities & let them recognize objects.
For preschoolers- Voice & objects recognition, the illustration of tasks through video clips, more.
For school-aged children- Interesting quizzes & puzzles to resolve with challenging stages, creative & colorful drawings, images or videos to improve child's memory, arcade games for activities, & more.
Don't forget that your child is not born with high IQ & that's why, you need to find a right game to improve his/her skills.
Responsive & appealing user interface- A responsive app is engaging & always captures user attention. If your child is not able to navigate through the app then he/she will give up or dismiss the game in between. Always introduce a high-performing app that can simplify their learning process along with incredible user experience.
Simple controls- When it comes to the kids app development, the controls & features are carefully upgraded with gestures and easy controls. For small kids, tapping gestures work positively while for an older child, pick & drop functionality is perfect.
Use of audio & visuals- Kids easily grab any concept via compelling visuals & exciting sounds. Let your child explore the features of an app on their own & make them happy with rewards in the form of colorful smileys, creative cues, and popping sounds.
Get in Touch for Kids App Development Company
Contact US
So, if you aspire to widen your child's interactive thinking, you must consider the above-mentioned factors to encourage your kid & let him understand the practical aspects of learning via a feature-rich mobile app.