Reading Time:
5
minutes
Blockchain technology is useful for managing and tracking assets, securely transferring digital assets, and creating smart contracts. It has enabled revolutionary applications such as cryptocurrency, tokenization, and digital identity.
According to Statista's research, people will likely spend nearly 19 billion dollars on blockchain solutions by 2024. Another study suggests that the blockchain industry will be worth $163.83 billion by 2029. The hype sure isn't ungrounded!
Blockchain is being improved and growing more popular as its practical applications increase. Experts have full faith in this technology's future, even as they contemplate its potential uses. 
However, one common question arises: How much does blockchain mobile app development cost? The answer lies in your knowledge of all the factors affecting it. 
In this blog, we explore the myriad factors shaping the expense of blockchain app development in 2023.
Blockchain App Development: Top Cost-Influencing Factors
Consider these factors while estimating the overall cost of blockchain app development.
Complexity of the Blockchain App
The complexity of the blockchain app is a crucial factor influencing its development cost. A simple blockchain app with basic functionalities will be less expensive than a complex app with intricate features. Complex apps often require more time and resources, increasing development costs.
Development Platform
The development platform choice can also impact the cost of hiring an app development company for this technology. The complexity and availability of resources on each platform can affect the development cost, so invest some time in deciding what features you need and what they'll require before you start to develop blockchain apps.
Design and User Interface
A blockchain app's design and user interface play a significant role in user engagement and experience. A well-designed app with an intuitive user interface can enhance user adoption and satisfaction. However, designing a visually appealing and user-friendly interface can increase the development cost.
Smart Contracts and Business Logic
These are self-executing contracts that have predefined conditions coded into them. They automate the execution of transactions and enforce the agreed-upon terms. The complexity and number of smart contracts required for a blockchain app can impact the development cost.
Implementing complex business logic within smart contracts may require additional time and expertise. You can refer to this handy guide to blockchain app development to know more. 
Integration with Existing Systems
Integrating a blockchain app with existing systems or third-party APIs can affect the overall development cost. Seamless integration ensures data flow and interoperability between different systems, but it may require additional efforts and customization, resulting in increased expenses.
Security and Testing
Security is of paramount importance in blockchain application development. Thorough testing, code audits, and security measures are necessary to ensure the app's robustness and protect against potential vulnerabilities.
Implementing stringent security measures can increase the development cost.
Team Composition and Expertise
The composition and expertise of the development team also influence the overall cost. Hiring skilled blockchain developers, smart contract developers, designers, and testers may require additional budget allocation.
Moreover, the team members' location and experience level can also affect the cost.
Deployment and Maintenance
After the development phase, deploying the app to the desired platform and ensuring its smooth operation requires time and resources. Additionally, ongoing maintenance and updates are essential to address bugs, security issues, and evolving user requirements.
Also Read More:- Here's Everything You Need to Know About Mobile App Development
Blockchain App Development Cost Estimates According to Industry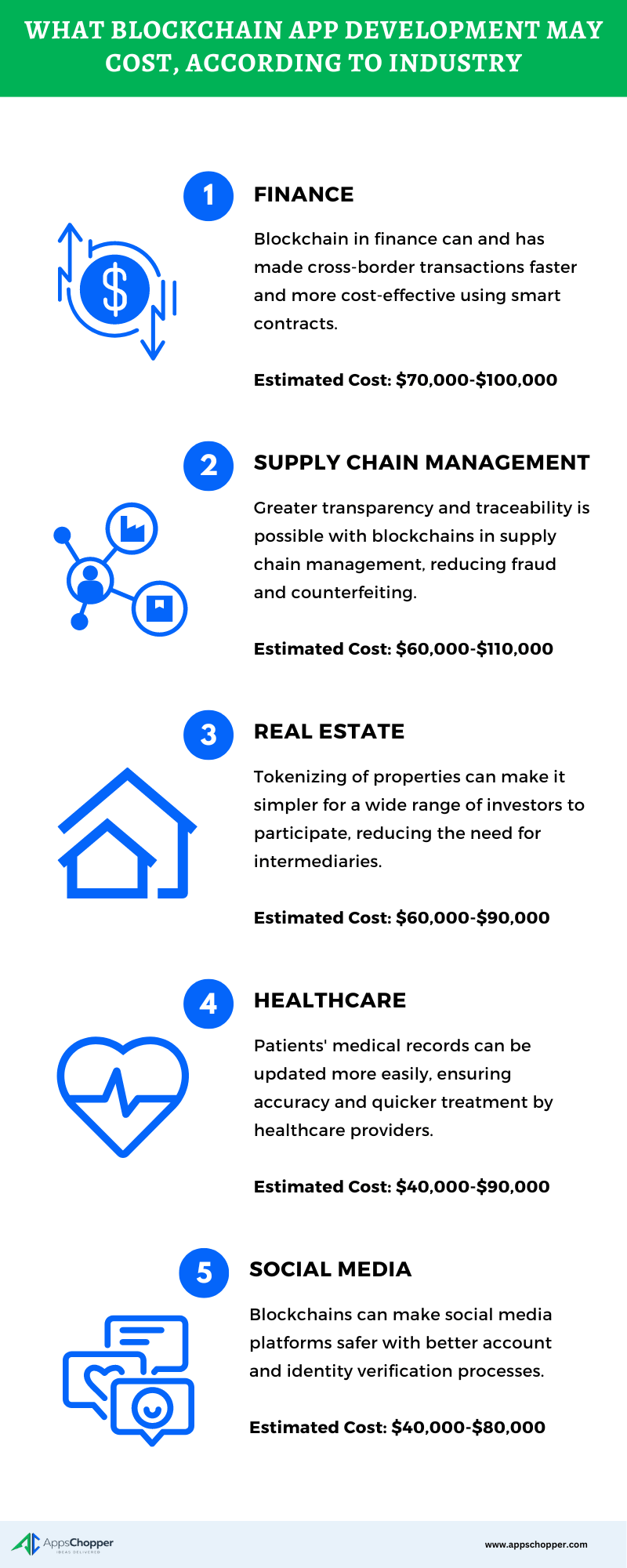 Estimating the exact cost of blockchain app development can be challenging due to the various factors involved. To make things easier, we've put together a list of estimated rates based on the technology's industrial application.
Finance
Blockchain has changed FinTech apps in several ways. Its decentralized ledger has sped up payment processes. Blockchain even has the potential to facilitate instant transactions using smart contracts.
Smart contracts are designed as agreements that get automatically executed when the predefined conditions coded into them are fulfilled. They are used to exchange digital assets, such as cryptocurrencies, safely.
Finance-based-Blockchain apps typically fall in the $70,000-$100,000 range. 
Supply Chain Management
Using Blockchain, stakeholders can record each transaction and movement of goods. Increased traceability and transparency prevent fraud and counterfeiting- a big challenge this technology helps consumers and businesses overcome.
A blockchain app for logistics and supply chain management may cost you around $60,000-$110,000. The cost generally includes development, mobile app testing, and maintenance.
Real Estate
Blockchain offers several benefits to commercial real estate, including tokenizing real estate assets, in which real estate properties are digitally secured. Digital assets in real estate can be divided and made accessible to more investors to increase capital.
Aside from this, blockchain helps in property management, financing, registries, sales, and urban planning, among many other things. A blockchain app designed for real estate purposes is likely to fall in the $60,000-$90,000 range.
Healthcare
Medical records and confidential patient history can benefit from the secure storage and sharing decentralized apps provide. Patients can have complete control over their personal details, sharing them with healthcare providers as they see fit.
Blockchain technology can also ensure the integrity and credibility of research data during clinical trials. New treatments and therapies stand a chance of quicker discovery with the transparent collaboration this tech facilitates.
Expect healthcare blockchain app development to cost between $40,000-$90,000. 
Social Media
Blockchains can improve account verification and identity authentication for social networks. Conversely, consumers will gain the ability to check and trace information, getting control over online communities.
They can also keep track of their followers and the traction their content gains based on how much they pay more easily since data flow is visible within the network.
A social media app based on blockchain could cost you between $40,000-$80,000.
Remember that these figures are approximate and can vary based on the specific requirements, chosen platform, team expertise, and geographical location.
It's always recommended to consult with a professional enterprise blockchain app development company to get an accurate cost estimate for your unique project.
Conclusion
In 2023, the blockchain mobile app development cost will depend on various factors, including complexity, design, integration, security, and team expertise. That said, AppsChopper projects have cost between $40,000 – $80,000. Apps with greater complexity will cost more.
While it can be challenging to estimate the exact cost, understanding these factors and consulting with experienced professionals can help you plan your budget effectively.
Investing in blockchain app development services can give your business a competitive edge and unlock new opportunities.
FAQs
Is it possible to develop a blockchain app on a limited budget?
Yes, developing a blockchain app on a limited budget is possible.
By prioritizing essential features and working with a skilled development team, you can optimize your budget without compromising the app's quality.
Can I reduce the development cost by using existing blockchain platforms?
Using existing blockchain platforms, such as Ethereum or Hyperledger, can indeed reduce development costs. However, customization, integration, and additional features may still require investment.
Are there ongoing costs after the initial development phase?
Yes, there are ongoing costs after the initial development phase. These costs include deployment, maintenance, hosting, and updates. It's important to allocate a budget for these aspects to ensure the long-term success and sustainability of your blockchain app.
How can I ensure cost-efficiency during the development process?
It's important to understand your app's requirements clearly to ensure cost-efficiency during the app development process. Prioritize features based on their value and impact, and avoid unnecessary complexities. Regular communication with your development team and progress monitoring can help promptly identify and address any cost-related issues.
Considering the costs, Is it worth investing in a blockchain app?
It sure is! Investing in a blockchain app can greatly benefit businesses looking to enhance security, transparency, and efficiency in their operations.
While development costs may seem significant, blockchain technology's potential benefits and long-term advantages can outweigh the initial investment.
Can I find reliable blockchain development services?
You've found us! We can save your time on thorough research, price comparison, and evaluation of our expertise and experience. Freelancers or development firms in regions with lower labor costs can offer competitive pricing without compromising quality.