Reading Time:
4
minutes
How do mobile apps make money? This is one of the most frequently asked questions that make everyone more curious to know the truth. Get here a complete explanation.
Those who have already have their apps developed or others who are planning to develop mobile applications. The answer is, an app has huge potential to earn a hefty amount.
It all depends on your monetization strategy, marketing efforts, and the type of apps you are going to develop.
The most popular category of mobile apps is gaming that is capable of earning hefty bucks. The total revenues churned out by games like Pokemon Go, Candy Crush Saga and Clash of Clans are $1,635,048, $442,296, and $321,783.
But, developing a game requires a sound budget. You need to be able to make a heavier investment. On the other hand, it's also a fact that every mobile the game app claims highest-earning figures.
There's a cut-throat competition in the mobile game app world. So, your mobile game needs to be highly popular to come into the eyes of users to earn revenues. This reflects that it's not a viable option for everyone.
Gaming apps are not only the option to earn revenues. There are several other types of mobile apps too that can earn huge revenues.
Here in this blog post, we will let you know what affects mobile app revenue generation ability. And also how much you can earn in the following cases.
In-App Purchase is Important for App Revenue
No matter what, in-app purchases (IAP) play a vital role in your app monetization and helps you earn maximum revenues. It's proved to be the most useful feature for gaming apps. And, we have already discussed above.
Today, apps companies use this strategy more frequently to increase mobile app revenue generation and thus makes your investment highly profitable.
IAP generally falls in the category of the Freemium model of app monetization and lets users buy extra features to make their experience more engaging. Of course, users have to pay for extra features that they wish to enjoy.
However, to maximize mobile app revenue generation from in-app purchases, you can consider the following important factors.
You need to know about your users and their needs.
You can customize your outreach to deliver a personalized user experience.
Try to establish a good relationship.
You should pay attention to follow your customers.
Change your pricing plan time-to-time to entice users to make a purchase.
Mobile App Revenue Depends on the Platform You Choose
The total revenue generation from an app depends on the platform that you choose. There's no denying that both iOS and Android enjoy equal popularity among users and thus they frequently opt for these two for mobile app development.
Though in-app purchase on iOS is highly expensive than Android. It doesn't deter iOS users to make in-app purchase frequently. According to the source, iOS users spend 2.5X more on in-app purchases than those of Android users.
So, What About Android App?
The above facts can make anxious to those who are planning to choose only the Android platform or already have just the Android app. They may be thinking of – how much money they can earn from Android apps?
Need not to say Android has the largest number of users compared to iOS. So, it brings great earning opportunities for app owners. All you need to do is to make the right strategy to monetize your Android app to earn maximum app revenues.
You may also like to read: Try These 6 Mobile App Marketing Tips to Get Desired Outcomes
Focus on Subscription Model to Earn more from App
The majority of apps follow a subscription model and have witnessed tremendous growth in their earnings. Netflix is one of those. With approaching approximately 150 million subscribers, Netflix has lured a large number of users.
According to Statista, it has earned over $4.9 billion in revenue as of the second quarter of 2019.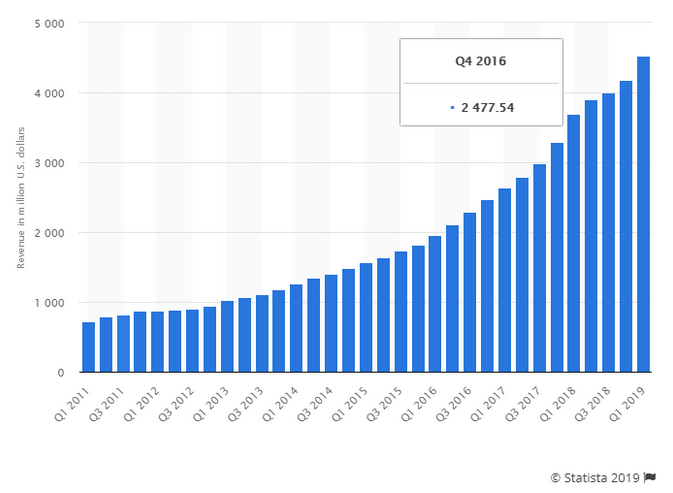 Another popular app, Tinder also uses the subscription model for generating revenue and has witnessed a huge success. The monthly subscription for Tinder Plus and Tinder Gold is $9.99/month and $14.99 respectively.
According to Match group announcement on August 6, 2018, Tinder has overall 3.7 million paid subscribers, which is up to 81% more compared to the same quarter in 2017. Match Group stated that it has earned a total revenue of $444 million in Q3 2018.
In-App Advertising to Earn Revenues from App
In-app advertising lets you grab opportunities to earn money from your application by displaying ads of other brands.
It is a trusted and one of the most preferred way of app revenue and to earn money. In this, you have to do click per view agreement with the brands interested to advertise through your app.
Your in-app advertising revenue depends on every click that users make on the displayed ads and payment is made accordingly – the average income you can earn is $0.01 per click. (for banner ads).
So, if your app gets 20,000 hits daily, you can earn approx $200 (0.01 x 20,000) regularly. The majority of app owners are reaping out the benefits of in-app advertising and witnessed a major boost in their mobile app revenues.
Conclusion:-
A mobile app gives you tremendous opportunities to earn money and helps you get the best returns of your investment. There's no limit on how much you can earn from your app. All you need to do is to make the right strategy in terms of platform selection, in-app purchase, subscription model, etc., to monetize your app.
We would love to hear your comments relating to the post. Got some other thoughts? Drop us words through our contact page.