Reading Time:
5
minutes
In this blog post, we have given an insight into how wearable app development is uplifting the standard and is a game-changer for the healthcare industry.
Wearable technology is evolving at a greater pace and taking the entire world by storm. This compelled popular brands like Google, Samsung, and others to introduce a variety of products including Galaxy Wearable, Samsung Gear, Google Glass, etc. These devices witnessed their growing demand among people and made wearable app development more significant for healthcare businesses.
According to Statista, wearable device sales revenue is expected to reach up to 73.27 billion by 2022.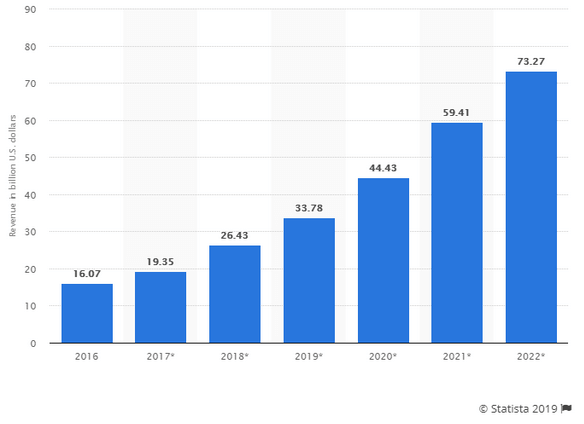 Having huge potentials of catering needs of the world, wearable technology has created a stir in many industries. Healthcare is one of those. Adoption of wearable technology in healthcare proved to be a spinal cord of the medical industry for enhancing reliability and the level of the treatment and increased the demand for wearable app development.
Wearable devices like shoes, smart wristbands, headbands, necklaces, belts, etc., are sensor-enabled and able to gather raw data easily. These data are then used for analysis through software application and trigger a response.
What is Wearable Technology in Healthcare?
Wearable gadgets are most popularly known as health-focused wearable technology. In healthcare, patients wear gadgets like watches, t-shirts, shoes, etc., to track vital details about their health and fitness. The information provided by these gadgets are accurate and thus help doctors in offering the best treatment to patients. There are lots of other wearable devices blessed with small motion sensors, to catch images and also sync with other important devices.
Is Wearable Technology Safe?
The fact can't be denied that the use of wearables especially those of health and fitness trackers is on the boom. As mentioned above, the majority of doctors and patients prefer to use wearables to track health issues and diagnose them quite effectively. These devices easily track users' health information and send them to desktop or smartphone using a low-level radiofrequency wave.
When it comes to safety, there are no cases to challenge the safety of wearable technology. So, it's not appropriate to talk about whether or not wearable technology is safe.
How Wearable Technology Works?
Well, wearable technology works through a sensor that is integrated with the device, which enables them to track activities in their area. The majority of them are capable of detecting human brain activity, motion, muscle activity, heart activity, etc.
Need not to say, the majority of these are the health devices, which are used most frequently by doctors to care and cure their patients in a better way.
Benefits of Wearable Technology for Patients
The integration of wearable app development in healthcare has taken medical practices to the next level and facilitates patients to avail the following benefits:
The technology makes everything easier for patients in terms of proper documentation, in-app maintenance of patient's records, etc.
Patients who are at home facing major illnesses can avail emergency treatment through wearable devices.
It enables tracking of some vital stats and then transmits data to the healthcare service provider for enabling remote monitoring.
These apps can give important reminders and alerts, and help in the improvement of the compliance rate.
Also read: How to Utilize Artificial Intelligence in Mobile App Development?
How Wearable Technologies Uplift the Standard of Medical Services
The credit goes to wearable app development that enables healthcare providers to avail benefits of using wearables, like patients. The technology helps them raise the level of medical service in the following ways.
The technology offers crucial data to providers to predict and enhance the standard of their services through an in-depth analysis.
Using a wearable device on the chest of patients lets providers access the crucial parameters with efficiency rather than appointing nurses to do it. So, it reduces costs, time and manpower.
Integrating IoT technology into wearable apps lets providers establish a great connection among patients, doctors, and medical equipment.
Using advanced wearable devices helps surgeons view preloaded X-ray and CT images while doing surgery.
Reasons why Wearables are Gaining Popularity in Healthcare
Chronic Ailment Prevention
Healthcare providers face lots of challenges, when it comes to managing chronic disease, even though spending millions of dollars into it. Chronic ailments like heart disease, asthma, diabetes, etc., often require heavier expenses in compliance and monitoring.
Using wearable devices lets providers enjoy some sort of ease into chronic disease management. The wearable system tends to easily communicate with a smartphone application and website portal through Bluetooth, Wi-Fi, and cellular connections. The asthma monitoring system can be easily connected with the torso through skin-safe adhesive that can easily track forerunner symptoms of asthmatic attacks such as cough rate, respiration pattern, body temperature and more.
ElderCare
Elders are prone to health diseases and thus face lots of problems. This is the reason why elder care has become a prime concern in the healthcare sector, especially in the United States.
There are several smart wearables available to cater to elders and let them get major treatments for diseases they are facing. For instance, elders suffering from poor visibility or eyesight can manage it wearing smart glasses, which bring display in front of an individual's eyes to display the data from the background system. This helps wearers to view the environment even without any kind of interference.
Fitness Trackers
Various smart trackers help people stay fit to compete with today's fast-paced life. Fitness wearable devices are designed to track several important stats or metrics related to fitness like total distance walked, quality of sleep, heartbeat, calorie consumption, etc. Synced to a mobile phone wirelessly for monitoring health-related data, these are highly in use especially among sports enthusiasts, fatty people or others.
Wearable Sensors For Real-time Health Tracking
The remote monitoring system is designed with two interfaces to assist both patients and doctors respectively. The interface designed for patient gathers their medical records through wearable sensors and transmits the same through Bluetooth low energy to a listening port. The port then transmits the same data to a server that further processes these data to display reports on the interface designed for doctors.
The RMS system is capable of detecting certain underlying heart conditions in real-time with a diagnostic framework. So, it helps patients easily recover from heart diseases and get treatment in real-time.
Let Patients Get Pain Relief
You may be amazed to know how wearable technology can help patients in getting rid of the pain. But, it's true! There are many popular products like Reliefband Neurowave, Quell, Visioncare Eye Massager, Tricella Pill Box, BreathVR, etc. These are important products that remove the necessity of daily medicine dosage and help patients in getting quick relief from pain.
Is Wearable Technology the Future?
As we are witnessing, wearable app development is revolutionizing the entire health industry by improving the quality of treatment. It not only helps doctors in getting real-time information of diseases that patients are suffering from, but also enable them to take the quick action accordingly to diagnose more effectively.
Wearable technologies in healthcare have changed the way doctors treat patients and modernized everything. If we compare today's health industry 10 to 15 years back, it's easy to analyze how fast it changed – the role of wearable technology is, of course, significant into it.
So, it's quite easier, concluding the above facts, to predict that wearable technology will continue to reshape the healthcare industry even in the future too.
Conclusion: –
The evolution of wearable technology redefined the way medical services are provided nowadays. The advantages of wearable technology in healthcare for both patients and medical service providers fostered the industry to welcome it with open arms.
There's no surprise that the demand for prominent wearable devices that include Google Glass, smartwatches, etc., is getting higher day-by-day. This increased the demand for wearable apps that directly support these devices.
We would love to hear your comments relating to the post. Got some other thoughts? Drop us words through our contact page.